How To Do The "Baby Part" Hairstyle That's Back From The Early 2000s
Finally, a part everyone can agree on.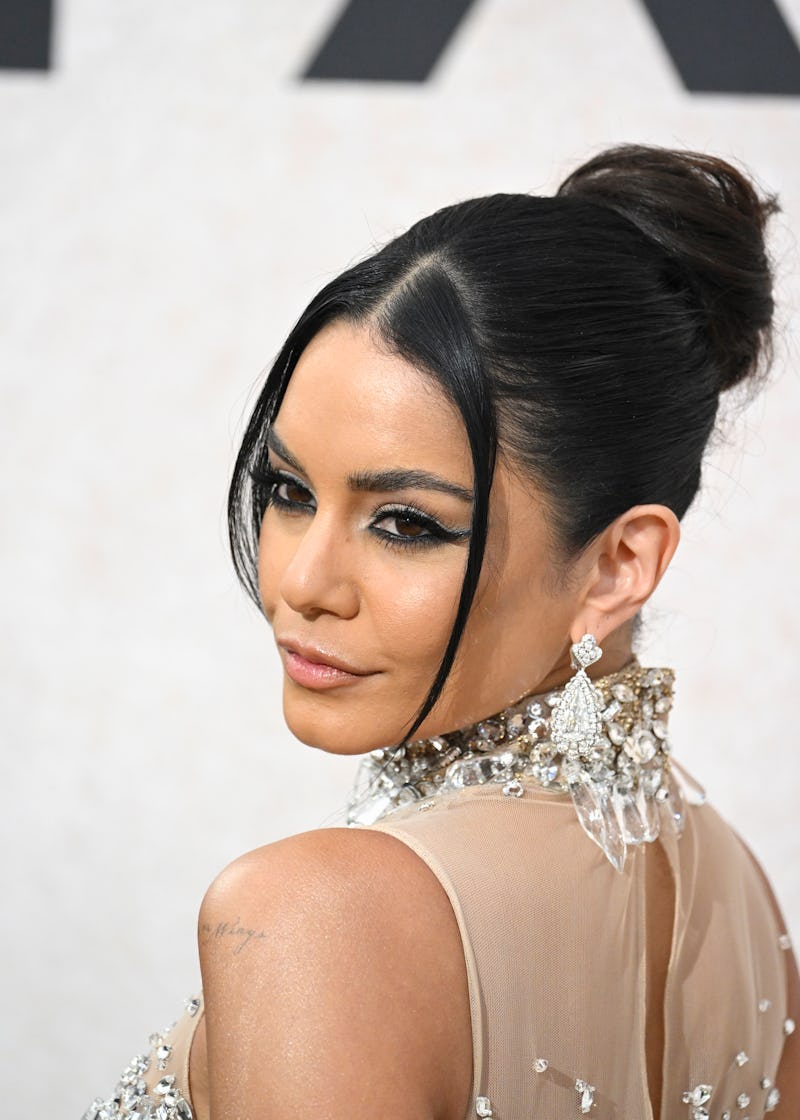 Gareth Cattermole/amfAR/Getty Images Entertainment/Getty Images
There are so many ways to rock a ponytail, whether you vary the height, pull out a few face-framing tendrils, or add what's known as a "baby part" in the front to fully lean into your early 2000s alter ego. The latter hairstyle is making a comeback, after all, and it's the perfect way to elevate your look — no matter your stance in the ongoing hair part debate.
A baby part is when the parting of your hair stops halfway or a little less than halfway back on your head, explains celebrity hairstylist Glenn Ellis. "You aren't completely parting the whole hair, just the front section," he tells Bustle. The goal is to keep your part as mini as possible, hence the name.
Feel like you've seen it before? The look was big in the early 2000s around the same time zigzag parts were having a heyday. You may have noticed that Bella Hadid recently brought back the zigzag part, so it was only a matter of time before the baby part got its moment, too. "Over the years we've seen a version of it [come back], especially with updos," Ellis says. It really stuns with high ponytails, buns, and other pulled-back looks that sweep the rest of your strands up, but it also works if you prefer to leave your hair down.
If you've been hunting for a way to play around with early 2000s hair trends, know that the baby part is a breeze to recreate — and it's really versatile. "If you already part your hair down the middle, this is an easy trend to try," Ellis says. Here, Ellis explains how to do the baby part hairstyle at home.
How To Do A Baby Part
1. Grab A Comb
To get a nice, straight part, Ellis recommends using a fine-tooth comb.
2. Part Your Hair All The Way
Touch the comb down at your hairline and make a clean, straight part all the way back to the crown of your head, just as you would when parting your hair normally. "I recommend a middle part for this look since it is the easiest to work with for this style," he says.
3. Brush The Back Of The Part
If you're wearing your hair down, grab a brush, place it an inch or two back from your hairline, and brush backwards. "You are essentially getting rid of the parting you created in back," Ellis says.
4. Use Hairspray
Spritz on some hairspray to keep the back portion of your hair in place so the baby part remains intact. Style the rest of your hair however you like.
5. Sweep Your Hair Back
For a pony or other updo, start by sectioning out two pieces of hair on either side of your face. Gather the rest of your hair into a ponytail using the brush to smooth your strands, pressing down to sweep everything up and back as you go.
6. Add In The Front Pieces
Once your hair is pulled up, "take those front pieces and add them to the ponytail, keeping the part in tact as you pull the back," Ellis says. "Secure with a hair tie and you're good to go."
7. Add Styling Products
To make your baby part really stand out, use mousse or styling gel to slick down flyaways. And just like that, you'll be exuding hot Y2K vibes.
Source:
Glenn Ellis, celebrity hairstylist