Beyoncé Runs The World In A See-Through Dress & Gold Nipple Covers
The Renaissance musician brought social media to a standstill with new images.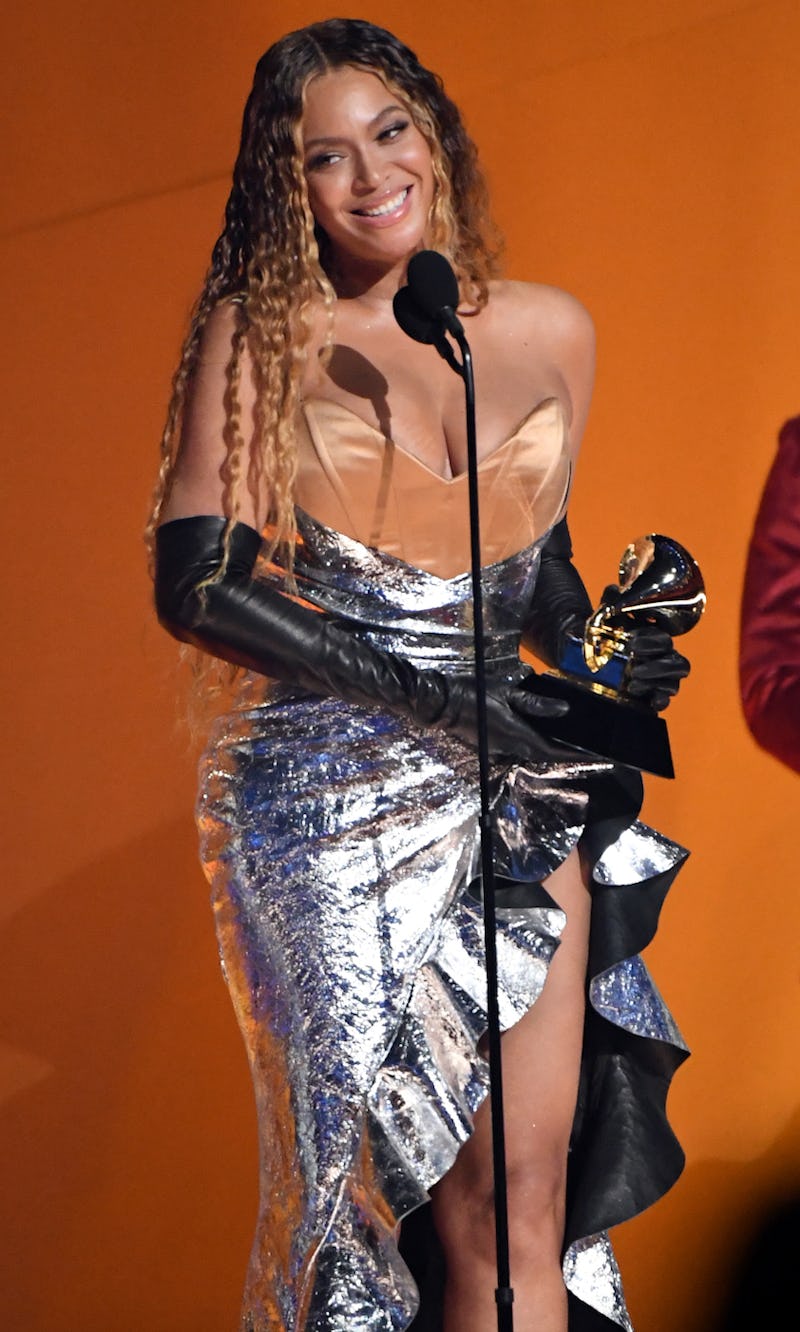 Getty Images/JC Olivera/Stringer
Eager fans may still be waiting on music videos for Beyoncé's seventh album Renaissance, but in the meantime the pop icon has served up the next best thing in the way of visuals. In a new photoshoot shared on Instagram, the artist posed in a sheer gown covered in shimmering, gold crystals. She resembles a very glamorous human disco ball, and we're here for it. The main striking image also forms the new backdrop for Beyoncé's official website.
Taken straight from the runway, Bey's metallic look is from Dolce & Gabbana's Fall-Winter 2023/24 collection – and pairs a high neckline with sheer, Swarovski crystal-encrusted fabric and a lockable metal corset. The singer also accessorised with a Carolina Herrera clutch bag, Y2K-style rectangular sunglasses, and reflective gold nipple tape arranged into crosses. When the D&G line debuted in February, the label's Domenico Dolce explained to Vogue that it was intended as a return to the classic hallmarks the Italian label is known for; dramatic corsets, looks that incorporate lingerie, and luxurious lace and embroidery. "Social media exaggerated everything," Dolce said. "Now, everything has to be strange – too much. I want to go back to what we really are."
Though Renaissance just went platinum, it looks like Bey is truly in her golden era. Earlier this year she wore another metallic statement piece by Dolce and Gabbana featuring a flowing gold train, and chainmail-like sequin armour ahead of her first performance in five years. The one-off show took place at Dubai's Atlantis The Royal Grand, with the singer bagging a rumoured $24m (£19.8m) fee for the concert, as per Evening Standard.
It remains to be seen whether Bey's latest photoshoot is a teaser for something more, or simply a refresh – but either way, we're here for her take on the sheer trend.