Billie Eilish Teased The Debut Of Her New Fragrance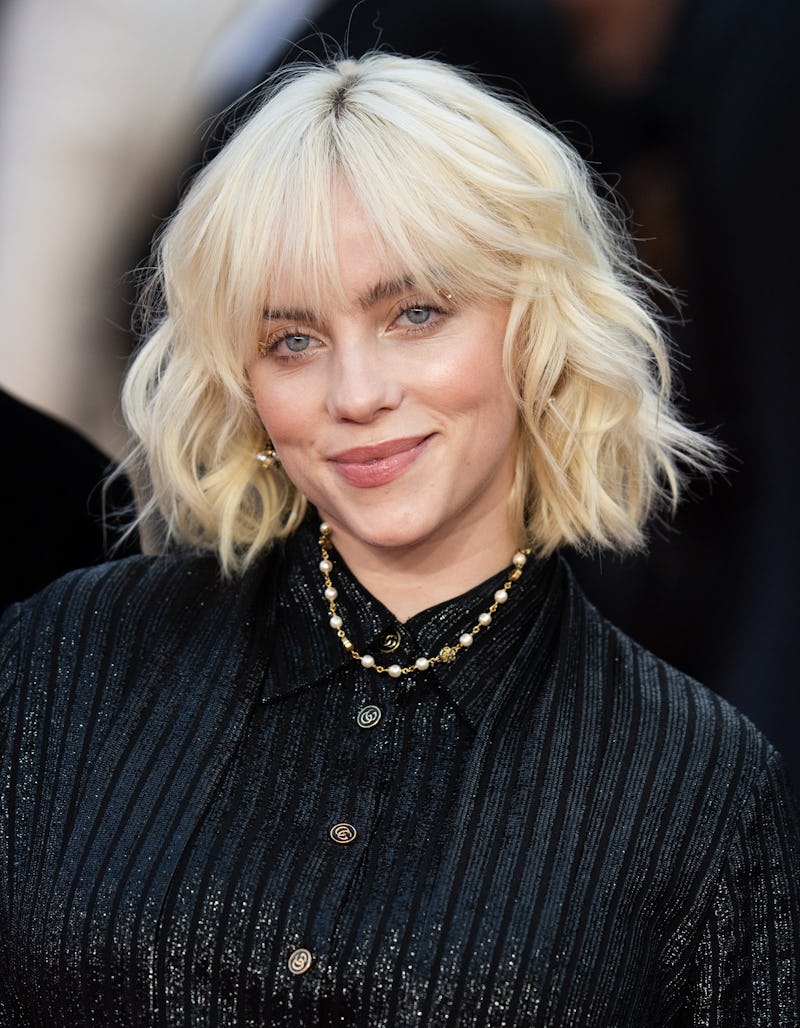 Samir Hussein/WireImage/Getty Images
Just about a year ago, nearly to the day, Billie Eilish launched her first ever fragrance. Warm, comforting, and sensually sweet, the iconic statuesque bottle in a luxe gold finish has sat atop countless vanities of Billie stans and fragrance lovers alike. Luckily, the multi-hyphenate has recently announced the unexpected release of a new scent, aptly named "Eilish No. 2."
Though not much is known of the new perfume as of now, the bottle features the same recognizable bust design, yet this time, dripping in a silvery gunmetal hue. What's more, the bottle is surrounded by (what looks like) smooth, dark water — which may be hinting that the scent may include notes that are dewy, earthy, or even uniquely metallic. No launch date announced as of yet, but it will most likely be stocked across Ulta stores in no time.
Last year, Billie Eilish gave perfume lovers a major reason to get excited about fall 2021. It was on October 20, 2021 that the "Happier Than Ever" singer announced that she will be launching her debut fragrance, Eilish.
"I am SO EXCITED to finally share my debut fragrance 'Eilish' with you!!!!!!!!!!!!!! AHHHHHHHHHHHHHHHHHHHHHHHHHH!!," read the caption of her Instagram announcement. "This is a scent that I've been chasing for years and years. This is my favorite smell in the WORLD.🤎🤎🤎 Fragrance has always been such an enormous part of my life and existence since I can remember, and it was a dream to create this scent and bring my ideas to life. This has been one of the most exciting things I've ever done. I can't wait for it to be yours so soon!!!!!"
The debut fragrance's sweeter notes — mandarin, red berries, and vanilla — come together with tonka bean and cocoa to create a cozy scent that sounds perfect for sweater weather. As for the luxe metallic bottle, it was inspired by her favorite parts of the body: the chest, neck, and collarbone.
"I wanted it to feel like a warm embrace. Like what it feels like to feel your blood rushing through you," wrote Eilish in a press release. "It's a scent that I've been chasing for years and years and years. It's my favorite smell in the world."
She joins the ranks of many other celebrities (like Selena Gomez, Rihanna, and Halsey) that have ventured into the beauty industry. This is bound to be another favorite that fans will stock up on.
"Billie Eilish is a singular talent and the voice of a generation. She has a vision in everything she does that is unique, disruptive, and authentically hers," writes Lori Singer, president of Parlux. "Partnering with Billie was natural for Parlux because we can bring a vision to life like no one else, and we were equally excited to be on this journey together."
Eilish launched exclusively at BillieEilishFragrances.com in November 2021 for $68.
This article was originally published on