5 Signature Accessories Carrie Bradshaw Wore Over & Over Again In SATC
From the famous 'Carrie' necklace her beloved fur coat.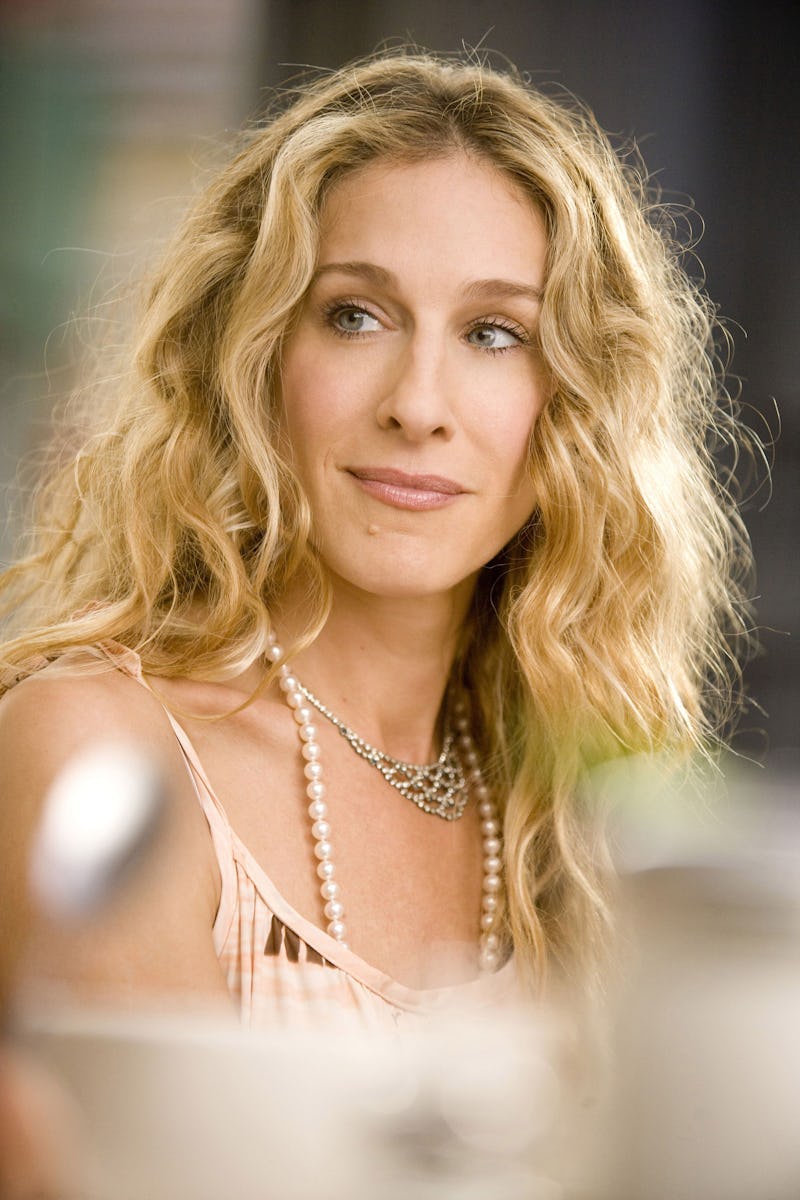 HBO
Regardless of whether you identify as a Samantha or a Miranda, Carrie Bradshaw is the style icon of the early 2000s — a fact that's not up for debate. Long before TikTok and Pinterest, SATC provided fashion inspiration to viewers across the country. Ever dramatic, with a love for designer labels and vintage finds, Sarah Jessica Parker's Carrie is the blueprint when it comes to early-aughts style.
Her sartorial choices are a staple of '00s popular culture — even the supposed 'ugly' trends she reluctantly donned during the show have become trendy in the present-day (read: her would-be engagement ring from Aiden). The Vogue writer was known for her ability to accessorize any and every outfit with the perfect pair of shoes and statement handbag to go with it. But aside from her Manolo Blahniks and her favorite Fendi baguette, Carrie had a few lesser-known signature accessories she reached for from season to season.
True fans will recognize these pieces immediately — from the iconic gold nameplate necklace that symbolized her love of New York City, to the over-the-top fur coat that she broke out each winter like clockwork. Ahead, take a look back at the five items Carrie styled the most.
This Fur Coat
Unlike her bestie Miranda, Carrie wouldn't be caught dead in a puffer jacket. Instead, she regularly opted for a luxurious, knee-length fur coat likely purchased for cheap at a vintage shop in Meatpacking (or, at least, that's the backstory I've made up for it).
This elegant staple appears time and again throughout the series. It kept her warm while flirting on her brownstone stoops with a pee-loving politician and in the nosebleed section of a Yankees game. Truly a versatile investment piece.
This Nameplate Necklace
Believe it or not, Carrie went bare-necked for most of the first season. Her famous 'Carrie' nameplate necklace didn't made its debut until season 2, quickly becoming a mainstay of the tv series, spin-off films, and subsequent reboot. The dainty gold chain quickly became a staple of her sartorial identity, representing her love and loyalty to herself and NYC. Who can forget the existential crisis that ensued when she almost lost it in Paris?
This Long Pearl Strand
On the rare occasions Carrie ditched her beloved nameplate, she made up for it with dramatic accessorizing. This long string of pearls — often doubled up around her neck — started making regular appearances by season 4, giving a 1920s, flapper vibe to each look.
This Printed Bandana
Carrie styled this scarf a myriad of ways during the fashion-forward series. Knotted around her arm and around her signature curls, the geometric bandana is undeniably cool.
This Studded Belt
This black studded belt was introduced during the original series, but really became Carrie's signature in the first film. Years later, she even revived it in an episode of And Just Like That... As a proud Former Emo Kid, this has to be my favorite accessory in SATC history.