How To Nail BeautyTok's "Dark Feminine Energy" Makeup Trend
Think Maddie rather than Cassie from Euphoria.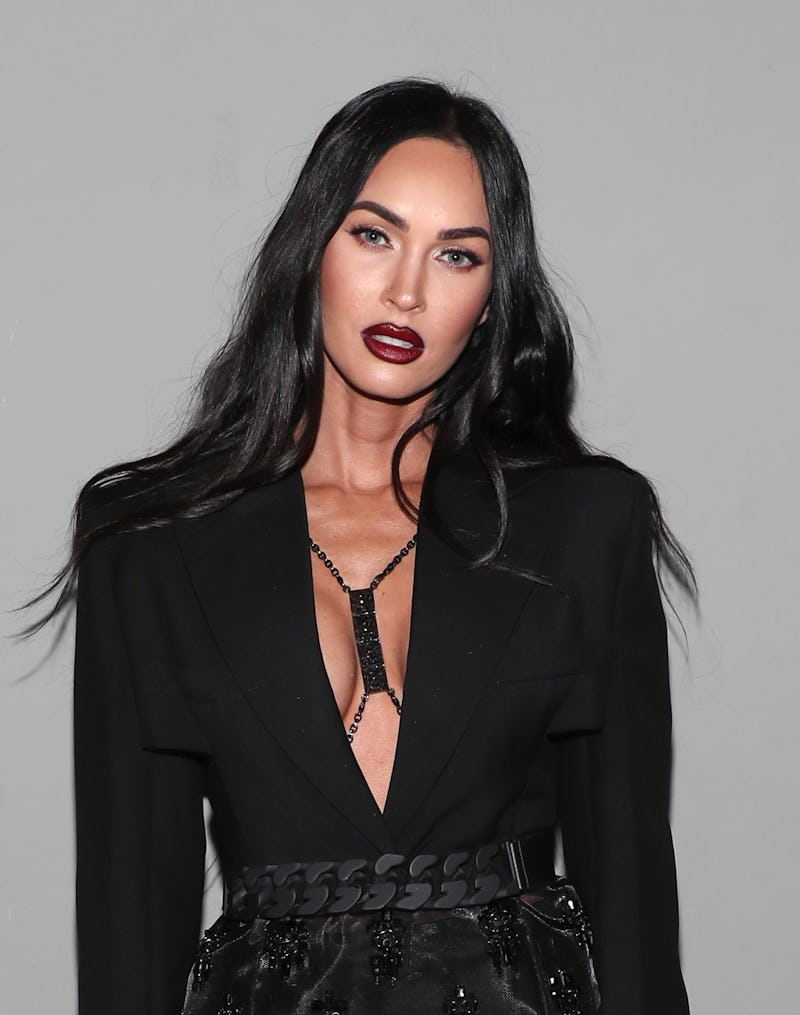 Getty Images/Jerritt Clark / Contributor
You know that sultry, powerful vibe that people like Rihanna, Lana Del Rey, and Megan Fox give off? According to TikTok, this is called dark feminine energy, and it's all about being sexy, confident — and making really good eye contact. While a lot of it comes from the way you carry yourself, you can lean into the look with dark feminine makeup, a trend that's been taking off on BeautyTok with over 1.2 billion views.
While vampy eyeshadows and oxblood-red lips are nothing new, dark feminine makeup is less goth and more movie villain — in the best way. If light feminine makeup is all about pink cheeks, glossy lips, and wide doe eyes, dark feminine is about contour, angled brows, and smoldering siren eyes. The look is often associated with entering your villain era, aka the cheeky way to describe anyone who is ready to exude confidence and embrace having fun on their terms. If they happen to do so while wearing a dark feminine outfit, like a black slip dress and heels, even better. But it's also fun to rock this type of makeup on a random weekday, just because you're feeling yourself.
To get the look, TikTok creators pull out winter eyeshadow palettes, contour sticks, vampy lipsticks, faux lashes, and lots and lots of eyeliner. Keep scrolling for seven dark feminine energy makeup tutorials to use for inspo.
7 Gorgeous Dark Feminine Makeup Looks
Light Vs. Dark Feminine
TikTok user @haylaybuix shows exactly how light and dark feminine makeup compare. For the latter, swipe on a red lip, strong liner, and lots of lashes on your outer corners to ensure your eyes look extra fierce — think more Maddie versus Cassie from Euphoria.
Dark Lips
Dark feminine glam can be very '90s, as this TikToker proves. Gather your brown makeup products to create a subtle smoky eye along with a matte brown lip for '90s-era villain energy.
Winged Liner
When showing your dark feminine side, you can't go wrong with a dramatically winged eyeliner (as I said... channel Maddie from Euphoria). Remember to overdraw it in your corners, too, to really play up your stare.
Sculpted Eyeshadow
TikToker @missvaldine demonstrates that your brown makeup can look just as fierce when it has a glossy finish. Just stick with a winged eye and chiseled contour, and you're good to go.
Lifted Brows
Dark feminine makeup is angular, upswept, and intense, so go ahead and play up the angles in your face with contour. For your brows, try a high arch or use a brow pencil to extend your eyebrow tails up for that DGAF vibe.
Double-Winged Eyeliner
Double-winged eyeliner will bring all the attention to your eyes, which is exactly what you want.
Upswept Contour
A lot of what makes dark feminine makeup work is the attitude that goes along with it. Think about Zoe Kravitz, Angelina Jolie, and Alexa Demie — all ladies famed for their intense, don't-mess-with-me eye contact. Play around with dark pigments and lip liner all you want, but you can't forget to pair it with saucy confidence.