Ellis Brooklyn's Face Moisturizer Feels Like Whipped Buttercream
It's the perfect hydrating staple.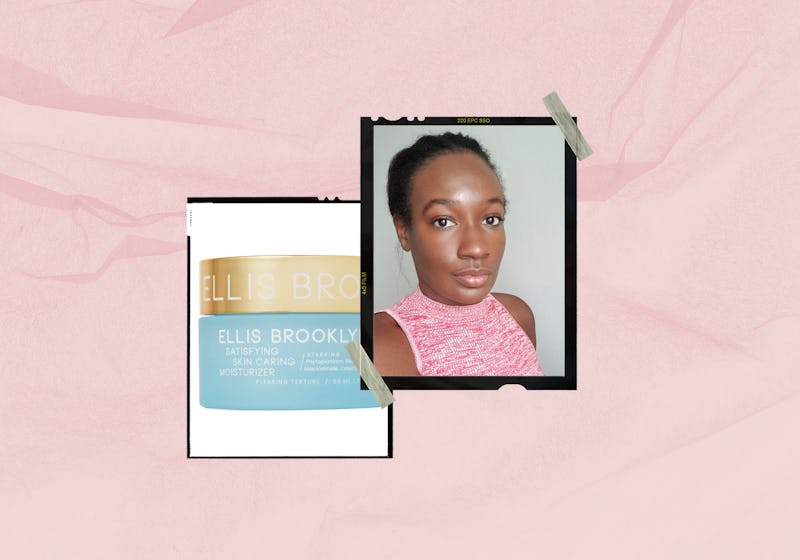 Ellis Brooklyn
As a beauty writer, I've got a dining room table full of moisturizer samples, but I always go back to my favorite fuss-free drugstore gel cream. I love it; it loves my skin. But, as most dermatologists will tell you, the harsh winter months are nearly here, which means now is the time to forego the lighter gel creams and slather on thicker, creamier moisturizers. Determined to follow the doctors' orders, I've had my eyes peeled for a new go-to formula to get my skin through the cold season. When I discovered that Ellis Brooklyn, a cult-favorite beauty brand most famed for its fragrances, was wading further into the skin care waters, I was intrigued. While the line does have several body care items within its roster, the Ellis Brooklyn Satisfying Skin Caring Moisturizer is the brand's first swing at skin care for the face.
The recently-launched product is a whipped cream-like concoction that boasts squalane to hydrate, niacinamide to brighten, and a slew of other additives meant to soothe and rejuvenate skin. Naturally, I had to give it a try. Read on for my honest review of the Ellis Brooklyn Satisfying Skin Care Moisturizer.
We may receive a portion of sales if you purchase a product through a link in this article.
Fast Facts
Price: $115
Best for: Intense hydration
Your rating: 4.8/5
Brand: Ellis Brooklyn
Formula: Vegan, cruelty-free
What we like: Lightweight feel, yummy smell, immediate results
What we don't like: The price tag; the formula leaves a bit of a shiny finish
The Ellis Brooklyn Satisfying Skin Caring Moisturizer
Ellis Brooklyn launched in 2015 under the tutelage of New York Times beauty writer Bee Shapiro. Named for Shapiro's daughter Ellis and her home city (Brooklyn, obvi), the brand's initial goal was to harness the power of smell with a commitment to clean, transparent, and sophisticated scents. Ellis Brooklyn has since garnered a devoted following for its fine fragrances, body care, and home scents, all with esoteric names like Myth, Fable, and Raven.
The newest addition to its lineup is the deliciously creamy Ellis Brooklyn Satisfying Skin Caring Moisturizer, which launched on Oct. 25. Much like everything else from the brand, this baby is meant to deliver effective results (in this case, moisturize the skin) in a pleasurable-to-apply formula. With the face cream, its standout features are its nourishing roster of ingredients, its delightfully light yet hydrating texture, and its fresh, slightly sweet scent.
The Science
Inside its elegant blue frosted glass bottle, you'll find a slew of ingredients meant to hydrate and nourish the skin barrier. First, the Ellis Brooklyn Satisfying Skin Caring Moisturizer contains squalane, a powerhouse hydrator that mimics your body's natural sebum and works to soothe and moisturize the skin. It also contains niacinamide, a buzzy ingredient that regularly pops up in beauty elixirs. The gentle form of vitamin B3 is the ultimate multitasker that works to improve the signs of aging, brighten skin, minimize hyperpigmentation, and even help fight acne by controlling oil production. Also inside the moisturizer, you'll find a host of antioxidant-rich ingredients meant to protect against free radical damage and in turn support the skin barrier, including red algae and rose of Jericho.
First Impression
Instead of the smooth cream I expected, I unscrewed the moisturizer's gold top to see a pillow-light, almost buoyant concoction that reminded me of homemade whipped buttercream. It smelled just like a dessert, too, with strong notes of coconut and vanilla. (True to the brand's clean philosophy, however, that scent is achieved through a blend of natural extracts.) I picked up a little bit of the product and rubbed it in between my fingers, and it instantly melted into a satin-like lusciousness.
The Results
I massaged a small amount of the Ellis Brooklyn Satisfying Skin Caring Moisturizer into my face. Like it did in my hands, it effortlessly melted into my skin. I'm not being hyperbolic here: My face instantly looked and felt like I'd exfoliated the night before and then woke up and slathered on a hydrating mask. The moisturizer immediately made my skin appear smoother, dewier, and intensely more hydrated. I interviewed a brand founder over Zoom not long after, and she actually complimented my "golden hour glow." Yes, I was facing a window, but it was noon on a rainy day.
While it certainly delivered on the glow, I will say that the luminescence started to border on shiny after a little while, so I'd keep your fave loose powder on standby to hit your T-zone, chin, and wherever else you like to tone things down a bit. But, I'm nitpicking here — it's amazing.
Worth It?
The $115 price tag definitely makes the Ellis Brooklyn Satisfying Skin Caring Moisturizer a bit of a splurge — but if you can swing it, please do. Plus, a little truly goes a long way. It even comes with a small plastic scooper so you can grab a "pearl-sized amount" (as recommended in the instructions), and that's really all you'll need.
Final Verdict
The Ellis Brooklyn moisturizer managed to quench my skin like a pro and deliver a sun-kissed glow mid-Autumn. Sold and sold. Would I buy it? Cost aside (I'm working with a writer's salary, people), absolutely.