Florence Pugh's Cut-Out Bustier Look Just Won London Fashion Week
The Don't Worry Darling actor opened Harris Reed's show in style.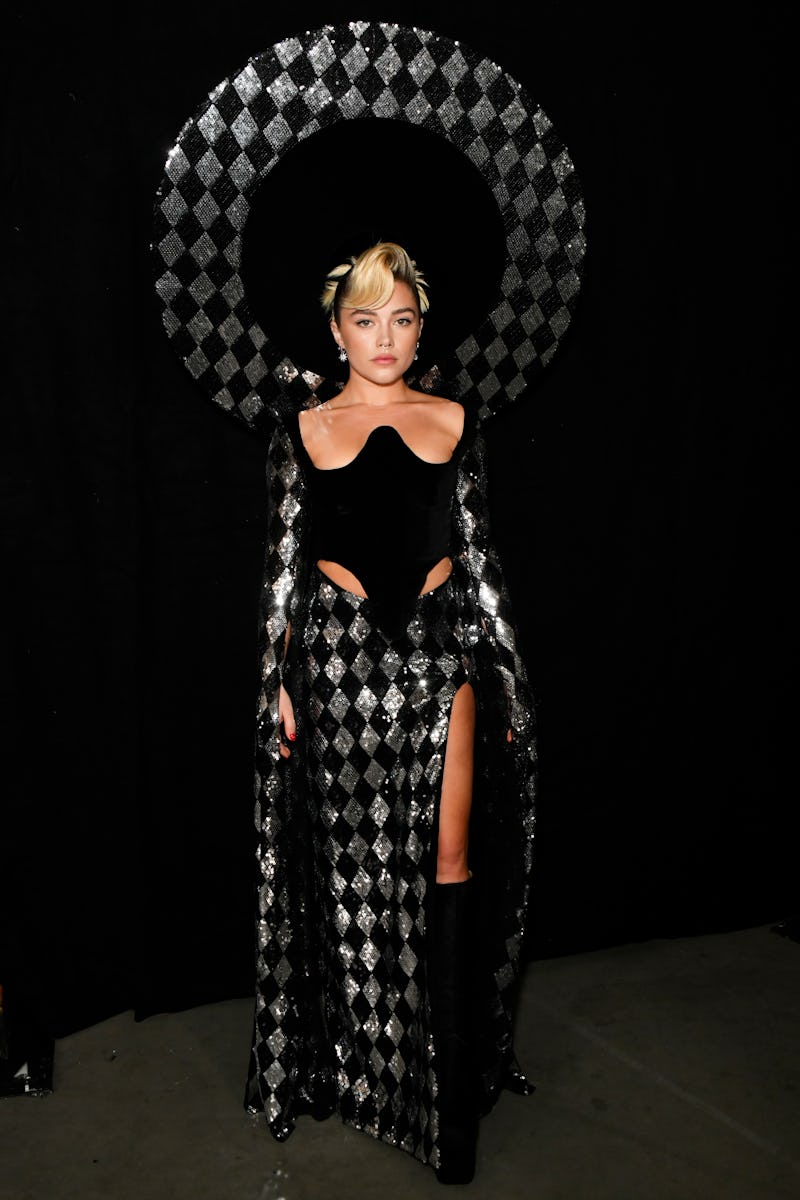 Dave Benett/Getty Images for Harris Reed
Straight on the heels of her stunning style moment wearing a cut-out dress for a photo shoot with Vanity Fair, Florence Pugh has once again given the fashion girlies something to put on their Pinterest boards. The actor made a surprise appearance at London Fashion Week, opening Harris Reed's AW23 show on Feb. 16 with a dramatic speech penned by the designer. Pugh was dressed in a black and gold ensemble in harlequin print, with a thigh-high slit skirt and a cut-out bustier. She topped it all off with platform boots and a statement-making disc-shaped headpiece, looking as though she had a halo.
"Clothing has a transformative power — whether for an actor or simply a performer on the stage of life. The art of dressing up allows us to express who we truly are, creating a safe space to inhabit in a sometimes judgemental world," Pugh told the crowd at the Tate Modern. "Our costumes can change who we want to be seen as, and who we are destined to be. I invite you to embrace the lamé and sequins of life, because all the world's a stage," she finished dramatically.
Reed, the newly-appointed creative director of Parisian house Nina Ricci, deliberately created dramatic silhouettes in his work as a nod to Henry Moore's sculptures, per British Vogue. In a post-show interview, the 26-year-old designer explained that he had stuck to using only gold lamé, black velvet, and silver sequins for this collection in a tribute to the drama of theatre — these materials were once old theatre curtains and deadstock.
Of Pugh, whom he described as a "very dear friend," Reed said: "She is the most amazing actor at the moment, and she really loved the idea of something that felt much more than an up-and-down catwalk."
In an Instagram story, Pugh thanked Reed for the experience, writing: "@harris_reed asked me to speak his words. Only as I was learning them did I realise that my 13-year-old self was screaming the same thing. You wear yourself. And what you want to be seen as. I'm so grateful to be involved in @harris_reed show. It was an honour and it was a privilege. My teen self would have been screaming."