How Grace & Company's Founder Kimanee Mason Went From Model To Mogul
The entrepreneur chats with Bustle.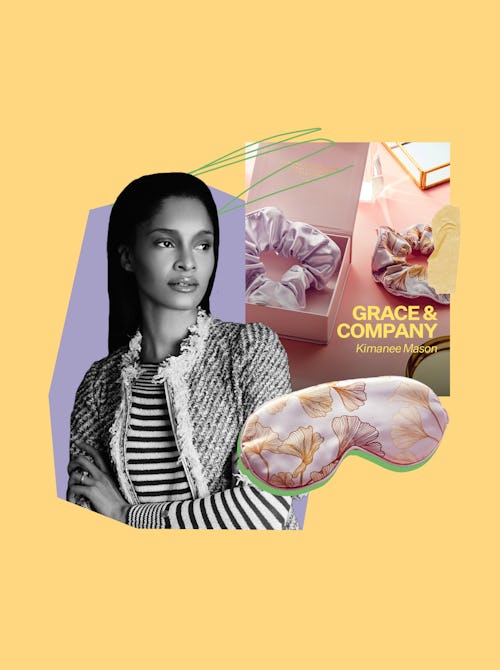 In Beauty Roots, Bustle chats with diverse creators in the beauty industry about how their heritage has influenced their businesses and routines. Here, Grace & Company's founder, Kimanee Mason, shares more about her upbringing in Jamaica, earliest beauty memories, and entrepreneurial journey.
While Grace & Company launched back in 2016, Kimanee Mason's hair woes (relatable issues like breakage and hair fall) go back a lot further than that. Her search for superior products that would help protect her fragile strands — pillowcases, shower caps, scrunchies, and more — eventually lead to the creation of her very own.
I Zoom with Mason while she's in New York City, but she tells me that Jamaica will always feel like home to her. And growing up in the Caribbean country, she had no shortage of inspiration. "I'm inspired by the women of Jamaica in particular," she tells me. "Their strength, determination, and gracefulness." She adds that she's also inspired by the landscape, beaches, and the way of life. "It's a simpler way of living," she says. "And because I was raised that way, that is how I approach my life."
Designing a shower cap may seem like an easy task, but Mason lists off all of the variables. It requires a fabric that is waterproof yet breathable, mold-resistant, and capable of fitting multiple head sizes. Using her knowledge of different fabrics, she's been able to create unique blends of vegan satin and micro-cotton.
Below, Mason dives deeper into childhood beauty traditions, textiles, and more.
How does your childhood in Jamaica inspire you and the work you do every day?
I think there's a certain sensibility that you have just by growing up the way I did in Jamaica. There's even just a sensibility, design-wise, because you're around really beautiful things all the time, like the beaches and the landscape. That has definitely informed the way I approach designs, the products I choose to design, and even the patterns that I choose.
Growing up in Jamaica, what beauty rituals were passed down to you?
I had aloe vera in the back of my yard. My mom would take all the stuff from the inside, and it was like a jelly for our hair.
There were lots of things like that I remember from childhood. It's an island, so you have lots of beautiful plants and different things that were incorporated into what I would do for my hair or skin. It wasn't always about going to buy a new product — it was just about living from what you have.
How did you come up with the idea of creating Grace & Company?
I was a model for 15 years and did everything from runways to commercial work. As a model, your hair gets truly, truly destroyed. You're always getting your hair done and there's a lot of heat damage. A lot of models wear extensions for this reason because you're always trying to preserve your natural hair.
I was a designer at an architecture firm and as a working mom, it was still an issue. How do I really care for the health of my hair and prevent damage? We came up with this idea of using textiles to really solve these problems, because I have a background in textiles.
[I wanted to] create innovative fabrics that could solve the problems that I and a lot of other women have. After having children, my hair broke off even more. There's significant hair loss, and that's something that a lot of women don't talk about.
I started to experiment with fabrics because I was using all these really wonderful products, but products can only get you halfway. [If I use nice, super nourishing products] but sleep on a cotton pillowcase that absorbs all that really good stuff that I just put in, it defeats the purpose.
What sets Grace & Company apart from other brands?
A lot of time is spent in product development. We came up with innovative fabric that can be made into a single layer, is completely waterproof, and just works well. We really think about the person using the product also.
The micro-cotton collection, which launched last year, is something that [did not exist] in the market. We put together a combination of fabrics — microfiber and a cotton — and blended those together to create something that was better than a microfiber or a cotton hair towel.
We try to stay on top of that and use the best and newest fabrics, while also designing different blends of fabrics to solve for hair loss and breakage.
This interview has been edited and condensed for clarity.