How To Curl Your Hair With Leggings, According To TikTok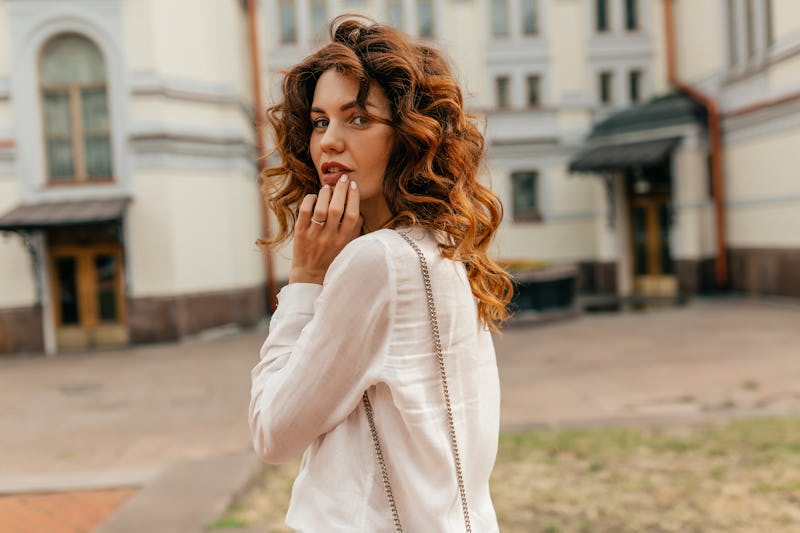 Shutterstock
As the entire world knows, TikTok serves up life hacks on the regular. Sometimes, they're a total miss or something to avoid completely. (See: scaling your own teeth.) But when it comes to curling your hair with leggings — a beauty trend that currently has over 340 million views on the app — you might be surprised to hear that... it actually works. However out there it may seem, this hair hack can give you gorgeous, bouncy curls using nothing more than a pair of Lululemons.
If you're well-versed in BeautyTok, this certainly isn't the first heatless hairstyling hack you've come across. You can turn to the classic Velcro hair rollers, braid your hair while it's wet, enhance your curls with a pasta strainer, or even wrap your strands around a banana. (Yep, that's a thing). All of these heatless curling techniques add some wave or curl to your strands without the damage associated with hair straighteners or curling irons.
Hot tools definitely have a time and a place, but if you start using them every day, your strands will start to cry out for help. That's because heat works by changing the hair's protein structure while also removing its natural oils, so relying on your curling iron or blow dryer on the reg can cause breakage.
It sounds super strange, but you can avoid that damage by sleeping with your hair neatly wrapped around the pant legs of your workout pants so that you wake up with mega volume. Intrigued? Read on to learn how to curl your hair with leggings.
How To Curl Your Hair With Leggings
These are the basic steps for achieving perfect curls with your leggings, according to TikTok user @eggdressesup:
- Start with dry hair.
- Place the crotch of the leggings on the top of your head.
- Use a hair clip to keep it in place.
- Dangle a pant leg on either side of your face.
- Part your hair and pull it forward over each shoulder.
- Starting at the top of your head, begin to wrap one side of your hair around a pant leg. Twist your hair away from your face for best results.
- Continue to add more hair as you go down, sort of like a French braid.
- Repeat on the other side.
- Once you get to the bottom, reach into the ankle holes and turn the leggings inside out so they cover your ends.
- Secure the ends in place with a scrunchie or hair tie.
- Flip the waistband of the leggings over your head so it fits securely like a cap.
- Twist together and tuck both pant legs into the back of the cap.
- Get some sleep.
- Et voila: Shake out your fluffy curls in the morning.
For curls that are even bigger, @eggdressesup recommends a slightly different technique. Start by applying copious amounts of hair oil to keep frizz under control, and then continue wrapping your hair. When you reach the nape of your neck, begin to cross the hair over itself so your strands start going in two different directions. Once you reach the bottom, apply the scrunchies then twist and neatly tuck the legging legs into your cap. This should result in bold curls that go in lots of different directions instead of just one.
If you tuck all your hair correctly, the cap should stay perfectly snug on your head and protect your hair while you sleep. And if you're wondering how the heck it might feel to sleep with leggings on your head, rest assured that BeautyTok claims they're actually comfy. You don't necessarily have to sleep in leggings for curls, either — to speed up the process, spritz your hair with water and do a tighter French-style braid around the leggings, as demonstrated by TikTok user @hairby.anniebea. Leave the leggings on your head for about three hours or until your hair dries to reveal selfie-worthy bounce. Who knew?
Studies referenced:
Lee, Y. (2011). Hair Shaft Damage from Heat and Drying Time of Hair Dryer. Annals of Dermatology, 23(4), 455-462. https://doi.org/10.5021/ad.2011.23.4.455