Attention Millennials, Italian Charm Bracelets Are Officially Back
The nostalgic staple is trending on TikTok and Love Island.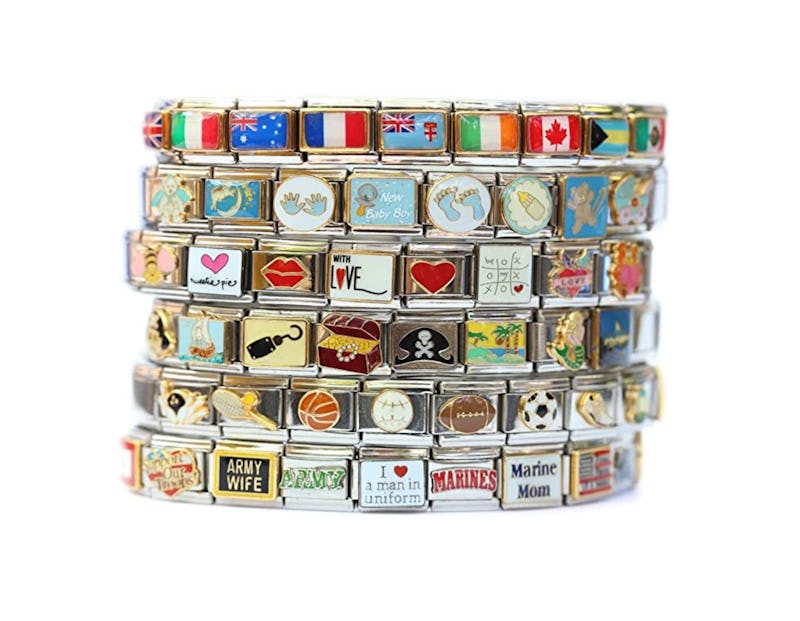 We may receive a portion of sales if you purchase a product through a link in this article.
Look, a lot of shocking things happen on Love Island. Contestants get raunchy under night-vision cameras; Prince Harry's ex shows up; brutal betrayals lead to blistering breakups; important matters of geopolitics are discussed (read: when Hayley Hughes from Season 4 asked, "Does Brexit mean we won't have any trees?"). Still, nothing prepared me for the Season 9 premiere, when Anna-May Robey arrived at the villa wearing a stack of Italian charm bracelets circa 1999.
If you're over the age of 20, that last sentence likely threw you into at That's So Raven-style flashback to the personalized stack you once considered the height of fashion. Italian charm bracelets were must-have accessories back in the late '90s and early 2000s, right up there with butterfly clips and tattoo chokers.
The stainless steel bracelets were made up of spring-loaded square links to be swapped and traded for a custom look. Charms were decorated with hearts, stars, rainbows, peace signs, monograms, team mascots, zodiac signs, and more. The name only added to the allure. How cool was it to say your bracelet was from Italy? (Even though you bought it at Claire's.)
For two decades, I forgot about Italian charm bracelets — then, Anna-May entered the villa. Even a house full of sickeningly beautiful Gen Zers flirting and fighting couldn't distract me from her nostalgic jewelry. Anna-May — who, I must mention, was born in 2002 — wears two Italian charm bracelets in just about every episode, one silver and one gold.
A quick stalk of Anna-May's IG showed she's been wearing them consistently since January 2022. Are they back? I had to learn more, so I dove into TikTok. A few people were showing them off as far back as July 2021. In March 2022, creator Lauren Wolfe featured hers in a video. "Please tell me that I'm not too old for this app and some of you know what these are," she said.
Some wearers dug them out of their childhood bedrooms, but many are buying them new — undoubtedly, the result of Gen Z's love for all things Y2K. But people who sported them the first time around are cautioning potential buyers. "Unless you're a total hairless rat, these things would rip your arm hair out," user @zzzahneee warned.
The stainless steel bracelets were first made in 1989 by jewelry designer Paolo Gensini (yep, he's Italian — the bracelets' name checks out) as a more affordable alternative to gold and silver. In the '90s, American tourists brought the style back home, and by the early 2000s, they were officially A Thing on both sides of the pond. Knockoffs proliferated and soon they were available in every mall.
Britney Spears, Jennifer Lopez, the Beckhams, Keira Knightley, and even Oprah all reportedly wore the trend. Pamela Anderson and Carmen Electra each picked out links for their bracelets while backstage at the 2005 Billboard Music Awards (ah, what a time).
Gensini's company Nominations still sells them (their $144.50 chunky men's version featuring a "BOSS MAN" charm is sold out, sorry) and Amazon, Etsy, eBay, and Walmart are all rife with ready-made bracelets and loose links. For cranky elder Millennials, may I recommend this charm engraved with "I'm getting too old for this CRAP?"
I'm a sucker for a good Y2K throwback (give me a Juicy suit any day of the week) but this is where I draw the line. I like my arm hairs exactly where they are.