I Tried Kendall Jenner's No-Pants Look As A Plus-Size Woman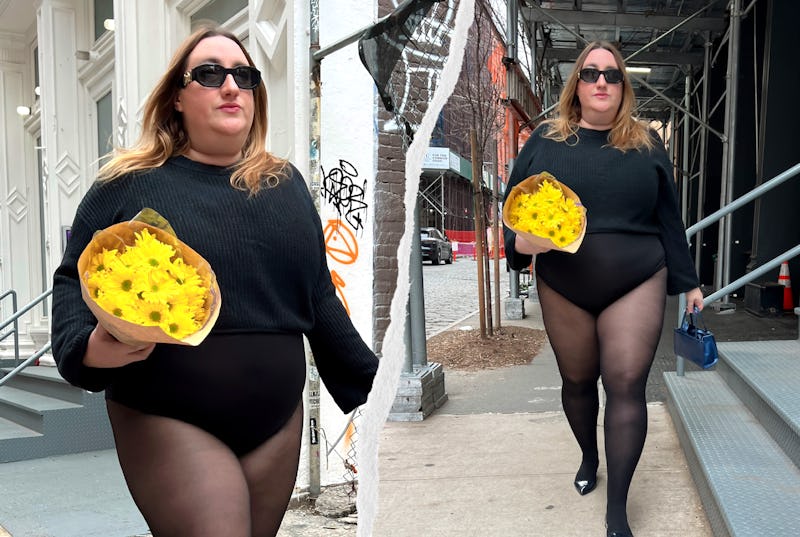 Courtesy of Sarah Chiwaya
Lately, it seems like more and more fashion trends are actually about bodies, not clothing. As someone who lived through the 1990s, when rail-thin bodies reigned supreme, and the low-rise jeans-obsessed 2000s (which was really just about showcasing jutting hip bones), I know firsthand how harmful it can be when fashion deems one figure "in."
Recent advances in plastic surgery only make body trend shifts all the more jarring. Kim Kardashian showing up with her signature curves noticeably absent immediately garnered headlines about the end of the BBL era. Buccal fat removal, the latest in a long string of trending procedures, harkens back to the gaunt, sunken cheeks of waifish runway models. If you know how to spot the signs, it's easy to see that they're once more pointing towards "thin is in" — even though it was never truly out.
As a plus-size fashion blogger who has spent the last decade pushing for more inclusivity and body positivity in the fashion industry, this vibe shift feels particularly upsetting. I regularly speak out against restrictive body norms, but I also do my part to offer visual representation of plus-size bodies.
I intentionally take back fashion trends that society tries to exclude fat people from. Often, this requires me to push far beyond my comfort zone. I'm pretty adventurous and I regularly wear bold statement pieces, but some skimpier trends still feel daunting. It took some serious internal pep talks for me to brave the aforementioned low-rise jeans. Fashion's latest trend, however, is easily the scariest one yet: the pantsless trend.
This divisive fad showed up on the runway last September. Bottega Venetta paired a chunky sweater with sheer black tights and pumps for their SS23 Milan Fashion Week show. Meanwhile, at London Fashion Week, Victoria Beckham showed lacy black tights with an oversized navy blazer.
WWD/Penske Media/Getty Images
WWD/Penske Media/Getty Images
WWD/Penske Media/Getty Images
Other designers went even skimpier, with brands like Coperni and Del Core sending bodysuits and bare thighs down the catwalk. But it was a November photo of Kendall Jenner casually strolling sans pants that really marked this as a trend with legs (pun absolutely intended).
Armed with nothing but my semi-sheer tights, I decided to try it for myself, in the name of plus representation. To recreate Jenner's viral look, I layered a cropped sweater over my favorite bodysuit for a similar effect. Like Jenner, I completed the ensemble with tights-as-pants and a pair of slingback, pointed-toe pumps. The finishing touch: a bouquet of sunny yellow flowers.
Courtesy of Sarah Chiwaya
Courtesy of Sarah Chiwaya
Courtesy of Sarah Chiwaya
While preparing to leave the house, I gave myself another pep talk: "Tap pants have been worn since the 1930s! This is basically just a pair of short-shorts! The bodysuit covers so much more than most swimsuits! This isn't even the first time you've done a no-pants outfit!" Even though I knew all of these points were true (I wore a pants-free look to Chromat's 10th anniversary show in 2019), the mental block was strong.
But I persevered, venturing onto the streets of New York City with my legs all the way out. Even in a city famous for minding your own damn business, the outfit earned me some looks. Most people seemed more baffled than appalled (it was 45 degrees out), but there were a few glares mixed in too. Honestly, though, that's par for the course — nothing ruffles feathers like a plus-size woman confidently showing her body.
As the day went on, I found myself feeling more and more comfortable in the Jenner-approved outfit (especially when I added a vegan leather trench coat for warmth). I kept my jacket open all day to really get the full experience, and after my initial trepidation wore off, it was generally unremarkable. My husband and I got brunch, did a little shopping in Soho, popped into a coffee shop, and took our passport photos — all in this polarizing look.
All in all, it was a pretty enjoyable experience. Do I still feel uncomfortable with 'body as an accessory' trends? Yes. Do I also think that when these trends happen, we should make it very clear that plus bodies are just as hot an accessory? Absolutely. The more we see a full range of shapes and sizes represented, the more trends become about fashion, not about figure.