11 Unexpected Things That Might Happen When You Air-Dry Your Hair
It could get dehydrated, for one.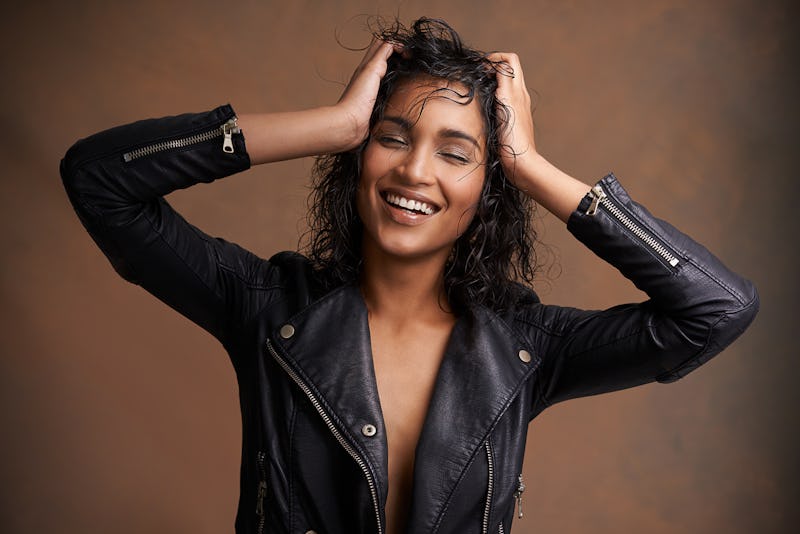 Getty Images/ PeopleImages
There are so many pros and cons with air drying hair that it can be tough deciding whether you're going with the au natural route or reach for your blow dryer instead. It ultimately depends on the texture of your hair and what type of style you're going for, breakage fears, and how much time you're willing to commit to your haircare routine.
While air drying brings a number of perks, it's particularly beneficial if you're trying to avoid damage, says hairstylist Roi Alan, owner of Tease Salon. "Many people air dry to protect their hair from being exposed to heat, which can cause it to appear dry," he explains. Another reason is time: If your hair is thick or you're short on time in the morning, you might opt to jet out the door with damp strands.
There are downsides to leaving your strands wet, though. Air drying your hair isn't necessarily bad — but if you are going to do it, there are best practices that'll help prevent potential consequences. Stephanie Ayler, a licensed cosmetologist and owner of hair care brand Nourish and Love Co., recommends applying the right kind of serum, spray, or leave-in conditioner for your hair type. For straight hair, Ayler suggests gently pulling damp strands into a low ponytail while it dries. If your hair is wavy, try a loose braid or scrunch your strands to increase their natural wave. Then, if your hair is curly, she recommends detangling then flipping your head upside down, applying some product, and scrunching curls in. Ayler notes natural hair works well with a wash and go: You could go with an updo like the pineapple or twist or braid your hair into sections, she says.
Air drying can be bothersome, though, as anyone who's ever gone out in the cold with wet hair knows. Read on for the pros and cons of air drying your hair.
Studies referenced:
Dias, M.F. (2015). Hair Cosmetics: An Overview. International Journal of Trichology. https://www.ncbi.nlm.nih.gov/pmc/articles/PMC4387693/
Lee, Y. (2011). Hair Shaft Damage from Heat and Drying Time of Hair Dryer. Annals of Dermatology. https://www.ncbi.nlm.nih.gov/pmc/articles/PMC3229938/
Sources:
Roi Alan, hairstylist
Stephanie Ayler, licensed cosmetologist
Tony Odisho, owner of the hair care line Tony Odisho
Lana Kurayeva, expert colorist
Edward Tricomi, master stylist
Ted Gibson, celebrity hairstylist
Michelle Cleveland, hairstylist
Melissa Peverini, hairstylist
Monica Davis, hairstylist
This article was originally published on