Nourie Is The Black-Owned Company Making Braiding Hair Out Of Plants
Osahon Ojeaga, the brand's founder and CEO, chats with Bustle.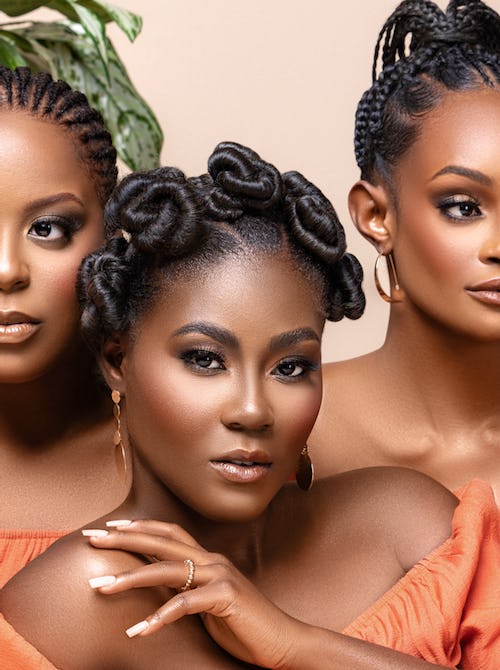 Nourie
When it comes to protective hairstyles, most women's pre-appointment ritual involves heading to the beauty supply shop for a few packs of synthetic braiding hair — faux extensions of dubious origin that are usually coated in chemicals that can irritate the scalp. Osahon Ojeaga experienced a similar predicament after leaving her Silicon Valley job and deciding to spend time traveling.
After opting to get braids before the journey, her scalp reacted negatively to the braiding hair she purchased online (to add insult to injury, Ojeaga says it was a "bad customer service experience" as well). Deciding she could do better, she launched her own company... but it wasn't until it came time to design the packaging that she had her ah-ha moment. "I started a synthetic hair company using traditional plastics — and when it got to the point of designing packaging, it really sucked to put plastic hair into more plastic," she tells me over Zoom. "There was a lightbulb moment. Why am I just thinking about the packing? Let's think about the product. How can we make [it] sustainable?"
The quest for a solution led to the birth of Nourie. Thinking of how fibrous plants like coconut can be, Ojeaga reached out to friends to brainstorm and asked one of the very first acquaintances that she approached, a food scientist, if there was a way that braiding hair could be derived from plants. After accepting the challenge, the duo was joined by other friends who Ojeaga tells me were "definitely not the right kind of scientist for the journey, but were still excited about what we were working on and had the know-how to ask the right questions and seek out the right information that would get us closer to turning this from some wild idea into something that could be backed by an investor."
Ultimately, the team succeeded. "It was literally just an idea. We had no prototypes or even beakers to pour water into, and we got half a million dollars — just from an idea, which is unheard of in the Black community," Ojeaga says, noting that Black and brown founders face more scrutiny from investors. The funds jumpstarted production, and four months later, Ojeaga had two prototypes of compostable, plant-derived braiding hair that were infused with ginseng root extract and rosemary... unlike anything else on the market.
While she was able to secure the funding to make Nourie a reality, it's an uphill battle for women of color. "You have to look at who's making the decisions when it comes to who gets the money. It's typically white men. And they are usually going to invest in people that look like them and in something that they can grasp. The life of a Black woman is still something that this country is still not getting." Ojeaga says that even Black-led funds are typically given to Black men over women of the same race. She says the answer is to have more Black women on boards and in positions in which they oversee investments. "I'm praying and hoping to see a shift happen."
As for the future of Nourie, stay tuned for additional colors, wefted extensions, and wigs. Ojeaga recently met other Black women founders with the technology to produce wefts out of Nourie's fibers in the United States using artificial intelligence, and says her engineers are currently creating new hues. And the best business lesson? That would be the importance of having the perfect pool of people around you — and finding the courage to be honest with someone if it's not working out. "It's so hard to make difficult decisions," she says. "But once you do it, it's like a weight has been lifted off of you. And you can focus so much better and move forward."
Nourie braiding hair is officially available for pre-order on nouriehair.com.