Black-Owned Fragrance Brand Ourside Is Changing The Luxury Perfume Industry
Founder Keta Burke-Williams talks to Bustle about bringing the brand to life.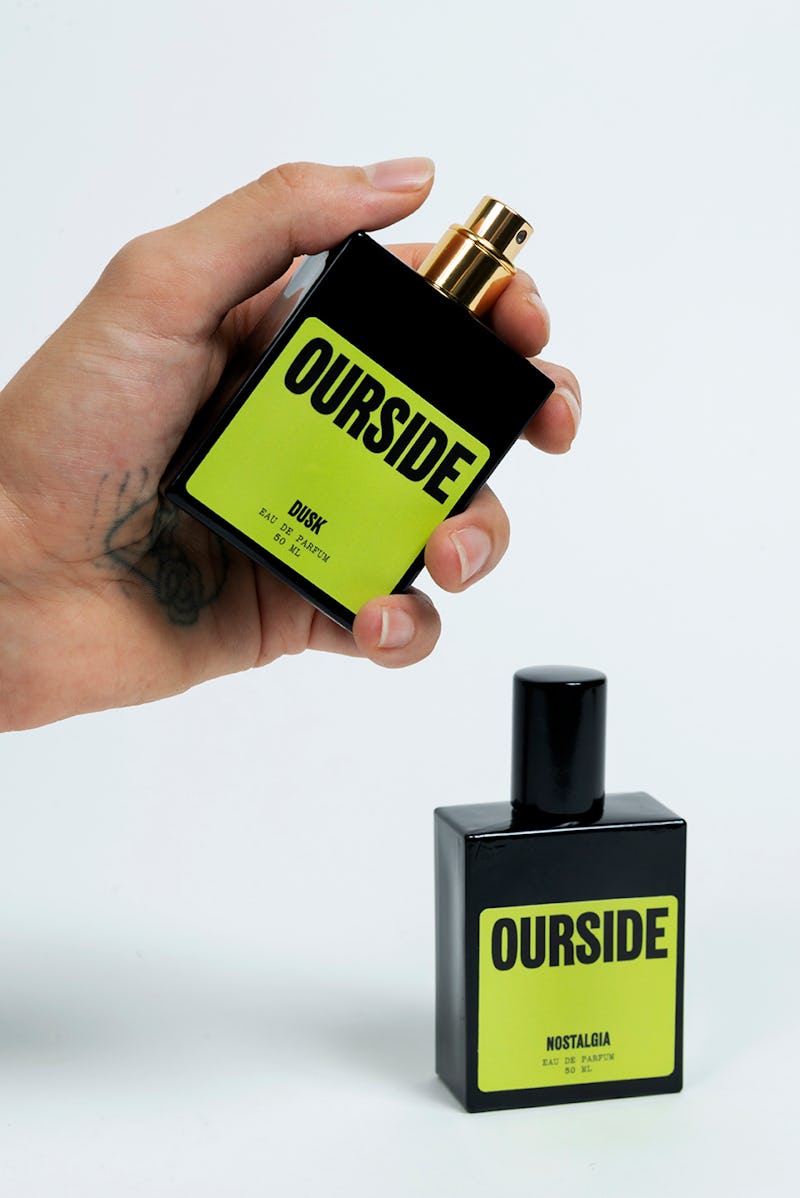 Ourside
We may receive a portion of sales if you purchase a product through a link in this article.
In You Heard It Here First, Bustle's editors introduce the coolest up-and-coming beauty brands you should have on your radar. Here, Ourside founder Keta Burke-Williams talks about the creation of her own fragrance line, the inspiration behind the scents, and the need for Black voices in the perfume industry.
To say that the fragrance industry lacks diversity is an obvious understatement. When most people think of leaders in perfumery, they can't help but think of a white (usually French) perfumer and/or white-owned brands since that's who normally dominates conversations around scent creation. But Ourside is here to start change.
Created by Keta Burke-Williams, Ourside is a clean, Black-owned luxury fragrance collection. Like many beauty lovers of color, Burke-Willaims came to a realization that many of the beloved brands she's followed for years — particularly ones in the fragrance space — have not evolved with the times or supported women who look like her. After one conversation with her sister, who declared that she was giving up on fragrance because a) she gets headaches when she wears them and they aren't asthma-friendly and b) these brands don't share the same values, she decided it was time to create something to fill that glaring void in the market.
"I never really considered the agency that we have over what we do and where we choose to support," Burke-Williams tells me over Zoom. "[I] felt that [realization] was a pity because fragrance has always been this treat to me, but [my sister] was right. There was a lot of stuff that was broken, so we decided maybe somebody should do something about that, and maybe that could be us."
Thus, Ourside was born. Launching with three scents on January 12, 2023 — Dusk, Moon Dust, and Nostalgia — the collection is inspired by the idea of daydreams.
Daydreaming, she explains, is a universal experience and something that everyone is familiar with. But how you daydream is an experience that is unique to each individual, similar to how we uniquely experience smell. "Daydreams are these interesting things where we all have had [them] and know what [they are], but the way we dream and where that path takes us might be different," she says. "I wanted to start exploring that tension between the grounded and [dreaming]."
She describes Moon Dust as a "pretty bright scent." You are greeted with a burst of bergamot and mint, followed by the cool spice of juniper berry, peppermint, and anise. It's all balanced out with vetiver and palo santo for an earthy, freshwater feel. Dusk, she says, is more sultry. Made with notes of fig, berries, frankincense, and cedarwood, it's a cozy sweet scent that just feels warm.
Last is Nostalgia, which is inspired by Burke-Williams' mom. "My mom would always tell my sister and me about her first time smelling midnight [blooming jasmine], so that's become a daydream for me," she says. To give it a modern twist, she added mint and grapefruit to brighten jasmine's traditionally powdery scent. It is also sweetened and anchored by ylang-ylang, amber, and patchouli.
In-theme with its ethos of being a fragrance brand that's for everyone, Ourside has partnered with a woman of color-owned fragrance manufacturer Delbia Do, located in the Bronx borough of New York City. All the scents are clean and formulated without a "no-list" of ingredients such as parabens, mineral oil, and synthetic dyes. Sustainability is also a major pillar of the brand. Its secondary paper packaging is printed in New Jersey in order to keep production close by and create the smallest carbon footprint possible.
Ourside proves that creating something of luxury that includes all people, is clean, and fun is possible. "We're not reinventing the wheel, but if we can create something fresh and unique that people really identify [with] and love that is also aligned with all our brand values, then I think that's my goal," she says. "It's really important to show that Black girls can create something of luxury for all people."
Ourside is available now at Ourside.nyc.