Early 2000s-Inspired "Peek-A-Boo" Hair Is Trending This Summer
Here's how to rock the two-toned look.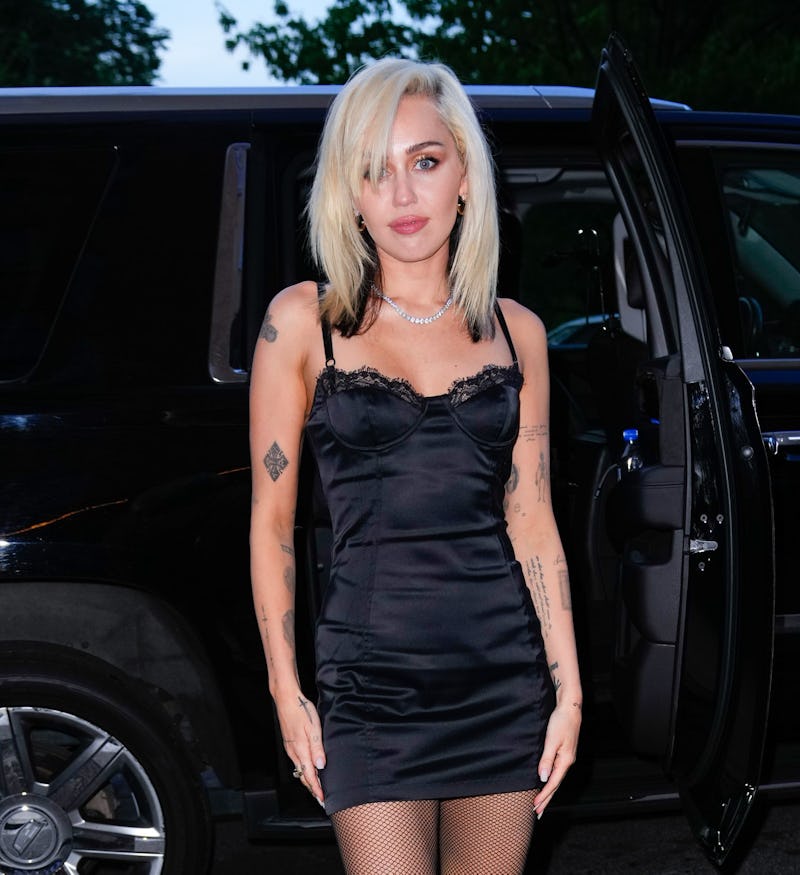 Gotham/GC Images/Getty Images
Early 2000s-inspired "peek-a-boo" hair has emerged as one of this summer's most popular beauty trends, especially after Miley Cyrus debuted the look a few months ago. In fact, Google searches for "two-tone hair" increased by 733% in the week Cyrus was spotted with the style, while queries for "Miley Cyrus hair" simultaneously rose by 393%, according to data from beauty platform LOOKFANTASTIC.
Peek-a-boo hair color features the bottom section of strands dyed a second shade, making it a more discrete yet still eye-catching way to rock different hues. While Cyrus set the color fad in motion, the singer's look is actually a nod to countless musicians who rocked it before her: Madonna and Debbie Harry are often credited with popularizing the style in the 1980s, though two-toned hair returned as a cultural phenomenon 20 years later.
In the early 2000s, countless A-listers rock the two-toned aesthetic, including Christina Aguilera (who could forget her iconic blonde-on-black hair in her "Beautiful" video?), Avril Lavigne, Shakira, Nicole Richie, and more. Today, a number of celebs have brought it back to the mainstream. "Miley does have a version of this trend, but I've also seen it on Dua Lipa, Doja Cat, Ashnikko, Billie Eilish, and Sia's half-black half-blonde bob," Jose Rojas, hair colorist at Hair Cuttery, tells Bustle. He considers the look to be part of the e-girl aesthetic. "It's like emo and scene fashion combined with K-pop fashion and streetwear we see in Japan," he explains.
Want to try the show-stopping style yourself? Read on for everything to know about peek-a-boo hair color.
We at Bustle only include products that have been independently selected by our editors. We may receive a portion of sales if you purchase a product through a link in this article.
What Is The Peek-A-Boo Hair Color Trend?
According to Chase Kusero, hair colorist and co-founder of IGK Hair Care, the peek-a-boo look consists of a section of color strategically placed to peek out as the hair moves. "It's placed underneath a larger section of hair so you can choose to show it off or keep it hidden," he tells Bustle.
Hair colorist and R+Co collective member Richy Kandasamy says the most common take on look as wearing one's natural color juxtaposed with a very bright placement. This way, the second color acts like an accessory that can be seen when hair is pulled up or styled in a specific way — though there's no wrong way to rock the two-toned look. "This trend can be brought to life in so many different ways and extremes," says Kandasamy. "It's all about adding pops of high contrast to your existing base color, whether that be playful hues or literal black and white tones."
As for why it's making such a comeback now? George Papanikolas, celebrity hairstylist and Matrix brand ambassador, believes it gives you the best of both worlds. "It has an edgy punk vibe, but can be hidden," he says — kind of like a discreet tattoo, but with hair color. "Wearing hair up to show it off is great, and using a vivid color makes it modern and unexpected," he adds.
Plus, while the bold nature of the peek-a-boo trend might make it seem like it requires extensive upkeep, it's surprisingly low maintenance. "This is a very easy look to maintain as no one will see your roots growing in with the peek-a-boo," Ghanima Abdullah, hair expert and cosmetologist at therighthairstyles.com, explains. "If you choose a darker color on the bottom, you won't even need to bleach that part, so you'd be able to continue with your same care routine without any different products." Sold.
What To Ask For At The Salon
Hair experts universally advise seeing a color specialist for this dye job. "Visit a professional as placement is key to the end result," Kandasamy tells Bustle. He says to specifically request "high contrast panels of color" and consider having a consultation beforehand. "It's important to have a thorough conversation with your colorist so you are taking into account not just the right color choice, but how the placement works with your haircut," he says.
Other ways to describe the look include "block color" and "halo sections," Rojas adds. Experts also recommend telling your colorist the specific section of your hair you want to dye, as well as whether or not you want it to be hidden. And, of course, it's always wise to bring a reference photo (or a few), as it helps paint a picture of where to place the pigment.
Be sure to keep in mind that any shade darker than your natural color might need to be bleached or lightened first. "If you want something lighter or vivid [for your peek-a-boo color], you will need to pre-lighten first," explains Papanikolas. "Going darker is much easier, but be cautious — very dark or black tones can be very difficult to remove in the future." If you're bleaching, toning, and/or dyeing, Kandasamy and Papanikolas reiterate the importance of using hair-protecting and color-preserving products in your routine.
How To DIY The Look
If you're going to DIY your peek-a-boo dye job, experts encourage using semi-permanent or temporary color. Once you have that, begin by dividing the section you want to dye. "First choose where you want to see the most color — on the right, left, or back," says Kusero, who prefers to choose a triangle-shaped section just above and slightly behind the ear. After you've decided, section and clip the rest of your hair up and out of the way. "Once sectioned, use a temporary color mask, and fully [dye] the section of hair where you want to see color," Kusero continues. Pro tip: "Don't be scared to mix and match and melt colors together to create a dimensional effect," adds Kusero. "That's the beauty of temporary color!"
How To Style The Peek-A-Boo
'90s Blowout
It's hard to find a color trend that doesn't look good with a glamorous '90s-inspired blowout, and the peek-a-boo is no exception. To get the look, Rojas suggests prepping the hair with heat protectant and mousse, followed by a hair oil from the mid-strands to the ends. Dry your hair with a blow dryer until it's about 80% dry, then go in and polish, wrapping the ends around the brush to style.
Half Updo
Another option that'll really showcase your dye job? Rojas suggests pinning or clipping your hair into a half-up 'do, as it's simple, heat-free, and exposes your peek-a-boo color (the best part).
Beach Waves
"Simple beach waves wrapped away from the face will pull the peek-a-boo forward to create dimensional color ribbons," Kusero tells Bustle. You can achieve the beach wave aesthetic via a hot tool or by sleeping in braids, according to Rojas. For the latter technique, he recommends doing two braids split down the middle on slightly damp hair, applying a bit of volumizing mousse, and sleeping with them overnight.