Rihanna Wore A Bejewelled Bra & Sheer Skirt For Her Oscars Performance
The pregnant singer rocked three striking looks throughout the night.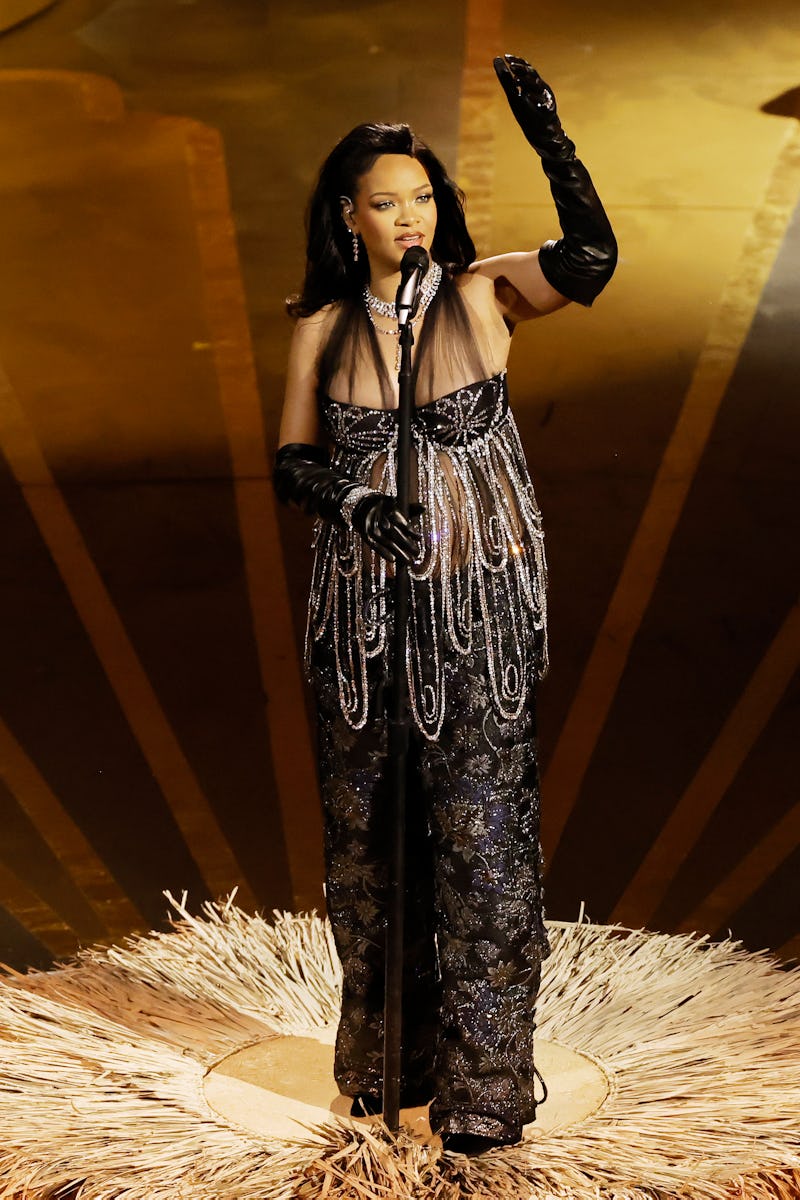 Getty Images/Kevin Winter
After arriving at the 2023 Oscars in a stunning Alaïa sheer dress, special guest performer Rihanna continued to wow fans after her first outfit change of the night. Singing her Oscar-nominated track "Lift Me Up" from Black Panther: Wakanda Forever, Rihanna — who is expecting her second child with A$AP Rocky — wore a sheer outfit showing off her baby bump.
For the emotional performance, Rihanna wore a custom Margiela Artisanal outfit consisting of a tunic dripping with crystals and gems paired with equally sparkly floral print pants. Not only did Rihanna receive a standing ovation for her performance, she looked radiant while doing so. The star paired the outfit with elegant diamond necklaces and jewellery, including a cuff bracelet on top of black elbow-length gloves. The look was created for the singer by former Dior designer John Galliano, who previously worked with the singer in 2018 when creating that Maison Margiela outfit at the Met Gala for the event's controversial "Heavenly Bodies: Fashion and the Catholic Imagination" theme.
Performing while pregnant is no easy feat, but Rihanna said something changed after having her first child. "When you become a mum, there's something that just happens where you feel like you could take on the world, you can do anything," she shared with Apple Music when discussing her Super Bowl performance.
Getty Images/Kevin Winter
Al Seib/A.M.P.A.S. via Getty Images
Getty Images/Kevin Winter
After Rihanna's Oscar performance ended, Rihanna disappeared backstage to change into her third outfit of the night. The Fenty Beauty creator returned to her seat with partner A$AP Rocky, this time in a custom-made Bottega Veneta fit consisting of an off-the-shoulder bustier and pale green skirt with matching elbow-length gloves.
As for what you can expect from Rihanna following her Oscar performance, there's a high chance that she'll be releasing new music soon (fingers crossed), which is thanks, in part, to her being a mum. "Everything is stimulating. Everything right now is firing off. I'm excited," the singer told Vogue in November 2022. "It's getting me super-motivated, super-energized to do new things, to create, and I'm back in the studio now."
Getty Images/Robert Gauthier
Getty Images/Robert Gauthier