Saie's Glowy Super Skin Foundation Gives Me A Filter-Like Finish
It's become my everyday makeup staple.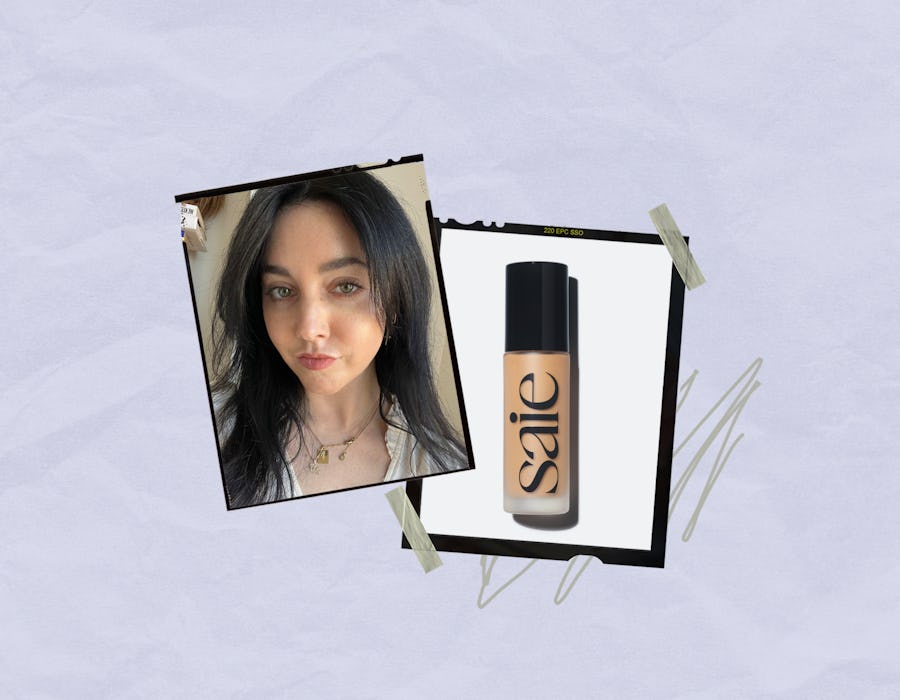 Saie
We may receive a portion of sales if you purchase a product through a link in this article.
To make my skin look more clear and even than it actually is, I always reach for one of my trusty skin tints — never a foundation — for some light, natural-looking coverage. That's not to say I don't love testing the latest foundation formulas; it's really fun to whip out my makeup brushes and apply a bolder glam for special occasions. But then Saie's Glowy Super Skin Foundation came into my life and officially turned me into a foundation girl.
It's actually quite fitting that Saie has launched a foundation that I'm obsessed with. The makeup brand is the same one that's behind Slip Tint, the tinted moisturizer that I've worn practically every day for years now. The Glowy Super Skin Foundation functions as the perfect step up: It offers more coverage, but does so without feeling like you're wearing a heavy-duty makeup product. And that's largely because of its very skin care-forward formula. Seriously — it's basically a serum that has the added benefit of making your complexion look flawless after applying it.
Intrigued? Thought so. Keep reading for more intel on why Saie's Glowy Super Skin Foundation is the ultimate foundation for people who don't usually wear foundation.
Fast Facts
Price: $40
Best for: Lightweight coverage, makeup with skin care benefits
Your rating: 5/5
Brand: Saie
What we like: It delivers natural-looking coverage as it nourishes your skin, comes in 36 shades
What we don't like: It looks better when applied to freshly moisturized skin — otherwise won't look as dewy
The Saie Glowy Super Skin Serum Foundation
Saie's foundation offers medium, buildable, serum-like coverage. It's a liquid formula that's meant to give you a second-skin finish — and, much like everything else from Saie, this finish is very glowy.
Thanks to its long list of skin-boosting ingredients, the foundation keeps your skin moisturized as you wear it and works to even your complexion over time. In fact, its formula is 85% skin care based versus the 15% of pigment — so the skin care benefits are no joke.
The Ingredients
As I mentioned, the Glowy Super Skin Foundation works to keep your complexion hydrated throughout the day. That's because it's packed with hydrating staples you know and love from your skin care regimen: squalane, which helps your skin retain moisture; glycerin, a trusty humectant that draws moisture into your skin; and Saie's proprietary Hydrobounce Complex, which contains two types of hyaluronic acid, polyglutamic acid, a skin-plumping ingredient that delivers more hydration than hyaluronic acid, and rice bran peptides.
For those with sensitive skin, you can rest assured that the formula is free of fragrances — both synthetic and natural — as well as essential oils and dimethicone.
My Issue
I don't wear foundations very often because they're traditionally thick and look like foundation. I have a lot of freckles and prefer not to cover them up, which most foundations do. When I do wear foundation, I'll always reach for something that offers light, breathable coverage — but it's tricky finding one that covers enough without requiring multiple layers or that doesn't cling to dry patches. That's why Saie's works so well: It delivers hydration and just the right amount of coverage.
First Impression
My first time using the foundation, I applied it immediately after my moisturizer with SPF — and my skin was instantly transformed. I used my fingers to slather it on, which made for a really natural-looking finish. The liquid blended super easily — my skin seemed to drink it right up. Once my entire face was covered, I still looked the same... only with an Instagram filter-esque radiance. The redness I had around my nose had vanished, the dark spots that cover my temples were nowhere to be seen, and my old acne scars were completely gone. My skin just looked... flawless.
What stood out besides the instant glow, however, was how thin the formula is. It's water-based — so it won't play well with oily skin care, FYI — and almost runny compared to other foundations. This allowed it to spread easily, though, and is likely why the product feels so weightless on the skin. I only needed about a nickel-sized amount of liquid to cover my entire face, and it blended seamlessly into my skin — almost like a veil.
The Results
My Saie foundation glow lasted all day long without creasing or drying out. The brand says the formula "moves with you" throughout the day, which is true — it's like a second skin.
I've been using the foundation for over a week now, and will sometimes apply it with Saie's new Base Brush, a fluffy makeup brush that buffs the product into your skin. I'm definitely a finger application girlie with most makeup products, but I actually love using this brush for the foundation. It helps the formula blend more evenly and seamlessly, especially in those tricky areas like your nose, under eyes, and jawline.
However you apply the product, you're bound to get compliments on your skin. I've been getting more ever since I started wearing this product, so you can bet that I've told countless people to buy a bottle for themselves.
Worth It?
At $40, Saie's Glowy Super Skin Foundation has a mid-level price point. But you're essentially getting a facial serum and coverage product in one bottle. Plus, I only need one pump for my entire face, so it should last a while. All of that's to say: It's worth it.
Final Verdict
I never thought I'd see the day when I'm using anything but Saie's Slip Tint for everyday coverage — but that day has come. I guess you can say I'm a foundation person now, because Saie's foundation has become my daily staple. If you're on a quest for natural-looking dewy coverage, this is it.