26 Years Ago, Sarah Jessica Parker Wore Carrie Bradshaw's "Naked" Dress
The infamous mini found a life outside of the show.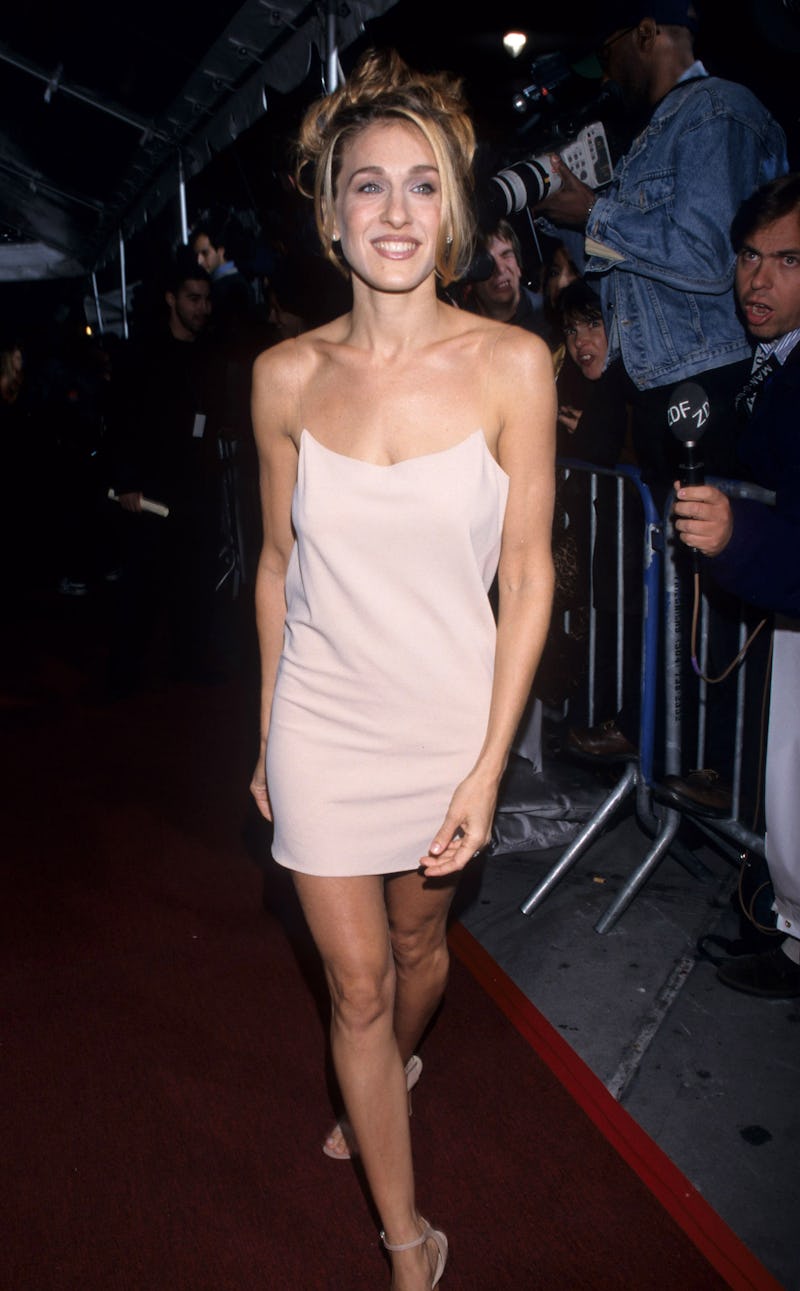 Kevin.Mazur/WireImage/Getty Images
Carrie Bradshaw's fate as a style icon was sealed the moment she stepped out in a tutu in the very first episode of SATC. Since then, seemingly everyone who even remotely cares about fashion has harkened to her style — from Emily Ratajkowski to Selena Gomez.
The constantly-growing list also includes Sarah Jessica Parker herself, who played New York's favorite spicy columnist. For over two decades since the show launched, the actor has consistently been paying tribute to Carrie's style. Just last year she collaborated with Fendi to release her own Baguette Bag, AKA Carrie's favorite handbag, which she helped to popularize.
Parker took her love for her alter-ego's style a step further when she wore an infamous item from Carrie's closet: the "naked" dress. Real SATC fans know exactly what I'm talking about, as this dress essentially drives the plot of Season 1, Episode 6. It's practically its own character.
The episode opens with Carrie dressed in a beige slip mini — a barely-there dress, with clear spaghetti straps and a low back by DKNY. The writer is posing in a photo shoot for her new ad, which will later be plastered on the side of a bus. Of the shoot, Carrie said: "I had misgivings, which were somewhat nullified when they told me I could keep the dress."
Weeks later, Carrie wears the dress again, this time to her first-ever date with Mr. Big. Ever the supportive friends, her crew Charlotte, Miranda, and Samantha are there for Carrie's send-off. Naturally, they debate whether Carrie is going to sleep with Big in it. Charlotte even gives it its moniker. "Let's just say it, it's the naked dress," she said.
Though Carrie throws a fur coat on top of it, Mr. Big calls it an "interesting dress" when he sees her — and the two ultimately end up in bed together. It goes downhill from there and Carrie assumes Big is ashamed to be seen with her in public. She even pins it all on the dress, lamenting, "I don't blame myself, I blame the dress."
The infamous dress found a life outside of the show. Parker rocked the same skintone dress to the 1997 VH1 Vogue Fashion Awards in New York. Adding her own touch to the Carrie-approved look, this time, she wore the itty-bitty slip with tan sandals and styled her hair in a classically-'90s updo.
Kevin.Mazur/WireImage/Getty Images
Kevin.Mazur/WireImage/Getty Images
Steve Granitz/WireImage/Getty Images
They're one and the same.