Selena Gomez Is A Bikini-Clad "Baddie" In This Stunning IG Throwback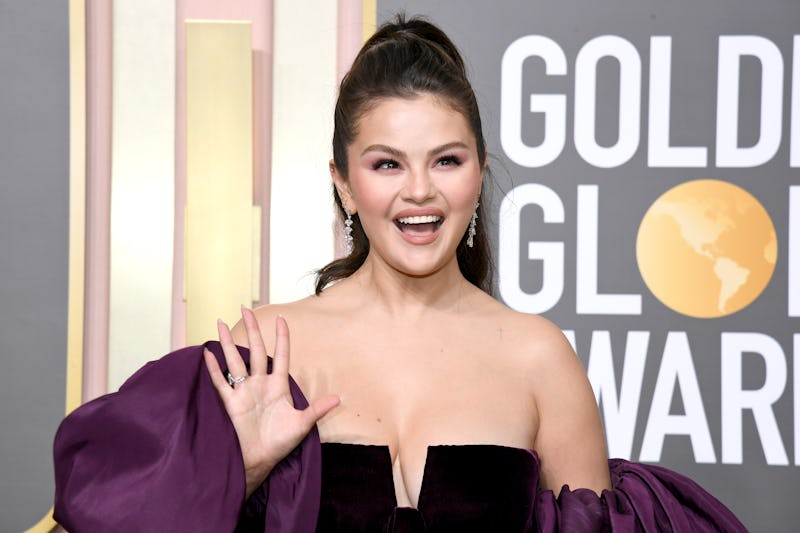 Photo by Jon Kopaloff/Getty Images
The weather is only just starting to warm up, so naturally we're already dreaming of balmy summer days. Even Selena Gomez seems to be getting in the mood for a hot summer, posting an aesthetic bikini pic on her Instagram on Mar. 26. Captured from a mirror on what appears to be a dressing table, Gomez is shown standing and pouting at her own reflection. The singer sports a two-piece bikini in vibrant purples and pinks, accentuated with wrap-around feature straps across her torso. The bikini is from Gomez's collaboration with La Mariette for their swimwear collection last year. Accessorising with only a pair of hoop earrings, the whole look is giving effortless but stunning, with Gomez seeming more than ready for a yacht party or a day of tanning on the beach.
What has made her post even more eye-catching was it was a throwback picture from when Gomez had sported blonde hair. The last time we saw an Instagram post of blonde Sel was back in October 2021, when she uploaded a teaser for Season 3 of Selena + Chef, her TV cooking show. The 30-year-old captioned her latest post: "TBT to blondie sel. Summers coming! So many exciting things coming!" Her fans are, of course, equally as hyped about this nostalgic look. Some have even commented on how Gomez's blonde hair is bringing back "Spring Breakers vibes," in a reference to Gomez's 2012 film Spring Breakers, co-starring Vanessa Hudgens, Ashley Benson, Rachel Korine, and James Franco, and featuring plenty of parties, drugs, and crime. Another fan commented: "Baddie Selena" on the Instagram throwback.
This latest post comes just a few short days after Gomez publicly put a stop to the recent discord between her and Hailey Bieber, with Gomez posting on her Instagram Stories that she has "always advocated for kindness and really want all this to stop" and Bieber thanking her for bringing weeks of internet drama to an end.