2023 Sephora Birthday Gift Offerings Were Announced & They're So Luxe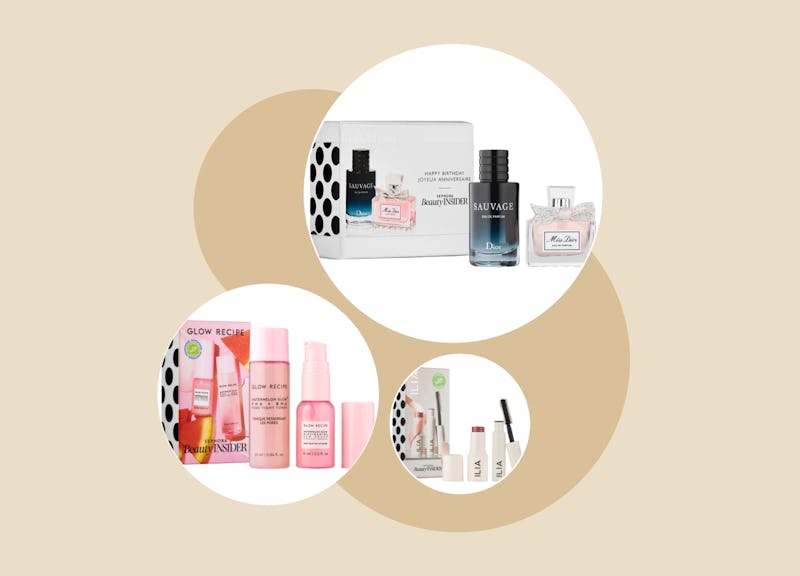 Sephora birthday gift offerings for 2023 have arrived, and per usual, the announcement was highly-anticipated. The beauty shopping mecca just announced that it's giving its most loyal customers birthday mini-gift sets from Dior, Glow Recipe, Ilia, and Ouai.
In 2023, Sephora's birthday gifts include the option to indulge in a luxurious fragrance duo from Dior, which includes the sweet floral scent of the iconic Miss Dior and the spicy musk Sauvage. (As of January 9, this pick was so wildly popular that it' not available online but you may be able to snag it in stores.) You can treat your skin with Glow Recipe's skin care set, which includes the nourishing Watermelon Glow Niacinamide Dew Drops and Watermelon Glow Pore Tight Toner. If you want to elevate your makeup routine, there's the Ilia set that includes the volumizing Limitless Lash Mascara and the Multi-Stick in Mauve Rose. The Ouai set is bound to fill your hair and body needs with the Detox Shampoo, Leave In Travel Conditioner, St. Barts Scalpe And Body Scrub, and the Melrose Place Eau de Parfum.
How it works is pretty simple. You just have to be a Beauty Insider Member (gifts are available for all three tiers: Insider, VIB, and Rouge) and you have your entire birthday month to pick your birthday gift from one of the four brands featured in-store or online. If nothing is catching your eye this year, no worries; you have the option of receiving 250 Beauty Insider Points instead, so it's a win-win all around.
As an added bonus, Sephora will offer four rotating gifts throughout the year exclusively online for VIB and Rouge clients. To start it off, you can choose the Farmacy skin care set that includes the Green Clean Makeup Removing Cleansing Balm, Honey Halo Ultra-Hydrating Ceramide Moisturizer, and the Honey Potion Plus Ceramide Hydration Mask.
You can also redeem your birthday gift at any Sephora inside Kohl's or at Kohls.com, where there's also an exclusive set offered on top of all the other options. Available at Sephora at Kohl's and Kohls.com only, you can opt for a luxurious Maison Margiela fragrance set that includes the scents Beach Walk, By the Fireplace, and Jazz Club.
Sephora
Sephora
Sephora
Sephora
If you haven't signed up to be a Beauty Insider yet, do it ASAP. Simply sign up online or on the Sephora app to enjoy all the perks.
This article was originally published on