8 Spring 2022 Makeup Trends That Will Get You Out Of A Beauty Rut
From dewy skin to cherry pouts.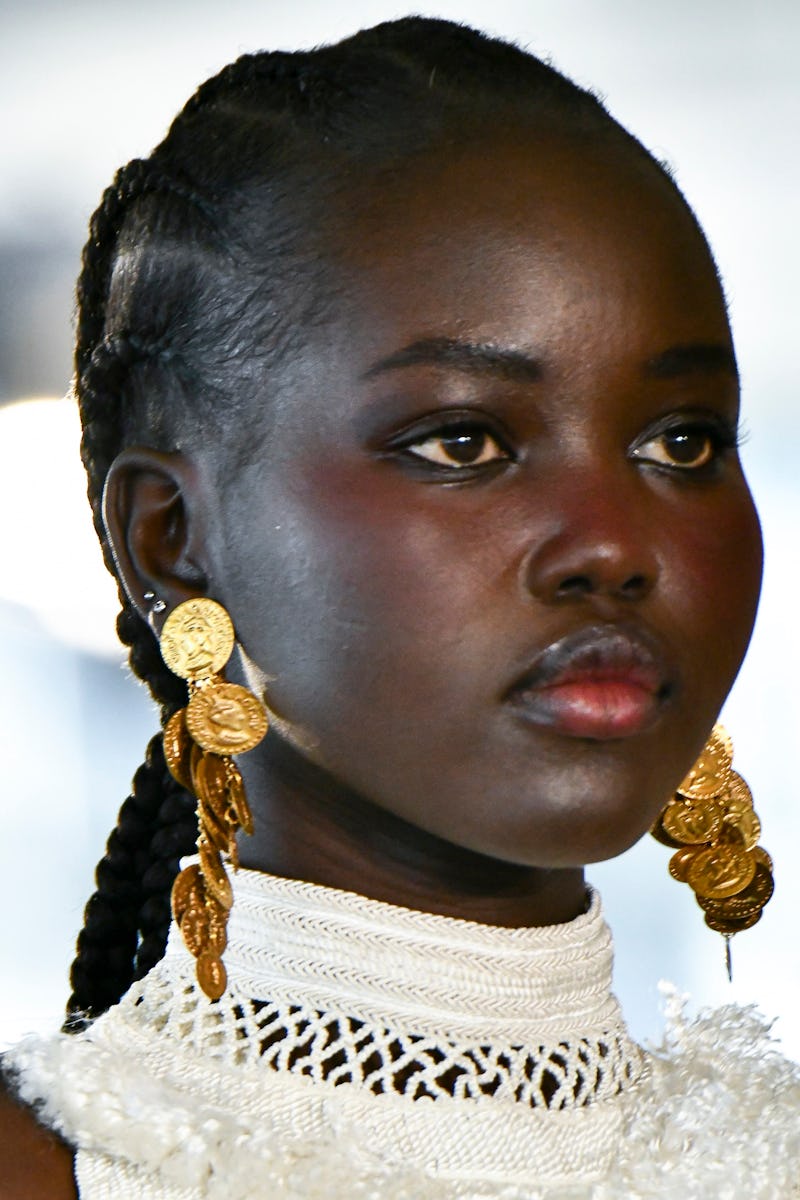 Victor VIRGILE/Gamma-Rapho/Getty Images
The top Spring 2022 makeup trends were first spotted on the runways last fall. And while it feels like a lifetime ago, they were well worth the wait: As predicted, dewy textures, vivid color (not just on the eyes, but the lips and cheeks, too), and yes, facial accessories (that Euphoria inspo is still going strong) are going to be everywhere this season.
While some spring beauty trends are evergreen, this spring feels particularly ripe for showcasing glowing, natural-looking skin. Perhaps it's the last two years spent in lockdown, suggests Lilly Keys, makeup artist to stars like Charlie XCX and Olivia Rodrigo, when many of us looked after our skin more than ever. Either way, embracing your natural skin texture is in. And while there are plenty of foundations and concealers that'll do the trick (as in, provide desired coverage but still achieve a natural finish), Keys says it's essential to prep skin with hydrating cleansers, moisturizers, and primers.
But don't skimp on color, says makeup artist Nydia Figueroa, especially on the eyes. Neon-colored lids and lash lines are here in a big way — and the look is surprisingly easy to try. Elsewhere, you'll see blood-red lips and flushed cheeks this season, signaling optimism and happiness. If there's one rule of thumb you should live by this season, "say yes to blush draping," says Figueroa. "Adding a pop of color while getting those cheekbones snatched makes my heart happy."
Need a primer on what to buy? Check out Bustle's first-ever Beauty Awards, where you'll find the best editor-approved skin care and makeup products to get you ready for spring. In the meantime, read on as Keys, Figueroa, and more break down the most highly anticipated makeup and skincare trends for spring 2022.