Behind The '80s-Era Beauty Looks In Stranger Things Season 4
Including the makeup product you'll now see on Eleven.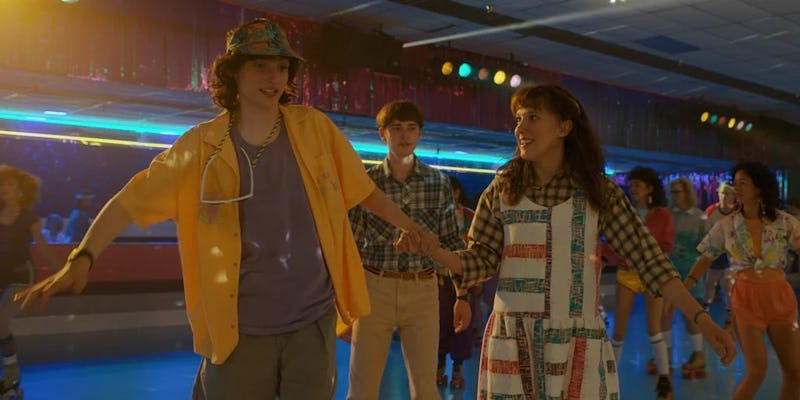 Netflix
You could say makeup has become just as important to Stranger Things as the storylines themselves. Take, for example, Eleven's iconic bloody nose that spawned Halloween costumes for years to come, or the slow metamorphosis of anyone under the Mind Flayer's possession as proof. Plus, the series is set in the 1980s — a decade during which makeup wasn't exactly subtle. As fans continue to binge-watch Season 4 (since the first volume dropped May 27), Bustle spoke with Amy L. Forsythe, Stranger Things' makeup department head, for details on the beauty inspo and makeup used in the show.
This season, Forsythe used a different color palette on the characters who moved to California. "We got to define what high school was like in Lenora, California," she tells Bustle. "It's similar to Hawkins, but the colors are more vibrant. It gives this sensory overload that makes you want to live there for the rest of your life, and everyone happens to look flawless." To create this bright and happy vibe, Forsythe turned to pastels and bold products like blue eyeliner and blue mascara. "We were trying to tell the story of California as a place that looks like a movie."
Of course, Eleven (Millie Bobby Brown), Mike Wheeler (Finn Wolfhard), Max Mayfield (Sadie Sink), and the other main characters of the show are still in high school, so Forsythe kept some aspects of their makeup looks minimal. "We cut foundations and concealers with moisturizer to sheer them out a bit," she says. "We wanted to see freckles and acne but make it a little bit more of a polished version of that." But Forsythe reveals one of the biggest makeup changes in Season 4, and it's one Brown has been wanting since the beginning of the series: Eleven wears mascara.
"I did give her mascara this season because she's been begging for it," says Forsythe, who notes that Brown is mascara-obsessed. To lengthen and volumize her lashes, Forsythe stacked and layered different mascaras, including those from Milk, Lancome, Hourglass, M.A.C., and even an electric blue one from Benefit. "I literally couldn't pick one," she tells Bustle. "Every mascara is a winner in my book because they all do different things to different lashes. And it's all about the wand — when I'm done with a tube, I keep the wands and I clean them in case I like one wand with another product."
One of the moments Forsythe is most excited about this season is when (no spoilers, don't worry!) Nancy Wheeler (Natalia Dyer) and Robin Buckley (Maya Hawke) go undercover. "They're trying to do something and they have to doll themselves up," says Forsythe. "It was really fun because seeing that on paper is one thing, but when you put the makeup on them, it's easy for these women that are playing like seniors in high school to look like they're in their 30s if you do too much makeup on them. So I had to find the right balance, but I'm really happy with how it turned out."
One of the biggest challenges Forsythe faced when creating an '80s world in 2022 was in finding authentic shades of the era — especially since today's pigments are so vivid and high-impact. "I was pulling from so many different resources trying to get these specific colors. I was mixing different brands with each other to make these specific colors." FWIW, the recently launched M.A.C Stranger Things makeup collection features colors reminiscent of the '80s shades used this season, so if you're looking to recreate some of your favorite looks, you can pick up the collection here.