The 9 Best Overnight Hair Curlers
Bustle may receive a portion of sales from products purchased from this article, which was created independently from Bustle's editorial and sales departments.
by Emily Estep and BDG Commerce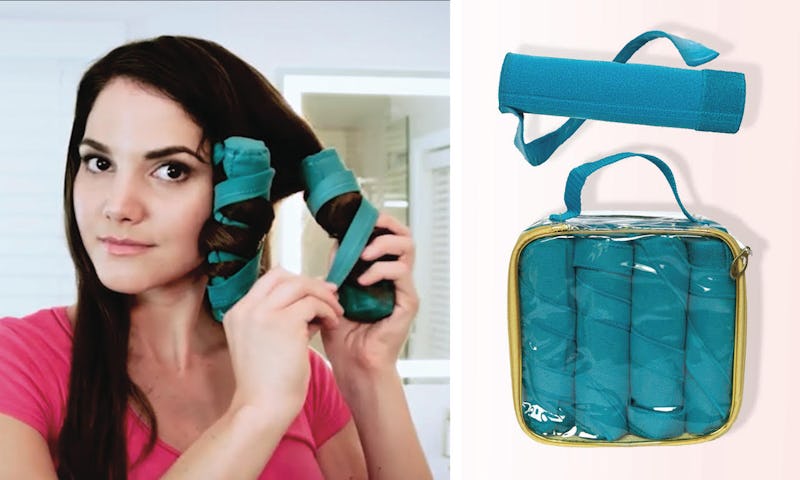 Bustle/Amazon
Creating bouncy, long-lasting curls without heat is totally possible: You just need a set of great heatless curlers. But without heat, it can take a while for your curls to set, so styling while you sleep is ideal (isn't that the dream?). The best overnight hair curlers are comfortable to sleep in, and will help to protect your hair from heat damage.
What To Look For In The Best Nighttime Hair Curlers
When looking for the ultimate set of overnight curlers, your number one priority should be comfort. Don't kid yourself, rigid silicone and poking wires will definitely start to bother you throughout the night. Some curling sets are made with memory foam for extra comfort, and there are even sets with soft satin covers. Any overnight curlers that have wires should be thoroughly covered with a thick layer of foam, so it doesn't feel like you're sleeping on a metal pillow.
You also need to think about your hair length and the type of curls you want to create. If you have long hair, you're going to either need a lot of curlers or really big curlers. Want loose, bouncy waves? Opt for big rollers. Ringlet curls? This one's easy — pick up a set of small rollers. Or hey, if you want to invest in a set that can make any type of curl, find a set with multiple sizes.
These overnight curling sets are some of the most comfortable and easiest to use out there.
Shop The Best Heat-Free Hair Curlers
In a hurry? Here are the top picks for curlers that style your hair while you sleep.
This article was originally published on