The 8 Best Facial Oils For Acne Prone Skin
We only recommend products we love and that we think you will, too. We may receive a portion of sales from products purchased from this article, which was written by our Commerce team.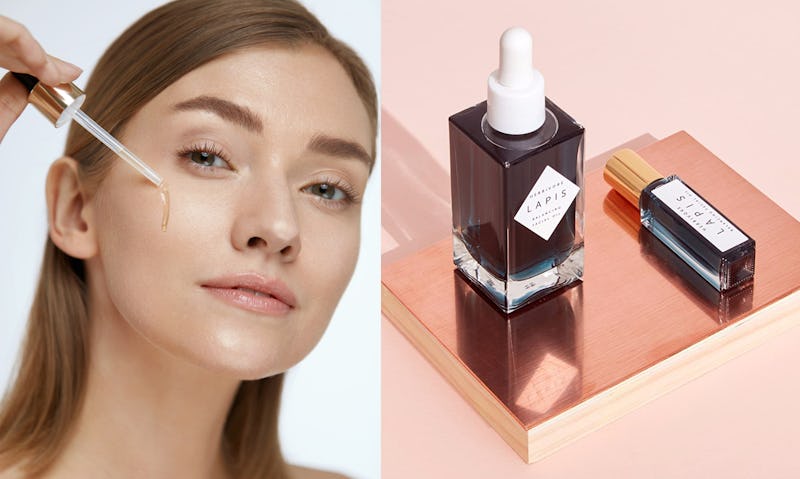 Shutterstock/Amazon
When it comes to acne, oil has gotten a pretty bad name. While it's true that excess sebum — the oil your skin produces naturally — can clog pores and cause breakouts, that's totally different than the oils you apply to your skin. In fact, the best facial oils for acne prone skin can actually help your skin produce less pore-clogging sebum. These amazing oils also contain effective properties that can eliminate acne-causing bacteria, reduce inflammation, and help shed dead skin cells that can clog pores and create more pimples, blackheads, and whiteheads.
Are facial oils bad for acne?
Basically, everything you've been told about how acne prone skin requires products that produce a Sahara-like environment is a total lie. Starve your skin of oils and it will rebel by producing even more sebum — and all of that excess oil will linger on your now shiny skin, sink into pores, and return the favor with more acne.
Rather than drying out your skin, a much more effective acne-fighting solution involves incorporating facial oils to your routine. For the best facial oils for acne prone skin, look for jojoba, tea tree, and olive-derived squalane oils, and apply them directly to skin after cleansing and toning.
These eight oils can be applied alone, mixed into your daily moisturizer, or even applied on top of a light lotion. Many are anti-bacterial, anti-inflammatory, and capable of the near-impossible: balancing your oily, acne prone skin without stripping it of its natural oils.
This article was originally published on