The Best Vacation Hairstyles For Black Women, According To Travel Influencers
Plus, the travel hair tips (and products) they swear by.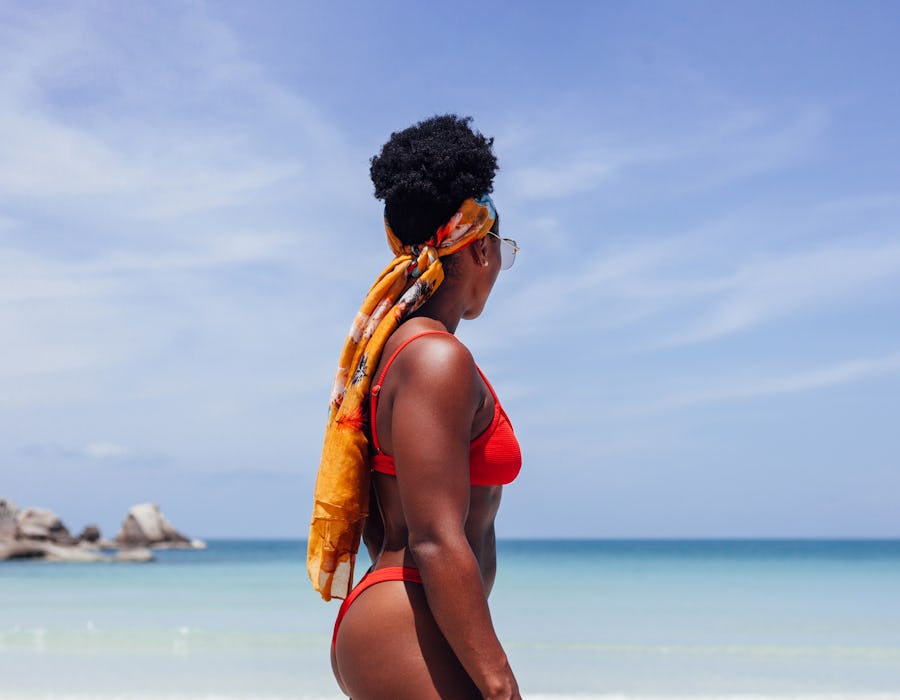 When you're trying to enjoy your vacation, the last thing you want to worry about is your hair. While Black hair is powerful and beautiful, our waves, curls, kinks, and coils do need extra love and attention; some of us have routines that consist of 10 or more products to care for our crowns. After deciding on a style to wear, there's also the task of choosing which products and tools to pack to ensure that your hair not only looks how you want it to for the 'gram, but also that it isn't getting damaged by your vacation destination's local climate, or from exposure to chlorine and salt water.
To gain some insight on the best vacation hairstyles for Black women to rock while traveling, I spoke with seven globe-trotting travel influencers who have gotten their on-the-go hair care routines down to a science. The consensus was that protecting your hair is paramount, but there are options beyond braids, along with game-changing tricks that your hair will love — no matter where in the world your travels take you.
Below, their go-to looks, genius hacks, and must-have TSA-friendly products.
Kellee Edwards: Trade Long Locks For A Short Pixie Cut
Kellee Edwards — host of Travel + Leisure's "Let's Go Together" podcast and Travel Channel TV series "Mysterious Islands" — says due to her active and adventurous lifestyle of being a scuba diver, pilot, and explorer, "having short hair has proven to be incredibly easy for me to manage, while still having a cute style in the elements and on the road."
Edwards has been traveling for over 10 years, and wasn't finding anything that had a comprehensive, TSA-approved kit that could keep Black hair covered while traveling. As a result, she created the Onyx Hair Kit ($85; onyxhairkit.com), a customizable, travel-sized maintenance kit that allows you to put your own products in bottles that will make it past airport security. It also includes a satin pillowcase, portable blow dryer hood that attaches to any hotel dryer, comb, and mini flat iron.
For inexperienced travelers, Edwards' top tip is to drink plenty of water — your hair will thank you. "It's your best friend for your scalp" she says. "Also, never use the hotel shampoo and conditioner. It's not the best for Black hair. If you have longer hair and are in water, put it in one braid, let it air dry, and then go wash and detangle after. Matted wet hair is never fun."
Gabby Beckford: Keep A Scarf Handy
As an award-winning travel influencer and opportunity expert behind the blog Packs Light, Gabby Beckford has always loved changing her hairstyle every day — and it's no different when she travels. "On a plane, I might wear big fluffy buns so I don't get neck pain," she says. "If it's cold, dry air, I like to wear my hair in a 'fro for warmth. If it's hot, humid, or dusty, I tie my hair back or wear a hair wrap for protection. I really do it all."
Besides investing in a big bonnet for nighttime, Beckford shared another suggestion: "Always keep a scarf on you." She adds that they're a quick style savior while you're traveling away from home. "Accessories are your friend," she says. "On your most hopeless, frizzy, uncooperative curly hair day, adding in a few bobby pins, braiding down the front and letting the back go wild, tying on a beautiful scarf, or wrapping it all up in a wrap takes a curly traveler from feeling overwhelmed and stressed to ready for any adventure."
Taylor Patrick: Always Pack What You Need
Taylor Patrick — a content creator, small business owner, advocate, and flight attendant — says to never skip out on packing the essentials. "Put it in travel-friendly packaging," she says. "The hotel shampoos and blow dryers aren't for our hair so this way, I always have what I need." Patrick learned a long time ago that braids are it for vacation travel: "Trying to stay natural or maintain a fresh sew-in while on vacation is [hectic]. If your friends let you do this for a girls trip, get new friends," she says.
Patrick also always packs her bonnet. "I have two extra in my suitcase because you will not catch me slipping and sleeping on trips without one!" she says. "If my hair is natural, straightened, or I have a sew-in or installment, I have that long, heatless [curling rod] thing to wrap my hair around and sleep so I'm not putting so much heat on my hair."
Annette Richmond: Have Fun With It
Even when you're jet-setting, it's possible to take advantage of natural hair's versatility. "I would consider myself a naturalista," says content creator and founder of Fat Girls Traveling, Annette Richmond. "Over the years I have learned to braid my own hair, so box braids and individuals are my go-tos for traveling." She also makes sure to keep a few wigs on deck. "As a content creator, I love to serve a look," she says. "When I take my braids out, I switch between twist-out styles and my afro. Throwing on one of my favorite wigs spices up my options."
Most importantly, Richmond says to have fun with it. "As Black women, our hair is political, whether we like it or not," she says. "So many of us feel pigeonholed into standards of beauty that aren't reflective of our heritage. Unfortunately, it is still legal to discriminate against us because of the way our hair naturally grows out of our head, so wearing fun colorful braids or bold and bright wigs is an act of rebellion." She says to wear your hair however you feel comfortable, especially when traveling. Not feeling brave enough to wear color? Try some beads, gems, or shells. "I like adding fun accessories to my braids as well — it adds to the vibe," she says.
Martinique Lewis: Protective Styles Are A Must
Digital creator, travel show host, and creator of ABC's Travel Greenbook Martinique Lewis always opts for a protective style. Why? "It can stand the rain, the pool, the paint, the dust," she says. "Faux locs or braids for the win." Lewis has three clutch hair hacks for traveling. First: olive oil. "When your hair gets dry and you have no products, olive oil saves the day," she say.
She also recommends the Onyx Hair Kit specifically for Black women on their travels. "All the bottles are TSA standard size and it's perfect for you to bring your favorite hair products," she says. "Our hair is versatile, and so are the products we use. It sucks when we have to go the length of our travels without them because we don't have any travel bottles."
In 2020 Lewis created the ABC Travel Greenbook so that travelers can connect with the African Diaspora in six out of seven continents. "I tell you where to get your locs twisted in Puerto Rico (Racies), where to get your hair braided in Israel (KRasta), and the beauty supply in Vienna (Maya's)," she says. The book is now an app, so you can have the new Greenbook at your fingertips — you can leave reviews for other users, and add businesses that you have used on your travels. An invaluable resource, it's a game changer for Black hair care abroad. "We are better together, and Black people are everywhere. As travelers, we should know how to connect with them," Lewis says.
Christina Jane: Opt For Braids, Twists, & Leave-In Conditioner
Travel writer Christina Jane's go-to styles for traveling are almost always braids or twists because of how low-maintenance they are. With her travel itinerary, she often wakes up at 4 am and doesn't get back until midnight. "The last thing I want to be worried about is what to do with my hair or having to set aside an extra one or two hours to style it in its natural form or manipulate a wig," she says. "With braids and twists, the most I have to think about is if I will wear my hair up or down."
Jane typically packs light with only a carry-on, restricting the number of products she is able to bring. She suggests buying TSA-friendly, three-ounce liquid bottles from a mass retailer like Walmart's travel section, then filling those up with the gels and oils you already have at home. "I recently went on a four-day trip to Curaçao and brought a compact version of Tru EDGE Controller with me that didn't take up any space," she says.
One hair struggle she has dealt with from traveling is noticing that her strands were extremely dry after taking out her braids or twists. "While traveling, I now use leave-in conditioners and creams to seal in moisture," says Jane.
Tomiko Harvey: Pack A Silk Pillowcase & Plenty Of Conditioner
While Beyoncé-style "Lemonade braids" are a favorite of luxury content creator and founder of Passports & Grub Tomiko Harvey's, she also suggests another travel hair tip: leaving your shampoo at home. "Co-washing is a healthier alternative while making your luggage lighter since you only pack conditioner," she says.
Harvey's go-to product to pack is from actor Taraji P. Henson's line, TPH By Taraji. "The Ultra Chill scalp treatment is made with aloe vera, biotin, and tea tree oil and it helps to calm an irritated scalp, especially after a day packed full of vacation excursions," she says. She says keeping your hair moisturized is key, but bringing a satin pillowcase will help keep your coils fresh.