TikTok Made Me Try This Color-Changing Blush — & It Actually Worked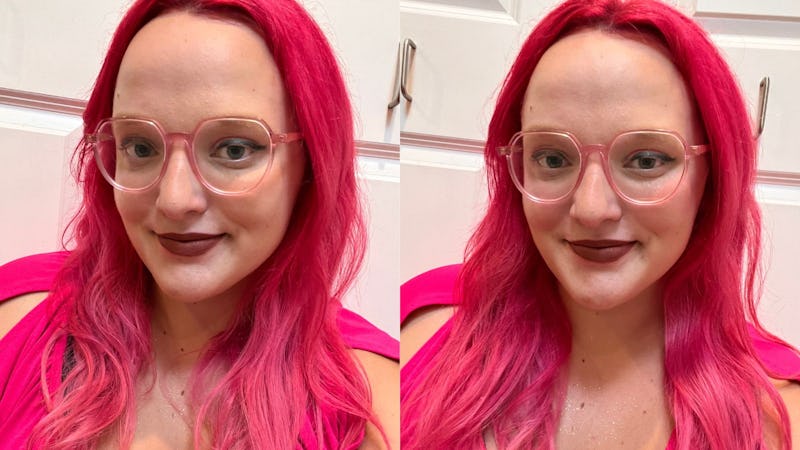 As a self-proclaimed beauty enthusiast, there's nothing I'd rather do than scour the internet for the latest products and trends. I'm always looking for tips and tricks that are going to give me a lifted look or a natural, lit-from-within glow. A few weeks ago it was the blush and concealer hack that went viral on TikTok, and now it's this color-changing blush. Yes, you read that right: color-changing blush. Taking over my For You page, Youthforia BYO Blush (supposedly) changes color when applied to the skin. Crazy, right?
Despite watching dozens of reviews from popular lifestyle TikTok creators — like @tt._.mmy and @imhannahcho — who have demonstrated the effectiveness of the product, I knew I wouldn't believe it until I saw it with my own two eyes. So that's exactly what I did: I ordered this intriguing blush, and, after two long days of impatiently waiting for my package to arrive at my doorstep, I finally was able to see what the hype was all about.
How The Youthforia BYO Blush Works
This is the question that took the internet by storm and piqued my interest. According to the brand's website, the color-changing blush works by reacting to your skin's natural pH level to create a shade that's flattering specifically to you.
After an experience she had with a name-brand blush that did not suit her skin tone, Fiona Chan, CEO of Youthforia, wanted to create a product that looks great on all complexions. And that's when BYO Blush was born.
Bustle Shop is Bustle's shoppable guide to editor-approved buys in fashion, beauty, wellness, and lifestyle. We may receive a portion of sales if you purchase a product through a link in this article.
"BYO Blush works by reacting to your skin's unique chemistry to give you the perfect shade of blush," she explains. "I swatched one of our early samples on my husband — who's darker than I am with a different undertone — and BYO Blush was a different color on him than it was on me. But it was the right shade for each of us. That's when I knew it'd work."
The blush is made with 20 natural ingredients and is free of parabens, pthlates, PEGs, cyclic silicones, mineral oil, and fragrance. Plus, it's clean, vegan, and cruelty-free.
How To Use The Youthforia BYO Blush
The packaging says to put the product onto a clean makeup brush and apply straight to the cheeks. Since I didn't have a brush, I just swiped the blush directly from the applicator onto the apples of my cheeks and then buffed in the product with a beauty sponge.
And just like that, a pretty pink color appeared when the product hit my skin. I couldn't believe that the green-tinted formula in the tube could transform into the soft rosy shade that now graced my cheeks. Magic!
I figured out pretty quickly that a little bit goes a long way with this product: You don't need more than a few dabs to achieve the perfect shade. Of course, you can apply more for super bright cheeks and a vibrant makeup look. But for a natural-looking finish, you don't need much at all.
The Final Verdict
Youthforia's BYO Blush is now officially a staple of my makeup routine. It's the perfect blend of low-effort beauty that leaves me feeling confident and pretty. It's also super lightweight and blendable and dries in seconds. It's definitely great for those "no-makeup" makeup looks or for those who like to limit their daily beauty routine to just mascara and a little lip gloss.
Consider me sold, TikTok.
Bustle Shop brings you the editor-approved buys we can't get enough of and think you'll adore, too. Best of all, you can shop all of the products above directly on this page without visiting multiple retailers. Simply click on an item to learn more, choose your size or favorite color (if applicable), and then hit "add to cart." When you're done, you can click over to your cart in the top right corner of your screen to purchase all your stellar selects at once. How easy is that?
Questions about shipping, returns, or your order in general? Click here for more information.
Explore more of Bustle Shop (and our fashion, beauty, and lifestyle must-haves) here.