The Best Threesome Sex Positions, According To Sex Experts
Plus, how to search for that "unicorn" third.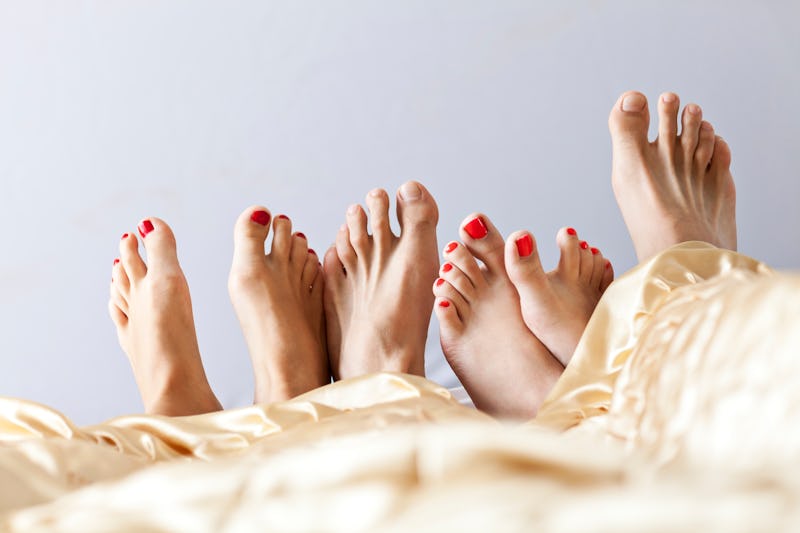 efenzi/E+/Getty Images
So, you've wanted to have a threesome for forever and your partner is totally down. You've even found a third who's excited to join in. But when it comes down to it, you aren't sure which threesome positions to try — or even what they might look like.
Sound familiar? According to sex therapist Vanessa Marin, threesomes are always going to be a bit complicated. You are, after all, balancing and entangling three bodies on one bed (or couch, or floor). There's also an emotional component, particularly if you're having a threesome with a long-term partner for the very first time.
In that case, a big part of the experience will be preparing yourself emotionally for having a threesome, Marin says. You'll want to talk about expectations and boundaries way before you begin the search for that rare "unicorn" third person, and obviously well before everyone ends up in bed.
Brace yourself for a little awkwardness and some potentially tough feelings. Seeing a partner with another person can come as a shock, Marin says, even when you're obviously aware that's what'll happen during a threesome. But also don't be surprised if it feels natural, either.
If you've talked about with your partners, set up a time and a place, and are ready to go, here are seven sexy possibilities for FFM threesomes to try.
1. The Double Cowgirl
How To Do It: Have the person with a penis or strap-on lie on the bed on their back. A second person will then straddle their waist and lower down onto the penis or strap-on while the third person lowers down on their face for oral sex.
Why It's Hot: You'll be fairly close together in this position, which means everyone will have a good view — and a good time. If you're on top, you can even face the third person and kiss.
2. The Voyeur
How To Do It: Two people will have sex in any position they like while the third person watches and masturbates.
Why It's Hot: If you're brand new to threesomes or a little nervous about jumping in, then use this position as a warm-up. As you start getting more excited, you can add in more touching. Or, if you're turned on by the idea of someone watching you and a partner, you can simply ask if they'd be down to watch the entire time.
3. The Double Dip
How To Do It: Two people lie on top of each other in missionary position, while the person with the penis or strap-on crouches between their legs. They can then alternate between penetrating the other two partners.
Why It's Hot: This is another great position when two people want to focus on each other, while the third hangs back and watches before jumping in.
4. The Doggy Train
How To Do It: Have two people get on their hands and knees, one in front of the other. The person in the back will finger or perform oral on the person in the front, while the person with a penis or strap-on stands behind and has sex with the person in the back, doggy-style.
Why It's Hot: Doggy-style is one of the most intense. And adding the threesome factor makes it feel even more naughty.
5. The Tag Team
How To Do It: One person lies on their back at the end of the bed, with their legs hanging over the edge. The person with the penis or strap-on then kneels between their legs to have sex, while the third person sits on the reclined person's face.
Why It's Hot: If you're into performing oral, you'll love this position. Not to mention if you're the person lying down, you get to be the center of attention.
6. The Doggy Deluxe
How To Do It: Two people will have sex doggy-style, while the person on their hands and knees performs oral sex on the third person, who will be lying on their back.
Why It's Hot: This is another one for fans of oral. It's an easy position, since your face is already down near the bed. And you and your guest can take turns being the one in the middle.
7. The 69 + 1
How To Do It: One person lies on their back while the second gets on top in standard 69 position. The person with the penis or strap-on then penetrates one of them from behind.
Why It's Hot: This position can require a bit of juggling and balance, but it's really hot to have so many body parts crammed into one place. (If you're having a hard time balancing, you can all rotate so that your sides are resting on the bed.)
If things go wrong, try to keep the mood light. And have fun!
Source:
Vanessa Marin, sex therapist
This article was originally published on