5 Ways To Enjoy Penetration More If You Don't Feel Much Sensation
Give yourself something to alert the group chat about.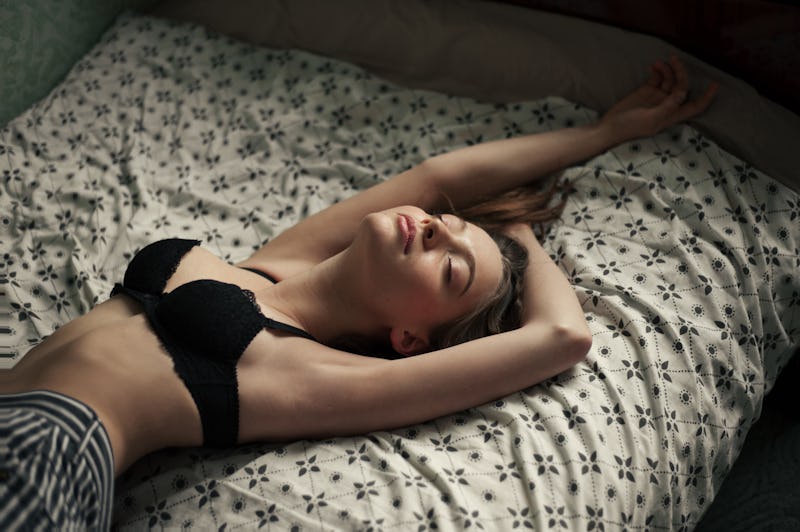 Igor Ustynskyy/Moment/Getty Images
You're rolling around, and it feels amazing. The tension is rising, clothes are coming off, and you're super into it. But as things start to progress, you notice you're not getting a ton of physical sensation during penetrative sex. It's not unenjoyable per se, but it's nothing to alert the group chat about. Of course, knowing some ways to enjoy penetration more would really send your sex to the next level.
First things first, there's nothing "wrong" with your body. While rom-coms sometimes show couples orgasming after three seconds, the majority of people with vaginas need extra clitoral or inner-vaginal stimulation to finish. According to a 2018 study from Chapman University of 52,588 Americans, women are more likely to orgasm when sex includes foreplay, fingering, oral, and good communication. If you're wondering why you can't feel pleasure sexually or how to make yourself more sensitive down there, the first step could be setting the mood.
"If a woman isn't fully aroused to have sex, she won't be wet, and sex might hurt," NYC-based intimacy expert and relationship coach Lia Holmgren tells Bustle. According to Holmgren, getting in the mood (and grabbing extra lube) are the first steps toward having more sensational sex.
From switching up positions to grabbing a toy, here are five ways to make penetrative sex feel better for you.
Experts:
Dr. Jess O'Reilly, sexologist
Lia Holmgren, NYC-based intimacy expert and relationship coach
Studies:
Frederick DA, John HKS, Garcia JR, Lloyd EA. Differences in Orgasm Frequency Among Gay, Lesbian, Bisexual, and Heterosexual Men and Women in a U.S. National Sample. Arch Sex Behav. 2018 Jan;47(1):273-288. doi: 10.1007/s10508-017-0939-z. Epub 2017 Feb 17. PMID: 28213723.
Jannini EA, Buisson O, Rubio-Casillas A. Beyond the G-spot: clitourethrovaginal complex anatomy in female orgasm. Nat Rev Urol. 2014 Sep;11(9):531-8. doi: 10.1038/nrurol.2014.193. Epub 2014 Aug 12. PMID: 25112854.
This article was originally published on