11 Texts To Send A Friend Struggling After A Breakup
Watching a friend get hurt is never easy.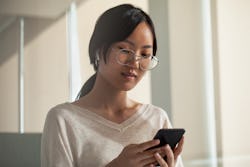 Mindful Media/E+/Getty Images
No matter how many breakups you go through in life, it never seems to get easier. And just like going through one yourself, it also never gets easier to watch a friend hurt after parting ways with someone they care about. It's why you'll want to figure out the best things to text a friend after a breakup, in order to offer support.
Because again, nothing about breakups is easy. "Relationships are soothing, while breakups are just the opposite," Julie Melillo, a life and dating coach, tells Bustle. "Your attachment system forms a bond when you fall in love. This person literally becomes a part of you, because this attachment system exists in the brain. To your brain, a relationship feels like someone feeding you delicious chocolate throughout the day. But during a breakup, the attachment system [...] is ripped apart and basically goes haywire."
That's why it's not uncommon for a person to feel lost, alone, sad, and confused post-relationship. Even if the breakup is ultimately for the best, they'll have to go through a tough adjustment period. With this in mind, it's important to tread carefully when reaching out to a friend via text. Some people may need time to be alone with their thoughts.
But there are also plenty of things you can say to help them along the way until they feel better again. Here are a few text ideas.
Even if you aren't sure of the perfect thing to say, remember — it's just about being there for your friend. Making an effort and letting them know they're loved and appreciated, as they go through this breakup, is a great start.
Additional reporting by Lexi Inks
Experts:
Julie Melillo, life and dating coach
Dr. Cortney Warren, clinical psychologist
Aimee Hartstein, LCSW, relationship therapist
Barbara Neitlich, LCSW, psychotherapist
Julie Fanning, LCSW, therapist
Julia Katzman, LMSW, therapist
Dr. Jenna DiLossi, licensed professional counselor
Sierra Hillsman, M.Ed., APC, NCC, CCTP, licensed associate professional counselor
Amanda E. White, LPC & author of "Not Drinking Tonight"
This article was originally published on