Adult Ballet Classes Are Having A Main Character Moment
Pirouette to your heart's content.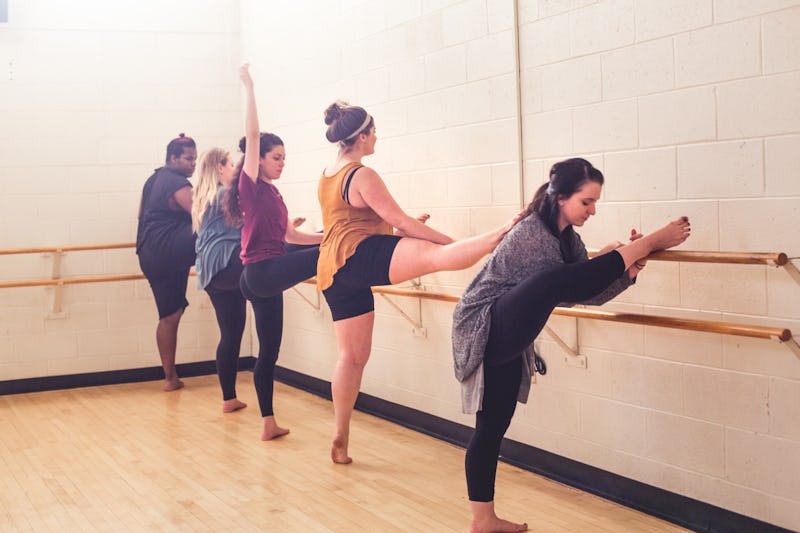 Jena Ardell/Moment Unreleased/Getty Images
We may receive a portion of sales if you purchase a product through a link in this article.
If you loved ballet class as a kid and wish you could plié today, listen up: Adult ballet classes are a thing, and with over 68 million views on TikTok — not to mention the ever-booming balletcore trend — they're more popular than ever. Adult ballet isn't about becoming a professional ballerina, either — it's about starting a new hobby, finding a fun workout, and tapping into your creative side.
Adult ballet classes include barre, ballet cardio, and traditional dance, complete with slippers, tights, and piano music. Whatever type you choose, you'll get a great low-impact workout and one that's more accessible than you might think, says Ianthe Mellors, a professional dancer and fitness instructor. While they might seem fancy, ballet classes are welcoming to beginners and former dancers alike, so it's always OK to sign up if you want to give it a try.
If you took ballet as a kid but eventually dropped out, it could be a fun way to get back into the art form either as a workout, a social activity, or both, says Ronald K Alexander, an adult beginner ballet teacher at Ailey Extension. "Traditional ballet and ballet-inspired classes such as barre are being taught in dance schools and studios everywhere," he tells Bustle, so it's easy to get involved.
If you're popping on a pair of slippers for the very first time in your 20s, 30s, or beyond, that's fine, too. You don't have to have any experience, be super flexible, or fit any other ballet stereotypes in order to give it a try. As Mellors says, "It is definitely something you can learn as an adult." Are you feeling the call of the tutu? Here are all the benefits of ballet, as well as what to expect in your first class.
What It's Like To Take Adult Ballet
While it obviously takes years of intense training to become a professional ballerina, the ballet basics are fairly simple to pick up — and knowing that might help take some of the pressure off when you're just getting started.
"My favorite thing about ballet is the class is always structured the same wherever you go," Mellors tells Bustle. "In ballet, and most dance forms, there is clear movement vocabulary, so once you master the basics the moves feel familiar."
Just like any type of fitness class that has set moves, like cycling or boxing, you can focus on nailing a few of the main movements, like first position, second position, and plié. In terms of class layout, Mellors says you'll build foundational movements at the barre and then progress to more complicated moves in the center of the dance floor.
While in-person dance classes are a great way to get one-on-one help from a teacher, Alexander says there are plenty of classes available online, as well as on barre and ballet apps. If you prefer to dance at home, move your furniture aside and get ready to arabesque across your living room.
All The Benefits Of Ballet
Whether you're there for the creative vibes, a fun workout, or to perfect your triple pirouette, a ballet class is bound to work your entire body. Dancing for an hour — especially if you sign up for a fast-paced ballet cardio class — will improve your endurance, just like any other fitness class would. And it also works all your muscles.
"You will strengthen your feet, ankles, legs, glutes, core, back, and arms, and improve your balance in ballet," Mellors says. For example, take a tendu — a move where you stand on one leg, lengthen the other along the floor, and point your toe. According to Mellors, this engages all your leg muscles, as well as your glutes, your core for balance, and your arms. "You'll have them in one of the ballet arm positions," she explains. "You are also strengthening your foot and your ankle by pointing your toe while improving your balance in the leg that you are standing on."
Besides being a full-body workout, ballet improves your flexibility. According to Alexander, all the stretches and reaches boost mobility, which in turn helps you move with ease and stand up straighter. (You know, kind of like a ballerina.) "Ballet leads to good posture which encourages proper alignment of joints and bones and reduces abnormal wear and tear on joint surfaces," he tells Bustle. "Good posture also helps prevent muscle fatigue."
There are quite a few mental benefits of ballet, too. "It is time out of your day that you are putting energy and focus into yourself," Mellors says. "You build community with the people in your class, and it's a way to express yourself and release any emotions or stress you are holding on to." As a bonus? The mind-body connection you'll build in class can also be great for confidence.
How To Get Better At Ballet
If you aren't a "good" dancer, no worries. "That is the point of a dance class — to learn and improve," Mellors says. "It's why even as a professional dancer, I take dance classes regularly to learn more about myself and my body, grow mentally and emotionally, get stronger, and improve my technique and performance."
As you get started, Mellors says it's all about getting comfortable with the idea of being a beginner. "Everyone starts somewhere," she says. "Learn to enjoy the process. You're going to learn, so be patient with yourself."
It'll also help to focus on one technique at a time, she adds. You might start by zeroing in on your form during a plié — where you bend your knees in a specific foot position — and the next week you can focus on your arm placement, for example.
"Keep building and enjoying the process," Mellors says. "At the end of the day, you're just moving your body around in space to music, which is fun and a release. Whether you're 'good' or not, you'll be moving your body and getting stronger, which is a wonderful thing to be able to do."
Studies referenced:
Letton, ME. (2020). The Effectiveness of Classical Ballet Training on Health-Related Outcomes: A Systematic Review. J Phys Act Health. doi: 10.1123/jpah.2019-0303.
Lu, L. (2019). Effective Assessments of a Short-Duration Poor Posture on Upper Limb Muscle Fatigue Before Physical Exercise. Frontiers in Physiology, 11. https://doi.org/10.3389/fphys.2020.541974
Rosenthal, M. (2021). Perceptions and Utilization of Strength Training and Conditioning in Collegiate Contemporary and Ballet Dancers: A Qualitative Approach. Med Probl Perform Art. doi: 10.21091/mppa.2021.2012.
Sources:
Ianthe Mellors, professional dancer, fitness instructor
Ronald K Alexander, adult beginner ballet teacher at Ailey Extension