11 Surprising Causes Of Random Anger
Seeing red? Here's what may be behind it.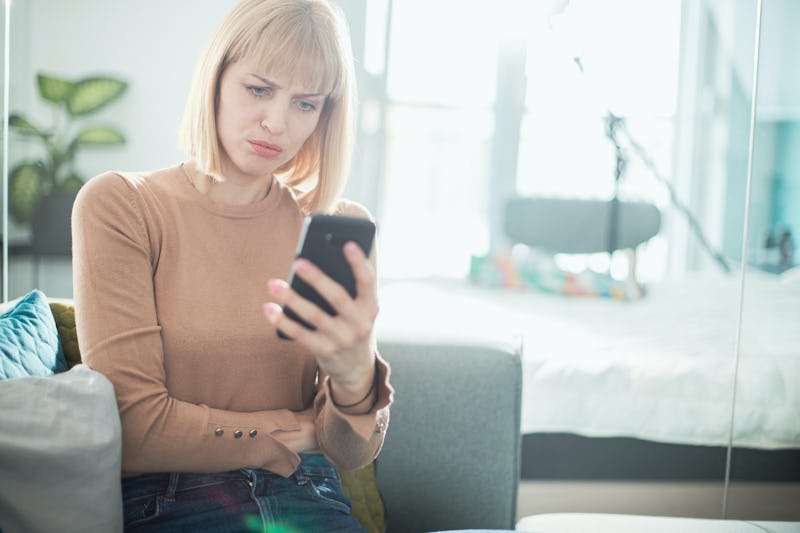 LukaTDB/E+/Getty Images
Whether you catch yourself clenching your fists, screaming into a pillow, or blaring your car horn at someone on a Tuesday afternoon, there's nothing fun about sudden, intense bursts of rage. While it's common to experience moments of annoyance, irritation, and even anger when something goes wrong, feeling mad for no reason can certainly come as a shock.
It doesn't, however, make you a bad person. "It is common to classify emotions into categories such as 'good emotions' like happiness, joy, love, or 'bad emotions' like anxiety, sadness, and anger," Lori Ryland, Ph.D., LP, a licensed clinical psychologist, tells Bustle. "The truth is emotions themselves are not bad or good."
Anger is often a side effect of something else entirely — like fatigue or hunger — or a very useful way for your body and mind to tell you something's wrong. Other times, rage fits can be accompanied by anxiety and feel a bit like panic attacks, Dr. Richard C. Shelton, M.D., a psychiatry professor at the University of Alabama School of Medicine, tells Bustle. But there's a common denominator, whatever the case may be: "Whenever we feel an emotion — desired or not — it's an indication that we'll probably need to take action and do something in order for us to feel different," says Christina Harrison, LCSW, a licensed clinical social worker.
That's when you might realize, "Oh, I haven't eaten in a couple of hours," or "Oh, I'm mad because I'm stressed." That's why it's often helpful to do a mental and physical check-in with yourself to figure out what you could shift or change in order to feel better. But if you aren't sure why you're suddenly angry, or if it's an ongoing thing for you, don't hesitate to reach out for extra support.
"It can be very beneficial to meet with a therapist even for a brief period to learn more about how to identify anger and establish better strategies to reduce it," Ryland says. "This is particularly critical if your anger leads to aggression of any kind." Here are 11 common causes of anger that might explain why you're seeing red.
Studies referenced:
Galovski, T. (2014). Changes in Anger in Relationship to Responsivity to PTSD Treatment. Psychol Trauma. https://www.ncbi.nlm.nih.gov/pmc/articles/PMC4100723/
Sahu, A. (2014). Depression is More Than Just Sadness: A Case of Excessive Anger and Its Management in Depression. Indian Journal of Psychological Medicine. https://www.ncbi.nlm.nih.gov/pmc/articles/PMC3959025/
Walsh, L. (2018). The Relationship Between Anger and Anxiety Symptoms in Youth with Anxiety Disorders. J Child Adolesc Couns. https://www.ncbi.nlm.nih.gov/pmc/articles/PMC6392190/
Sources:
Lori Ryland, Ph.D., LP, CAADC, BCBA-D, licensed clinical psychologist
Christina Harrison, LCSW, licensed clinical social worker
Jose Ramirez, LMHC, licensed mental health counselor
Carrie Torn, LCSW, psychotherapist
Karen R. Koenig, M.Ed., LCSW, therapist
Dr. Richard C. Shelton, M.D., a psychiatry professor at the University of Alabama School of Medicine
Natalie Capano, MHC-LP, counselor
This article was originally published on