I Tried Apothékary's Wine Replacement Tincture & My Mind Is Blown
It's the perfect solution for your Dry January woes.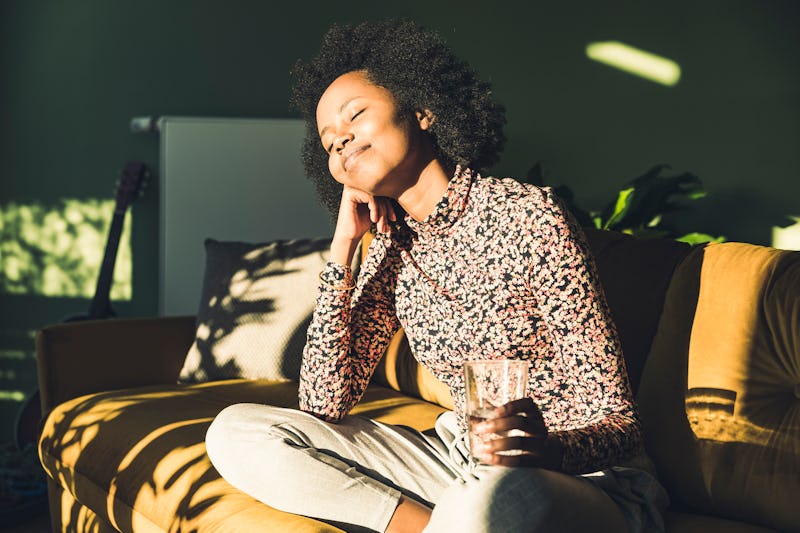 Getty Images/Westend61
We may receive a portion of sales if you purchase a product through a link in this article.
You don't always realize how often you pour a glass of wine or have drinks with friends until you try a Dry January. That is, of course, the point of going a month without drinking: It helps you reassess your relationship with alcohol while giving your body and brain a break from booze. While Dry January is also a fun personal challenge, it can sometimes leave you hanging in the relaxation department.
That's where Apothékary's Take the Edge Off tincture comes in. If you find yourself instinctively reaching for a glass after work, you might be into the idea of sipping a calming, all-natural elixir instead. The herbal blend can be used as a wine replacement or you can splash a droplet in your water midday as a quick stress reliever. Like other anxiety-reducing ingestibles, it's meant to help you out in a pinch.
While I don't always have wine to relax, I do enjoy the occasional glass of chilly pinot grigio, especially when I want to mellow out while cooking — which is something I've been missing as I move through Dry January. So I figured it was worth trying Take the Edge Off: The herbal mix is made with botanicals instead of booze to help calm your nervous system, as well as fruits and a zing of lemon to mimic the taste of white wine. But could it really deliver that same warm, fuzzy, I'm-signing-off-for-the-day level of zen? Read on for my honest review of the tincture after testing it out for a week.
BDG product reviews and recommendations are written and conducted by writers and editors with expertise in their fields. Testers often have specific experience with the situation or product at hand, and/or their review or recommendation is provided in consultation with experts. You can learn more about our standards here.
Fast Facts
Price: 30 servings for $39
Best for: Quick stress relief, alternative to alcohol
Formula: 100% organic, vegan, gluten-free, soy-free, cruelty-free, low glycemic
What we like: It calms you down without the booze
What we don't like: It can be sedating in higher doses
What Is The Apothékary Take The Edge Off Tincture?
Apothékary was founded by Shizu Okusa, a wellness entrepreneur who decided to focus on all things health after working on Wall Street. The brand aims to "ditch the pharmacy for the farmacy" by offering plant-based products that get to the root cause of a health issue or concern, and the remedies take inspo from Ayurveda, Traditional Chinese Medicine, and Japanese Kampo Medicine, so they're meant to be natural yet effective.
The Take the Edge Off tincture is one of several Apothékary blends that work as a stress reliever. It's also recommended as a wine replacement because it tastes light and refreshing. One of the main ingredients is passionflower, a plant that helps reduce anxiety by calming your nervous system.
The tincture also contains linden leaf and flower to soothe your nervous and cardiovascular systems (think reducing anxiety, lowering a fast heart rate, etc.), and there's a hint of skullcap, aka the nervine herb that's been used for ages to ease nervousness and boost the mood. Also in the blend is oatstraw, another plant that's a potent antioxidant that improves the body's response to stress.
To make the tincture taste like wine, Take the Edge Off combines mulberry, lemon, white nectarine, and pear to mimic your favorite vino. As a bonus, these fruits just so happen to be packed with antioxidants and vitamins, too.
How Does It Work?
Take the Edge Off is made with a whole host of "nervine herbs" that, well, help your nerves by reducing muscle tension, calming restlessness, and soothing irritability.
To make the liquid tincture — aka a concentrated liquid extract of an herb — the plants, flowers, and leaves are soaked in a mixture of ethanol and water to create a rapidly bioavailable brew that goes straight to the bloodstream, according to the brand. Unlike something you have to digest, it means you'll feel the relaxing effects almost immediately.
The botanicals within the formula work to suppress your stress, leaving you feeling calmer the moment you take a sip. That said, because some of the herbs are mild sedatives, taking a second dose is similar to drinking more wine, which means this tincture can make you sleepy and mildly sedated.
How To Use It
To add the tincture to your evening routine, the brand recommends squeezing one full dropper into two ounces of water. You can also take it as needed throughout the day, like when you're stressed at work or anxious in an airport.
To fill the dropper, dip it fully into the bottle and squeeze to fill. (One dropper equals one milliliter.) If you're super stressed, you can take up to three full droppers once a day.
The bright sweetness of the tincture gives plain water a hint of flavor, but it also pairs well with lemons and citrus, juicy fruits like pears, stone fruits, and sparkling water — just in case you're looking for some mocktail ideas.
First Impression
I first tried Take the Edge Off one evening after work. As we all know, real wine truly does take the edge off after a long, tough day, so I wasn't fully convinced a tincture would work the same magic. And yet! I put a drop of Take the Edge Off in a glass — a white wine glass with a stem, just to be extra authentic — and took a sip. It's supposed to mimic the fruity, herbaceous kick that comes with white wine, and I have to say the taste comes really close. I added an ice cube (don't @ me) and kept sipping.
Unlike real white wine that can make your head swim, Take the Edge Off crept in with a softer, more mellow vibe. It reminded me of melatonin gummies or CBD, even though it doesn't work in the same way. I wasn't ready to sleep and I wasn't tipsy or white-wine giggly, but I did feel like it dulled my spiky end-of-the-day anxiety. And that's a win.
The next time I tried it was midday; I put just a few drops in a glass of sparkling lime-flavored water. Again, it relaxed me enough to where I felt like I could take a deep breath, but not so much that I wanted to take a nap. The flavor combo with the lime created a sweet, crisp beverage that I enjoyed sipping slowly.
The Results
Because Take the Edge Off is a liquid tincture, it really does seem to go right to the bloodstream. A sip or two is all it takes to feel the tiniest bit more relaxed — but not at a level where it feels like you threw back a glass of actual wine. I haven't mixed it into any mocktails just yet, but I can see this tincture blending nicely into a fruity drink to help make Dry January feel a little less dry.
Who Shouldn't Use It
It's always a good idea to chat with your doctor before adding new ingredients or supplements to your diet, especially ones that can impact how you feel. This is especially true if you're pregnant, nursing, or taking medication. Personally, I wouldn't recommend using this tincture if you're about to drive, just to be safe.
Similar Products
For something similar, try Kin Euphorics Lightwave, a non-alcoholic drink that's infused with adaptogens, nootropics, and botanicals like L-Theanine and L-Tryptophan that help you cope with stress. Lightwave tastes like passionflower, vanilla, and sea salt — not so much like white wine, but just as light, refreshing, and relaxing.
Final Verdict
As someone who's trying Dry January, I'm into the idea of having a non-alcoholic drink option that still offers the same relaxing effects, especially after a long day or when I'm around friends who are sipping on the real stuff.
Take the Edge Off has a nice, light taste that makes me not miss my go-to wine. I really like that you can use it throughout the day whenever you need to relax, too. I'm always a little hesitant to try tinctures and supplements, but this one went down easy and didn't have any harsh or unexpected side effects. I'll definitely be keeping it in my self-care rotation.
Studies referenced:
Brock, C. (2013). American skullcap (scutellaria lateriflora): A randomised, double-blind placebo-controlled crossover study of its effects on mood in healthy volunteers. Phytotherapy Research. https://doi.org/10.1002/ptr.5044
Kim, M. (2017). Role Identification of Passiflora Incarnata Linnaeus: A Mini Review. J Menopausal Med. https://doi.org/10.6118/jmm.2017.23.3.156.
Wong, H. X. (2012). Chronic Effects of a Wild Green Oat Extract Supplementation on Cognitive Performance in Older Adults: A Randomised, Double-Blind, Placebo-Controlled, Crossover Trial. Nutrients, 4(5), 331-342. https://doi.org/10.3390/nu4050331