8 Workouts For Depression You Can Do At Home
No one likes being told working out will make you feel better, but… it does.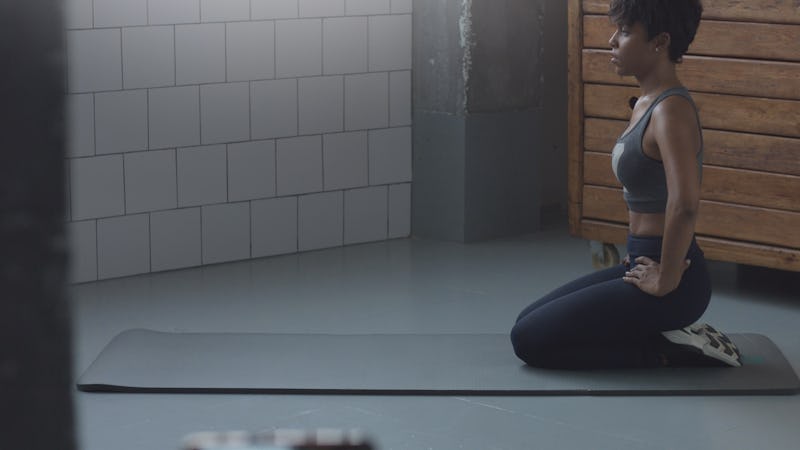 Shutterstock
If you live with depression, you know that one of the most irritating — and frankly, offensive — things someone can say is "you'll feel better if you just work out." It's far from that simple, because being down isn't something you can just will yourself out of. But when you do want to work out and your mental health's getting in your way, having some at-home workouts for depression in your back pocket can make it easier to get started.
Yes, it's annoying when someone who doesn't have depression chirpily tells you what will help. But the science backs it up: According to a 2019 study published in the journal Depression and Anxiety, working out can help improve your mental health. The study acknowledged that it's often harder to start exercising when you're already in the midst of a tough emotional state, but it found that moving for even a half-hour a day could give you that mood boost you need.
"Since my mood worsens when I don't move, I prioritize some kind of movement every single day," says Glo yoga teacher Elena Brower. "The simple act of making even a short duration of effort helps me to feel productive in my work, healthy in my mind, and peaceful in my body."
Sometimes, you might just have to take a deep breath and dive in. "Don't think too much about waiting to feel better or to be in a better mood to start working out," says Jeff Paul, a senior area personal training manager at Blink Fitness. "Instead, think about how you'll feel better after you get a workout in." When your mind wants to go but your body doesn't want to cooperate, knowing these eight workouts for depression that you can do at home can make movement more accessible.
Studies referenced:
Choi, K. W., Zheutlin, A. B., Karlson, R. A., Wang, M. J., Dunn, E. C., Stein, M. B., … Smoller, J. W. (2019). Physical activity offsets genetic risk for incident depression assessed via electronic health records in a biobank cohort study. Depression and Anxiety. doi: 10.1002/da.22967
Experts:
Elena Brower, yoga teacher, Glo
Jeff Paul, senior area personal training manager, Blink Fitness
Jason Crandell, yoga teacher, Glo
Courtney Olson, certified personal trainer and nutritionist, Blink Fitness
This article was originally published on