I Got My Hands On The TikTok-Viral Avia Hightail Sneakers & I'm Obsessed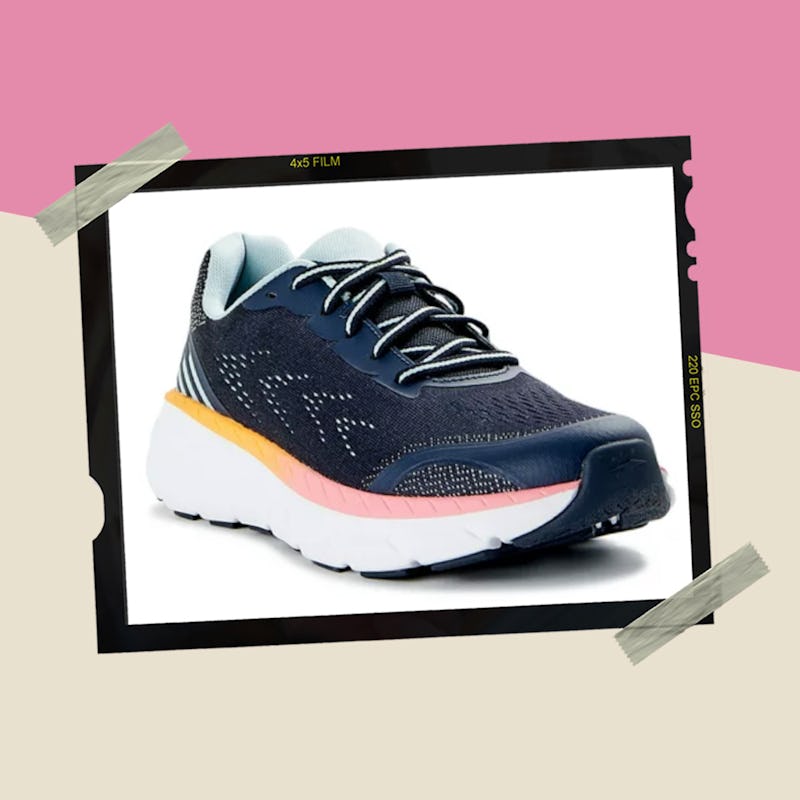 Avia
We may receive a portion of sales if you purchase a product through a link in this article.
Nothing catches the eye quite like a colorful pair of Hoka running sneakers. The buzzy footwear is all over TikTok, where it has 73.5 million views, and they stand out in any gym like a beacon of sportiness. As a runner and workout aficionado, I've definitely had my eye on them. But then I came upon a very similar pair on FitTok: the Avia Hightails.
While it's worth it to splash out for a great pair of running sneakers — especially if you jog every day or go long distances — I couldn't help but be intrigued by the Avia Hightails, which can be found at Walmart for just $28. Of course, as is the case with any trending TikTok item, they're tough to come by. (I stalked the Walmart website for real.) But when you compare the price to Hokas and other high-end running shoes that go for upwards of $150, it's definitely worth the effort.
On TikTok, some reviewers said the Avias aren't quite as foamy as Hokas or On Cloudnovas, but noted that they get pretty darn close. Creator @cc_mcq said the Avia Hightails felt similar to Hokas on her foot, and noted that the two shoes have similar foam soles. Meanwhile, creator @kaylakerr_ called them "so perfect" and one user even commented on her video saying, "I have four of the white ones — they are such good walking shoes and I can't live without them."
With that, I immediately knew I needed to try them for myself. Once I snagged a pair after a restock, I wore them out on walks and runs for a few weeks. Read on for my honest review of the viral Avia Hightails. (Hint: I'm a big fan.)
Fast Facts
Price: $27.98
Best for: First-time runners, Hoka lovers, hot girl walkers
My rating: 4/5
What we like: Affordable, supportive, lightweight, come in a range of colors
What we don't like: Some loose threads, likely won't last forever
The Avia Hightail Running Sneakers
At first glance, Avia Hightail sneakers have a lot in common with the Hoka Speedgoat 5s. They both have a wide toe box, a foamy midsole, an even foamier heel, and a thick ankle collar — aka the squishy part that cradles your ankle.
Other Hightail features include a seamless, breathable mesh upper, a molded lightweight EVA insole for arch support, and FOM® Midsole Technology designed to provide a soft landing while you stride, walk, or leap into the air during a HIIT workout. The rubber outsole is durable and provides traction, so you won't slip. And it comes in a cute array of bright (or neutral) colors with a reflective heel strip.
My Experience
I've owned quite a few workout shoes over the years, and often find there's a break-in period as the sneaker molds to my feet. The Avia Hightails, however, fit perfectly right out of the box. Just to be sure, I took it easy on my first outing and went for a hot girl walk. I fully expected the shoes to rub my ankles and yet there I was — 16 blocks away from my apartment with perfectly happy feet.
In my opinion, the best sneaks are the ones you can forget about because they're so comfy, and yet I couldn't stop appreciating how supportive these were. I marveled as I crossed uneven sidewalks, navigated cobblestone streets, and even trekked across a hilly park without a single slip or scuff. I'd guess this was due to the grippy foam sole, wide footbed, and extra-cushiony ankle support — three necessities when it comes to bopping around town.
The next day, I wore the Hightails for a jog. Again, I expected some level of rubbing, yet managed to make it through my two-mile path chafe-free. Not only were they soft, I was also a big fan of the shape. Many running sneakers — including these — help with forward momentum thanks to a thick foam sole as well as something called a toe spring, which is when the front of the sneaker rolls up, and it's something that really helps with my stride. Running in the Avias made feel like I was being propelled. The wide footbed was sturdy on my city's uneven streets, and it was equally supportive on a treadmill during a super-tough Peloton hiking workout.
While I'm a big fan of my all-black Nike Revolution 6s — my current go-to running shoe — I'll admit it was fun to rock something more colorful. Not only were they fun for me but a friend immediately noticed them and wanted all the deets, so clearly I'm an influencer now.
Worth It?
For $27, yes. I highly recommend Avia Hightails for long walks, a day of errands, and even gentle hikes. You're getting a shoe that's comfy, supportive, and breathable. Plus, they're an easy way to get in on the colorful Hoka trend — without dropping $155.
I'd say they're a good entry-level running shoe, too. If you want to start a jogging routine but aren't sure you'll stick with it, dip your toe in with a more affordable pair like these. If your running hobby takes off or you find yourself training for a half marathon, that's when you can invest in a more pro-level set of sneaks.
Similar Products
Can't seem to track down the Hightails? For another option, go for the Avia Storms. They also have the super-cool Hoka look, but only cost a cool $45. Choose from colors like cobalt blue, hot pink, black, or mauve — then hit the road.
The Verdict
There's a reason why the Avia Hightails have become so popular on FitTok. They're cute, comfy, and come at an appealing price. Once you snag them, you won't want to take them off.