Bella Hadid's Erewhon Smoothie Recipe Just Dropped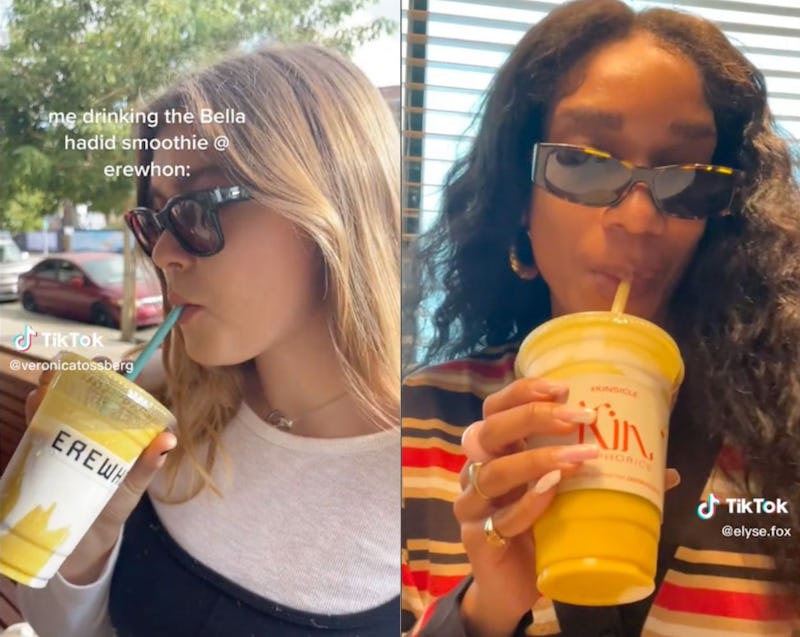 TikTok/@veronicatossberg; Tiktok/@elyse.fox
Everyone turns to Bella Hadid for style and hair inspo thanks to the way she can turn out a lewk. But what about breakfast inspo? If you're on the hunt for new ingredients to pop into your morning blend, look no further than the model's fruity Kinsicle smoothie — a citrus-y sweet concoction she made in collaboration with none other than Los Angeles' hottest grocer, Erewhon Markets.
Erewhon has become known as the destination to snag celeb-inspired smoothies that are tasty, healthy, and always on brand. Case in point: The store launched Hailey Bieber's Strawberry Glaze smoothie over the summer as an edible take on Bieber's love for all things glazed. Then there was Kourtney Kardashian's Poosh Potion Detox Smoothie, a charcoal-spiked blend released just in time for Halloween. Hadid's new Kinsicle concoction is bright, sweet, and meant to taste exactly like a creamsicle.
Kin Euphorics' High Rode is (of course) one of the starring ingredients within the recipe, which comes as no surprise as Hadid signed on as co-founder and partner of the functional beverage brand in 2021. This drink within the line is lightly caffeinated, non-alcoholic, and infused with adaptogens and botanicals meant to deliver energy and a mood boost.
The Kinsicle also contains orange juice, Coconut Cult orange dreamsicle organic yogurt, Lily of the Desert aloe vera juice, Rancho Meladuco dates, lion's mane from OM Mushrooms, Simply Organic vanilla, Califia Farms organic almond milk, banana, coconut cream, mango, turmeric, and a touch of salt. It all blends together to create that sweet, tangy orange soda flavor that brings on the nostalgia.
Since these celeb-backed smoothies have been such a hit, TikTokers have already flocked to Erewhon to taste Hadid's. The general consensus? It's really, really good. TikTok user @alyssarabiola says the Kinship reminds her of summer, while @sophiaisthriving dubbed it "better than Hailey's" smoothie. Basically, if you like creamsicles, you're going to be a fan of this blend.
Hadid's smoothie will be available at Erewhon Markets until Jan. 25 in case you happen to be in the area and want to give it a try. But if you aren't in LA — or aren't sure about dropping $19 for a smoothie — you can easily recreate the Kinsicle at home using similar ingredients.
According to Evolution Fresh, this recipe will get you pretty close: one cup of Evolution Fresh organic pure orange juice, three tablespoons of coconut yogurt, one tablespoon of almond milk, half a banana, a cup of mango, one Medjool date, one tablespoon of aloe vera juice, 3/4 teaspoon of pure vanilla extract, half a teaspoon of turmeric powder, two tablespoons of coconut cream, and an optional half teaspoon of lion's mane mushroom powder extract.
Plop it all in a blender and puree until smooth. To decorate your drink like they do at Erewhon, squiggle the coconut cream onto the inside of the glass before pouring your smoothie in. And just like that, you'll start your day the Bella Hadid way.