11 Neck Exercises That'll Help Relieve Tension
Don't feel bad about your neck.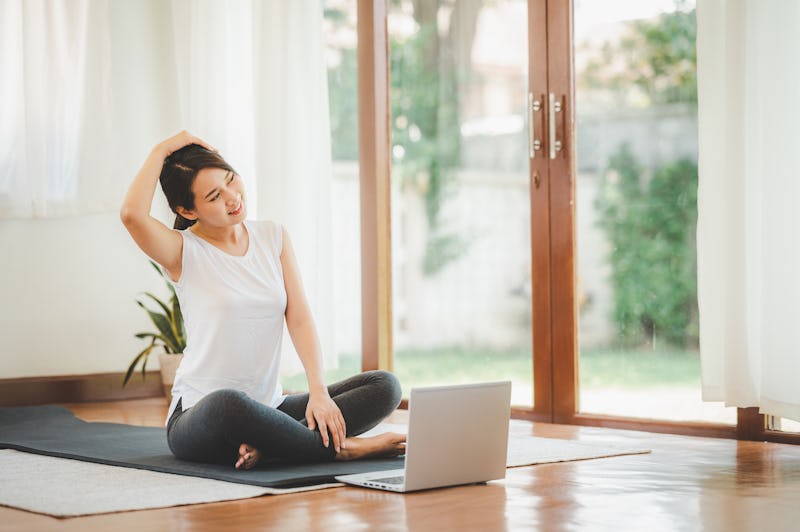 Shutterstock
You might not realize how much you use your neck until it starts hurting. If you go to turn your head and experience sharp pain, or if you're dealing with a dull ache that won't go away, doing some neck exercises will help save the day — and return that tension hotspot to its former glory.
The benefits of neck exercises are just like those you'd expect from doing those that target other parts of the body — including increased strength, muscular endurance, improved range of motion, and pain reduction, says Helen Goldstein, DPT, NASM-CPT, a doctor of physical therapy with FlexIt. As an added bonus, neck exercises can improve your posture and relieve job-related aches, like the kind you might experience after sitting at a desk all day, Goldstein explains.
While you can develop neck tension or pain for a number of reasons, Goldstein notes that a common culprit is maintaining poor or improper alignment for extended periods of time (think forward head tilt). "Strengthening and stretching the neck, combined with doing the same for the muscles in surrounding areas [like the shoulders and upper back], can help correct your posture and therefore decrease the pain you may be experiencing," she tells Bustle.
Tony Matoska, PT, DPT, CMPT, a physical therapist with Athletico Physical Therapy, says your neck pain should start to go away once you start exercising, as long as you stick to it. "Gentle stretches can be done numerous times throughout the day as needed," he tells Bustle, while strengthening can be done two to three times each week. To get started, choose a few exercises from the list below, and hopefully, those aches will stop being such a pain in the neck.
Studies referenced:
Mahmoud, N. (2019). The Relationship Between Forward Head Posture and Neck Pain: a Systematic Review and Meta-Analysis. Curr Rev Musculoskelet Med. https://www.ncbi.nlm.nih.gov/pmc/articles/PMC6942109/
Sal-o, PK. (2010). Effect of neck strength training on health-related quality of life in females with chronic neck pain: a randomized controlled 1-year follow-up study. Health Qual Life Outcomes. PMID: 20465854; PMCID: PMC2877013. https://www.ncbi.nlm.nih.gov/pmc/articles/PMC2877013/
Sources:
Helen Goldstein, DPT, NASM-CPT, doctor of physical therapy
Tony Matoska, PT, DPT, CMPT, physical therapist
Lesline Pitmann, wellness coach
Ryan Todd Lloyd, DC, chiropractor
Mara Kimowitz, stretch expert
Dawn Rivers, yoga instructor
Kim Trimmer, M.Ed., C-IAT, ERYT-500, yoga teacher, therapist