17 Productivity Hacks TikTok Swears By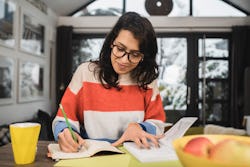 MixMedia/E+/Getty Images
Your first association with TikTok might not be "productivity," but that doesn't mean the app you devote the most screen time to can't also help you get your work done. Videos hashtagged #productivity have over 6.5 billion views on the clock app, while the hashtag #productivitytips boasts more than 70 million. From revamping your to-do list (or even hiding it from yourself) to apps and web extensions designed to make your work or study life less stressful, TikTok is full of unique ideas for being more productive.
Sometimes, you just can't seem to get work done because you're not in the mood; other times, you can't for the life of you figure out which gargantuan task to tackle first because listing them all out is so overwhelming. Or maybe you hit send on that email to your boss when you really should have reread it half a dozen more times. Productivity hacks on TikTok can help you break out of that ruminating rut so you can knock out what you need to get done. And if TikTok itself is what distracts you from finishing off your to-do list, curating your For You page into a productivity paradise can help you stay on track.
Check out these 17 productivity hacks on TikTok that'll help you be your most efficient self.
This article was originally published on