10 Things To Consider Before Taking Collagen Supplements
Prepare for possible gut woes.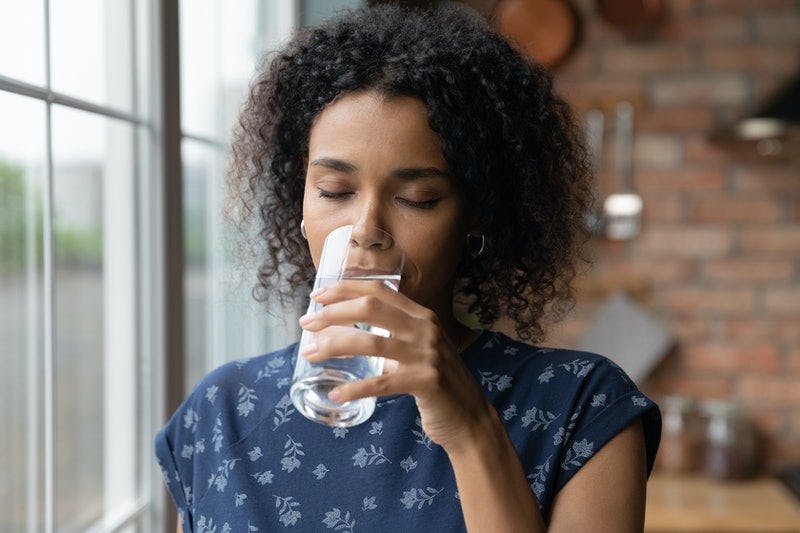 Shutterstock
Many people sing the praises of collagen, saying it can improve the health of your skin, hair, nails, and bones. Still, it's a good idea to look into possible collagen supplement side effects and other concerns before adding it to your daily routine.
"Collagen is a protein that helps to serve as one of the main building blocks for skin, hair, muscles, tendons, ligaments, and bone," says board-certified dermatologist Dr. Anna Chacon, M.D. Taking it in supplement form may help improve bone density, she says, prevent bone loss, and improve joint health. And then there are many purported beauty benefits as well (hence why you'll see it in countless hair and skin-boosting ingestibles).
Collagen supplements have been marketed as a way to "turn back to the clock," Dr. Blair Murphy-Rose, M.D., a board-certified dermatologist, tells Bustle. "Some small studies have shown increased elasticity and hydration in the skin after subjects consumed collagen supplements over eight to 12 weeks compared to a control group. However, scientific data is still limited and inconclusive at this point."
For the most part, collagen supplements are considered safe to consume without any serious side effects, says Dr. Stacy Chimento, M.D., a board-certified dermatologist at Riverchase Dermatology. For some people, however, it can cause some discomfort, as you'll see below. But it's also important to know that collagen may not be the "wonder" supplement many folks paint it to be.
Board-certified dermatologist Dr. Erum N. Ilyas, M.D., MBE, FAAD, says to take what you read on product packaging with a grain of salt. "Be cautious with regards to marketing language," she warns. "Things that sound too good to be true usually are." Here, dermatologists break down the 10 most important things to know about collagen supplements before you decide to buy them in bulk.
Studies referenced:
Bolke, L., Schlippe, G., Gerß, J., & Voss, W. (2019). A Collagen Supplement Improves Skin Hydration, Elasticity, Roughness, and Density: Results of a Randomized, Placebo-Controlled, Blind Study. Nutrients, 11(10), 2494. https://doi.org/10.3390/nu11102494
Choi, FD. (2019). Oral Collagen Supplementation: A Systematic Review of Dermatological Applications. J Drugs Dermatol. 2019 Jan 1;18(1):9-16. PMID: 30681787.
Deane, C.S. (2020). Animal, Plant, Collagen and Blended Dietary Proteins: Effects on Musculoskeletal Outcomes. Nutrients. https://www.ncbi.nlm.nih.gov/pmc/articles/PMC7551889/
König, D. (2018). Specific Collagen Peptides Improve Bone Mineral Density and Bone Markers in Postmenopausal Women-A Randomized Controlled Study. Nutrients. 2018 Jan 16;10(1):97. doi: 10.3390/nu10010097. PMID: 29337906; PMCID: PMC5793325.
León-López, A. (2019). Hydrolyzed Collagen-Sources and Applications. Molecules (Basel, Switzerland), 24(22), 4031. https://doi.org/10.3390/molecules24224031.
Mei, F. (2020). Effect of a high-collagen peptide diet on the gut microbiota and short-chain fatty acid metabolism. Journal of Functional Foods. Volume 75, December 2020, 104278. https://doi.org/10.1016/j.jff.2020.104278
Rustad A.M., (2021). Myths and media in oral collagen supplementation for the skin, nails, and hair: A review. J Cosmet Dermatol. 2021 Oct 25. doi: 10.1111/jocd.14567. Epub ahead of print. PMID: 34694676.
Experts:
Dr. Anna Chacon, M.D., board-certified dermatologist
Dr. Stacy Chimento, M.D., board-certified dermatologist
Dr. Erum N. Ilyas, M.D., MBE, FAAD, board-certified dermatologist
Dr. Blair Murphy-Rose, M.D., board-certified dermatologist
Vanessa Rissetto, RD, registered dietitian nutritionist
Dr. Sheilagh Maguiness, M.D., dermatologist
This article was originally published on