12 Cute Winter Date Ideas, Straight From Relationship Experts
Even if it's cold outside, these activities are sure to warm your heart.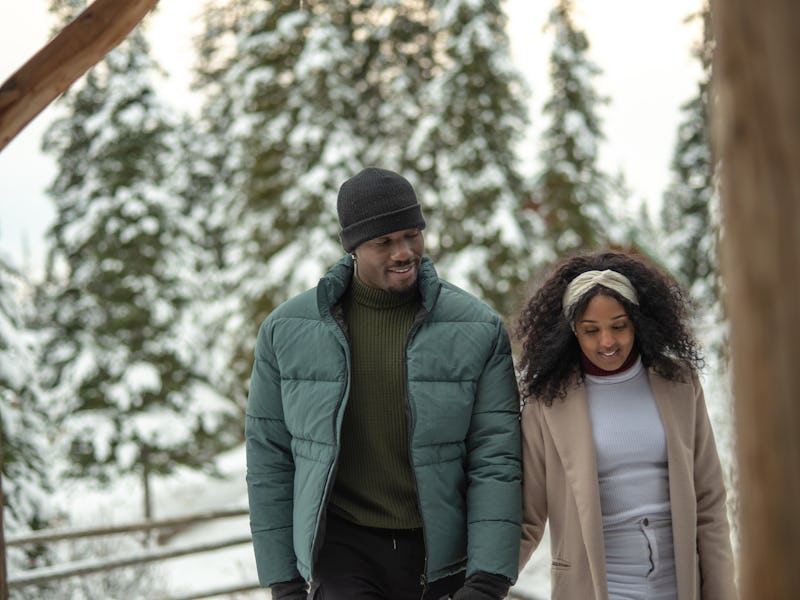 Getty Images/Adam and Kev
It's that time of year: There's a chill in the air, maybe some snow on the ground, and tons of singles have officially partnered up for warmth. Whether you and your boo have been going steady for a while or you only recently picked the winner of your cuffing season roster to cozy up with for the winter, it's easy to skimp on the usual date night activities in order to escape the cold. Sure, hibernating with your S.O. is nice and all, but scrolling through TikTok as you Netflix and chill can put a damper on the romance after one-too-many nights in.
Even if you're afraid to venture out in the frigid temps, experts say that the winter season offers some special ways to connect with your significant other — so you might want to bundle up. "Sometimes the winter blues creep in and it makes us feel less motivated to date, but there can be something romantic about dating during the wintertime," says professional matchmaker and dating coach Thalia Ouimet. Her best tip? Think of your favorite holiday rom-com for inspo — complete with hot chocolate and a fireplace — that'll get your dating mood revved up.
Keep scrolling for 12 expert-approved cute winter date ideas that'll allow you and your beau to make the most out of the season.
Experts:
Thalia Ouimet, professional matchmaker and dating coach
Damona Hoffman, certified dating coach and host of The Dates and Mates Podcast