15 Early Signs Your Relationship Has Long-Term Potential
Experts explain the green flags to look out for.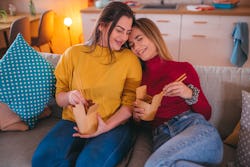 Nenad Stojnev /E+/Getty Images
It's always good to be aware of potential red flags in a new relationship, but that doesn't mean you shouldn't also be on the lookout for green flags, aka the early signs that a new relationship is going well. Aside from the general warm and fuzzy vibes you get in the beginning stages of seeing someone, green flags can show whether your relationship has long-term potential. So what kind of things are green flags at the beginning of a relationship?
According to clinical psychologist and relationship expert Dr. Diane Strachowski, green flags show you're on the path to a healthy partnership. Primarily, Strachowski says, your partner should make you feel "safe, secure, and happy." Even in the early stages, it's important to check in with yourself and gather how your partner's behavior really makes you feel.
While it can sometimes be easier to pick out smaller red flags when you're dating someone new, it's also important to consider all of the things you admire about them. For instance, licensed psychologist and dating coach Dr. Marissa Tunis tells Bustle that finding your partner progressively more attractive might take time, but it's a green flag if you do so the more you get to know them.
Below, you'll find 15 expert-approved green flags in a relationship.
Experts:
Dr. Diane Strachowski, licensed psychologist & relationship expert
Dr. Marissa Tunis, licensed psychologist & dating coach
Rachel Gabrielle, MA, LMHC, therapist
Toni Coleman, psychotherapist and relationship coach
Dr. Margaret Paul, psychologist, bestselling author, and relationship expert
Dr. Dana McNeil, PsyD, LMFT, a licensed marriage and family therapist
Susan Trombetti, matchmaker and CEO of Exclusive Matchmaking