18 Hinge Prompt Answers To Try If You're Looking For Something Casual
"Go with witty and sarcastic but also the truth," says a relationship expert.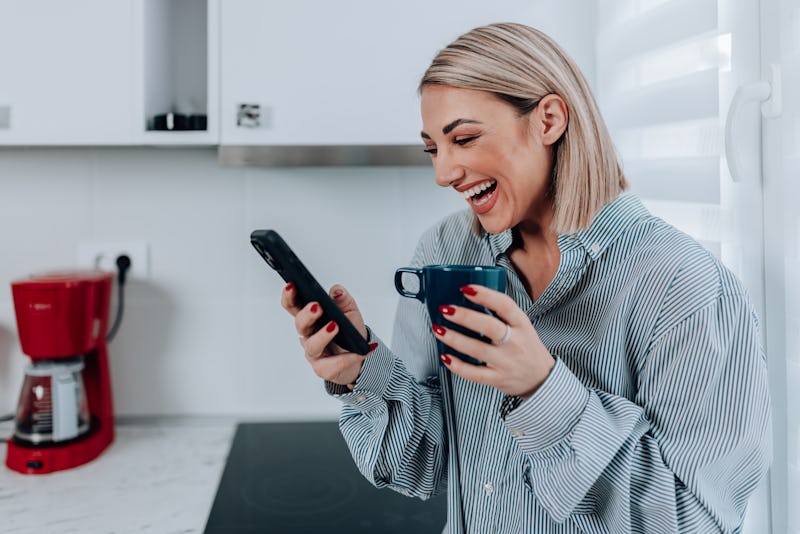 RealPeopleGroup/E+/Getty Images
As the New Year unfolds and the fruits of cuffing season are ready to harvest, your social media is bound to be full of happy new couples. But some people don't dream of that partnered life. If you'd rather stub your toe than swap chocolates and flowers on Valentine's Day, you might prefer a casual fling or hookup to keep you warm.
While most dating apps are publicized as tools for, well, dating, they can also be useful if you aren't looking for a long-term commitment. On Hinge, for example, many of the profile prompts can be used to suggest just that. If you want something casual, utilize wit and sarcasm for funny Hinge answers, says Jennifer Hurvitz, a relationship expert, dating coach, and host of the Doing Relationships Right podcast. "Be funny, confident, and honest all at the same time," she says. "You will avoid hurting feelings if you're clear about your intentions."
Drumming up catchy responses can be tough if you're not trying to get boo'd up, so focus on creativity and originality. Need some inspiration? Read on for 18 Hinge prompt answers to use as templates for landing a casual relationship.
Expert:
Jennifer Hurvitz, a relationship expert, dating coach, and host of the Doing Relationships Right podcast