Wanna Try Hinge's New Video Prompt Feature? Here Are 7 Tips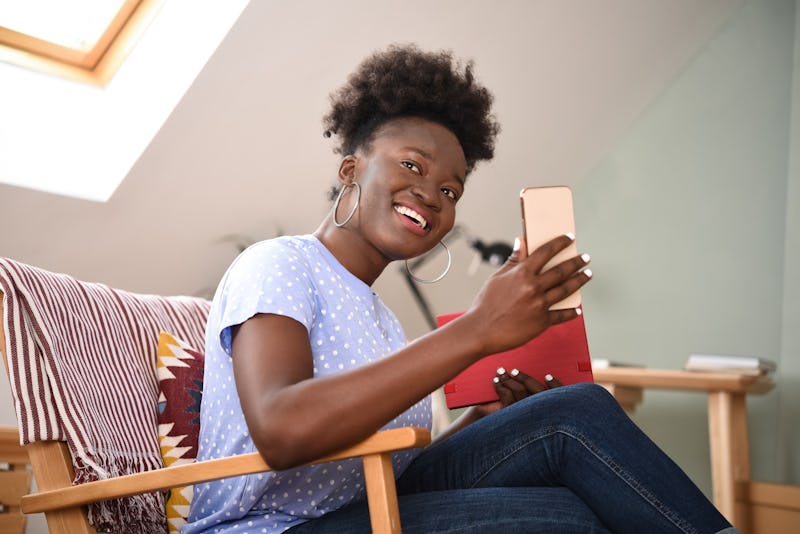 MixMedia/E+/Getty Images
Swiping through profiles on dating apps can become monotonous after a while. After all, how many fish pictures or gym selfies can you come across before you want to throw in the towel? If you're a Hinge user, however, you're in luck: On Sept. 20, a new feature popped up on the app that is sure to switch things up. If you want to make your profile stand out and get better a sense of who your potential matches really are, you'll love the new video prompt feature on Hinge.
Much like the preexisting voice prompt feature, Hinge daters can record videos up to 30 seconds based on one of 13 different prompts. Hinge's love and connection expert, Moe Ari Brown, LMFT, says that it gives users a better glimpse into what their potential matches might be like IRL. "Video prompts are a new way for daters to show more of their personality," he tells Bustle. (Brown uses he/they pronouns.) "Recording within the app makes it easy to create fun videos and encourages in-the-moment authenticity. Users can select from new video-specific prompts including, 'hi from me and my pet,' 'can we talk about,' 'I'm a 10 but' and more."
Brown notes that watching videos of potential matches can attract users to specific elements about their personality — especially their gestures. "More than half of Hinge daters find mannerisms to be the most interesting part about watching a video of a potential partner, followed by the sound of their voice and seeing their environment. Video prompts are a fun, effective way to assess compatibility and minimize the guesswork around someone's personality, leading to better dates and a more fun dating journey," they say. If nothing else, you may just discover a new "ick" if you come across enough wacky ones.
In the age of FaceTiming over phone calls, Maria Avgitidis, matchmaker and host of the Ask a Matchmaker podcast, previously told Bustle that Hinge's new video prompts are a great way to get a glimpse at how someone might interact in person. "We are living in a time where TikTok and reels have become standard practice of infotainment. Of course a dating app like Hinge would bring out the video prompt. Being able to see how someone communicates, even for thirty seconds, can tell you so much more than a snapshot of a nanosecond of someone life," she said.
Ready to hit record? Before you do, check out Brown's top seven tips for using Hinge's video prompts below.
Expert:
Moe Ari Brown, LMFT, Hinge's love and connection expert
Maria Avgitidis, professional matchmaker and host of the Ask a Matchmaker podcast