16 Cute Ways To Wish Your Crush Good Morning
Talking to someone new? Here's how to craft the perfect wake-up text.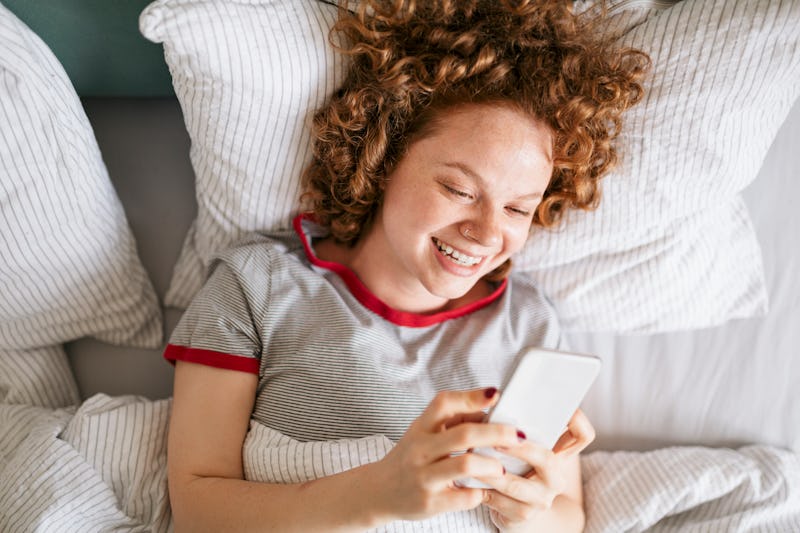 Ivan Pantic/E+/Getty Images
When you're in the early stages of seeing someone, it can sometimes feel like a throwback to having a brand new crush in high school and wanting to talk to them every day. Perhaps you're even pretty sure you want to date them, and the texting back and forth every night you have going on is definitely not purely platonic. If that's the case, they might be on your mind pretty much all the time, especially when you wake up — but how do you send a good morning text to your crush without it seeming like too much, too fast?
As relationship coach Sabrina Flores explains, you're not alone in that worry. "At some point in the last several years, there's been a trending idea that the more interest you show a potential new partner at the early stages of dating, the more you risk scaring them away and 'losing your chance,'" Flores tells Bustle.
Showing someone that you're actively interested in them can definitely be scary. "When people are getting to know someone, there might be a hesitancy to be open," adds psychotherapist Lillyana Morales, LMHC. But that fear can mean your "good morning, sweet crush of mine" texts never get sent — or worse, they come off as big friend-zone vibes, which isn't what you actually want to convey.
If you're trying to be the first thing on your crush's mind in the morning, just think about your texts as yet another way to get to know them. "Good morning texts are a fantastic way to be open and vulnerable with someone by giving them a more transparent idea of how you think and feel about them: regardless of whether you're looking for a relationship, something casual, or just wanting to see where things go," Flores says. "I see good morning texts as tools to build the intimacy in a relationship that is already headed towards a more meaningful connection."
Plus, you can start to figure out your crush's personality and idiosyncrasies. If they would prefer your pre-coffee salutations to come in after they've been caffeinated, the beginning of your relationship is a great time to find that out. If they're someone who loves pet names, the earlier you know, the more fun you can have calling them something cute and playful. "Imagine how much time and trouble you save by setting a solid foundation," Morales says.
Knowing how to send good morning texts, especially early in the relationship, can be tricky. But, as Morales tells Bustle, there's no such thing as the perfect message to say to the person who's got your heart racing — just be you. To save yourself some early morning stress, check out these 16 expert-backed good morning text ideas to send your crush.
All in all, when it comes to how to say good morning to your crush, it can definitely be nerve-racking. But with a little bit of thought and effort, it will most likely be worth it. "Any time you open yourself up to someone in a vulnerable way, the possibility of being turned down can seem a lot scarier," Flores says. "The rejection might seem a lot more personal if you're upfront with your interest in them, but the truth is, putting yourself out there by showing them who you are and what you want also increases the likelihood of keeping the right people around."
Experts:
Sabrina Flores, relationship coach
Lillyana Morales, L.M.H.C., M.A. in mental health counseling, psychotherapist
Trina Leckie, relationship coach and host of the Breakup BOOST podcast
Damona Hoffman, official OkCupid dating coach and host of The Dates & Mates Podcast
This article was originally published on