I Tried A Posture-Correcting Bra & Now I'm Hooked
It rolls your shoulders down and back. I need five of them.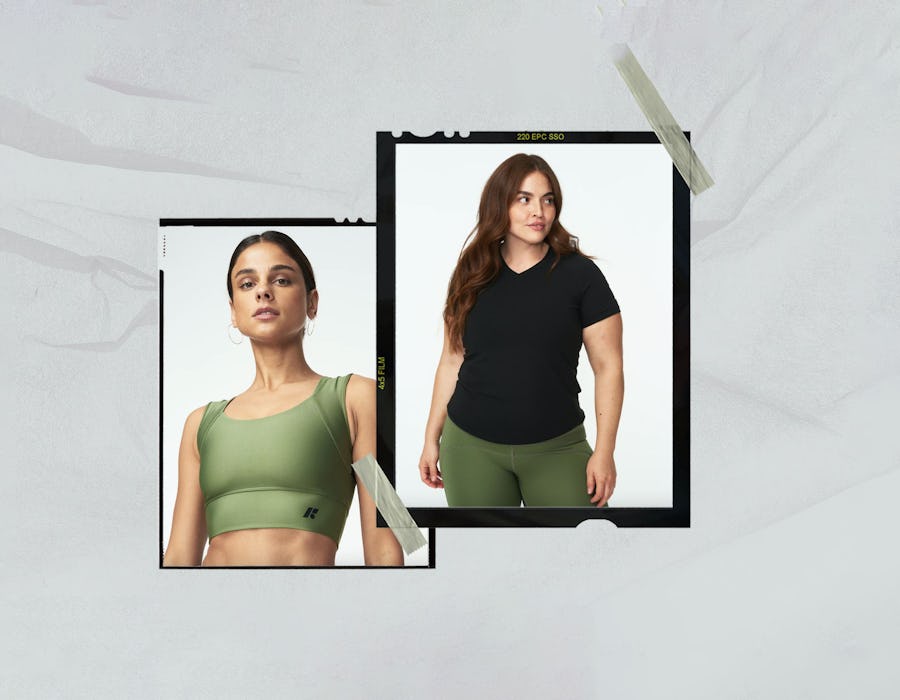 We may receive a portion of sales if you purchase a product through a link in this article.
I once read that there's little evidence linking posture and back pain. The benefits of "good" posture seem to be largely aesthetic, which let me — a sloucher — off the hook, kind of. However, I am mild-to-moderately vain and I often think about a Reddit thread I read back in probably 2013 where someone asked about simple ways to become more attractive, and the top answer was to have good posture.
I have a dowager's hump and broad shoulders, and every time someone takes a photo of me that is even 1% candid, I often turn out looking a little like a water buffalo who clearly spends all day hunched over a desk, typing. Which is not far from true, but it would be nice to look a little more like Daphne from Bridgerton and less like an animal whose scientific name is Bubalus bubalis (no offense to the great majesty of the water buffalo).
I like shortcuts that don't require me to actually do something difficult, like change a habit, which is why I've been dying to try posture-correcting clothing. I turned to the company Forme, which sells all kinds of garments designed to help you have better form.
Fast Facts:
— Price: Between $138 and $178 for each item of posture-correcting clothing.
— Best for: Someone looking to correct their posture without putting in much work.
— What I like: Simple, effective, and cute bras.
— What I don't like: The price point. The ancillary design on some of the items isn't perfect. Once you take the clothing off, your posture reverts to normal.
What Is Forme Posture-Correcting Clothing?
First of all, Forme's entire website is Forme.science, which I didn't even know was a possible domain ending. Again, I was a bit skeptical about this, but the brand claims the clothing (which was developed by orthopedic surgeon Dr. Stephen Liu) helps correct posture and treat related spinal disorders by "naturally rolling the shoulders back and down, while opening up the chest and hips."
The most popular item is the Power Bra ($168), but it also sells T-shirts, leggings, socks (which are meant to help with arch support rather than posture), as well as a golf shirt. Please note that I am morally against any sport you have to be quiet during, so I don't know if the golf claim is true, but I tried items from the rest of their lines. Here's what I loved and what I didn't.
What I Loved
Folks, the Power Bra is — unfortunately for our budgets — exquisite. I wore it one day where I expected to sit and be on a computer all day and it really felt fabulous. The bra seems a little tight when it first goes on, and you can feel immediately your shoulders dropping and being pulled back, which I thought might be weird or distracting throughout the day, but ultimately found supportive. I can't say enough good things about the bra. I found myself washing it immediately just to re-wear it as soon as possible. It just felt so nice!
The Core V-neck shirt ($168) was somewhat less of a hit with me, although I wore it while cycling, and it did seem to help my form (not a pun). If you're wondering, as I was, how a T-shirt could correct your posture, well, it basically is a double-layered shirt and the inner layer has elastic that pulls your shoulders back. The design concept is cool, but I am not really a fan of layered or lined things, and this had an uncomfortable, annoying inner lining. Also, pairing this shirt with the Power Bra gave me the worst uniboob I've ever had. It wasn't nearly as cute as the bra, either. I would rather pair the bra with my own T-shirt.
As for the Arch Booster Socks ($29), which I wore for a day, including for a stationary bike workout: they did what they said and supported my arches. My mom, who worked for a shoe company for over 30 years and never stopped nagging me about arch support, would be thrilled!
I am now saving up to buy the Rise Bra ($178), which I think is unbelievably cute. I love the mesh panel so much. A hint of cleavage in a sports bra? I can't wait. I am unapologetically going to be sharing a hint of boob this summer while having Regency-era posture. I'd be surprised if I don't find a way to make my friends take some photos of me.
What I Didn't Love
Let's get the elephant in the room out of the way: this stuff is expensive. I am a staunch supporter of the Fabletics intro deal to get their power sculpt leggings for $12 a piece, so the idea of spending $138 on a similar-looking item is a tough pill to swallow, even if Forme's pieces live up to their functional promise. While I did end up being very, very sold on the bra, and pretty impressed with the T-shirt and socks, I do think that the Sculpt+ Leggings were kind of… meh.
One issue I had is that the seam on the back hit my butt at a weird spot that made them feel like they were always sagging, almost like my butt was too tall? Perhaps they designed these leggings for people with shorter butts than mine in mind. I did have a friend try them on, though, and she agreed, so I think the seam is just in an odd spot. That sensory issue aside, I did not feel like the leggings did much for my posture or alignment — they claim to reduce lower back and hip pain and to instantly align you. They do seem to be good quality leggings in terms of fabric, however, and I will keep wearing them for workouts in case they are doing something secret to my form, but I don't want to lounge around the house in them.
Lastly — and perhaps this would be different if I had a Forme bra for every day of the week that I wore religiously — none of the products I tried trained my body into having good posture when I wasn't wearing their clothing. You basically have to be actually wearing the items to have the benefits.
Final Verdict
Left: in regular clothing. Right: in Forme's bra and leggings.
Save up your money and get the Power Bra if it is at all feasible for you! This bra is truly miraculous to me, and I kind of wish it weren't because I want one for every single day of my life, which is at least five bras if we're being generous about my laundry schedule. I do not have that much money. But I really do think that it made my posture much better and it was comfortable and it looked very good under shirts. Will this fix your back or eliminate all your pain? No, it won't. But it will provide support throughout the day and give you good posture for absolutely no effort.