Kelly Rowland Is Shifting Into Soup Mode
The Grammy award-winning singer spills her self-care practices.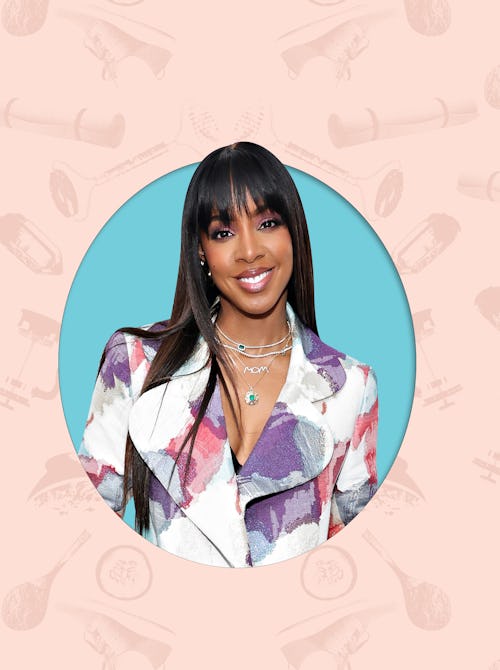 Getty Images/Cindy Ord / Staff
In Chill Chat, Bustle sits down with stars to chat about all things wellness, from their favorite skin care products to hacks for getting a good night's sleep. Here, Kelly Rowland shares her go-to smoothie recipe, her morning routine, and the one serum she can't live without.
Much like George Costanza and everyone else this time of year, Kelly Rowland is shifting into soup mode. "I've been in a real soup mood," the Grammy award-winning singer tells Bustle over Zoom. "I usually do a chicken and rice soup but I've been playing around with different meats so I'm going to swap it out for turkey. My kids love my soup."
Basically, if something's cozy and offers a chance to slow down and be mindful, Rowland is into it. The 41-year-old, who has recently partnered with Silk, says she's a fan of relaxing at home with her two sons, taking strolls around the neighborhood with her husband, baking family recipes, and drinking tea before bed. She also ensures that each day begins with stillness — something Rowland has prioritized ever since losing her mother in 2020.
"I give myself a minute in the morning, whether it's meditation, prayer, or just stillness," she shares. "I always think about the fact that I'm here and I'm present with my family, and I'm grateful to see another day."
That ability to tune into what she needs is a pillar of the singer's wellness routine. Here, Rowland shares her go-to self-care practices.
What do your mornings look like?
This morning was fun because I woke up extra early. I wanted a little bit of time to myself. Then I made smoothies with my kids. We call them 1-2-3 smoothies [because they only require three ingredients]. It's strawberries, frozen bananas, and Silk Nextmilk. We make those and cheers to the day. Then they have their little pancakes, which I make for them in the morning.
My husband and I get all of my son Titan's things ready for school, and my son Noah's starting to learn his letters and colors, so he'll do that while I get ready.
Are you a coffee person?
I wish I could drink it — sometimes it smells so good. But I get jitters if I drink coffee; it affects me way differently than the rest of my friends who are like, "I'm on my third cup and it's only 11." It's not fair. [Laughs.] Usually I'll wake up and have key lime juice and water. I've been told it alkalizes the body.
Do you have any go-to beauty products in your morning regimen?
Right now, because the weather is changing, I'm dealing with all these breakouts, so I'm trying to figure out how to regulate my skin again. One product I'm loving right now is this Lactic Acid Serum by Shani Darden. It's been incredible for my skin — it makes my face so soft.
What's your favorite workout right now?
I always get in my Pilates! I have a trainer that comes [to my home]. I'll also sometimes walk around the neighborhood with my husband, but that's about it. I'll probably try doing more yoga this year for a little bit of peace and to center myself.
How do you like to wind down after a long day?
I have a nice glass of tea. I mix turmeric, red onion, garlic, lime, and honey in a pot and sip that before I go to bed. I take a couple of deep breaths and before I know it, I am knocked out. It keeps your immune system in defense mode, too. It's great.
Sounds relaxing. What else do you like to do before bed?
I'll either read or binge-watch all the shows that I need to catch up on. Sometimes my son Titan and I will read a book together and cuddle and talk, which is always the sweetest — I love that time with him before he goes to bed. We sit there and talk about his day, his emotions, and how he feels. I love motherhood.
What would you say is your overall approach to wellness?
Listening. You have to listen to your body and what it needs. Only you know the best thing for your body. If you're having too much of something, then you have to know when to shift, take it out, or put more of something else in.
How do you stay present this time of year?
It's all about gratitude. You could turn your phone off for a morning or an afternoon, and look for other ways to be still for a second and check in with yourself. You can also surround yourself with people who want to love you and support you. It's all about setting yourself up in a space where you can love yourself — because you deserve it.
This interview has been edited and condensed for clarity.