Lazy Girl Workouts Are A Thing — Here Are 11 To Try
You can do some of these in bed.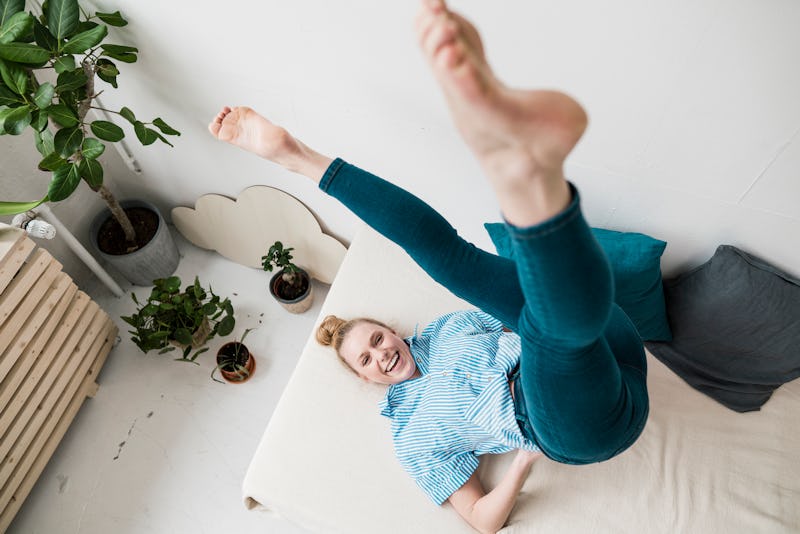 Getty Images/Westend61
Typically, one has to choose between lying on the couch in full relaxation mode and getting up to do a workout. These two activities fall on opposite ends of the movement spectrum. That is, unless you try a lazy girl workout.
Lazy girl workouts are the ideal way to have the best of both worlds. You get to remain horizontal in front of your Netflix marathon, but you also get your heart rate up and work a few muscles. It's all about finding ways to move without the rigmarole of going to the gym. And if you can remain in bed, even better.
To meet the criteria for a lazy girl workout, an exercise routine should be low-impact — so no jumping or leaping — on the shorter side, you shouldn't need any equipment, and it should be something you can do while either sitting in a chair or lying down. If you have to stand up, the workout needs to be as gentle as possible, lest you expend too much energy.
These lazy fitness routines work for a variety of situations. You can do them when you're tired, if you're getting over a cold, you're brand-new to exercise, if you lack motivation, or if you feel like moving just a little while watching a movie, but not so much that you need to change out of your PJs.
Sound appealing? Then keep scrolling for 11 lazy girl workouts you can stream on YouTube.