Twitter Is In Meltdown Over The UK's Latest Snow Flurry
"You know what you need right now? More winter."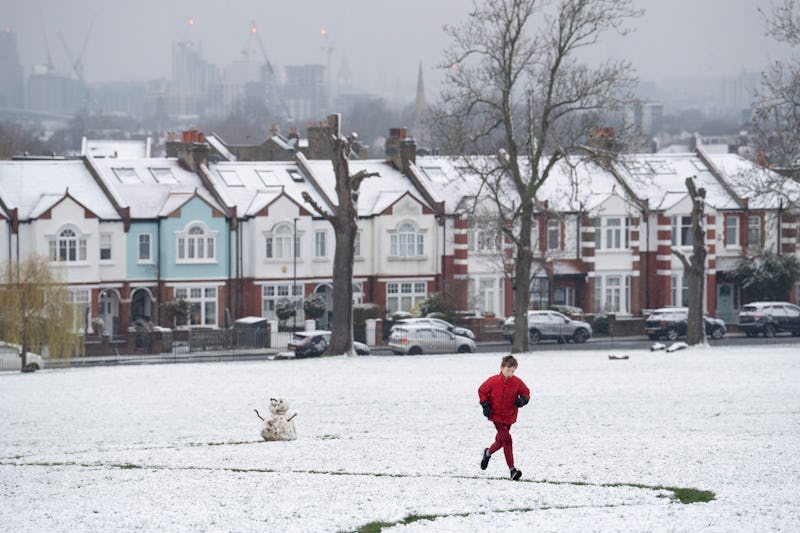 Richard Baker/In Pictures/Getty Images
Snow for spring? Groundbreaking. No, for real though, why are the roads sputtered with slushy ice and not blooms of daffodils and cherry blossoms? It's March, it's almost picnics in the park mood, and not "can't leave the bed because my toes are frozen" weather. In case you've not looked out the window today, the UK is blanketed in a soft drizzle of snow and the internet, as usual, is going wild with memes and tweets, especially as the UK struggles to function in the cold. Or as Twitter puts it, "collapses" in the snow.
Weather warnings claim this could be the coldest evening of the year with temperatures dropping down to -15ºC in parts of Scotland. Over 100 schools in Wales have been closed for the snow while some flights have been suspended, tubes severely delayed, and buses, unsurprisingly, are few and far between. In fact, the UK Health and Security Agency has issued a Level 3 cold weather alert for the whole of England, while the Met Office announced that power cuts are also expected across the country. The Met Office has warned that the chilly weather will likely stay until the weekend with heavy rain and snow forecasted for the rest of the week.
At home, people are finding humour in the snowy situation by sharing some pretty iconic memes. From channelling High School Musical's Sharpay Evans to mocking the UK transport system for buckling under a relatively small amount of snow; here are some of our favourite internet moments from this gloomy March snow day.