The 9 Best Natacha Océane Workouts On YouTube
Including HIIT sessions and core-burning routines.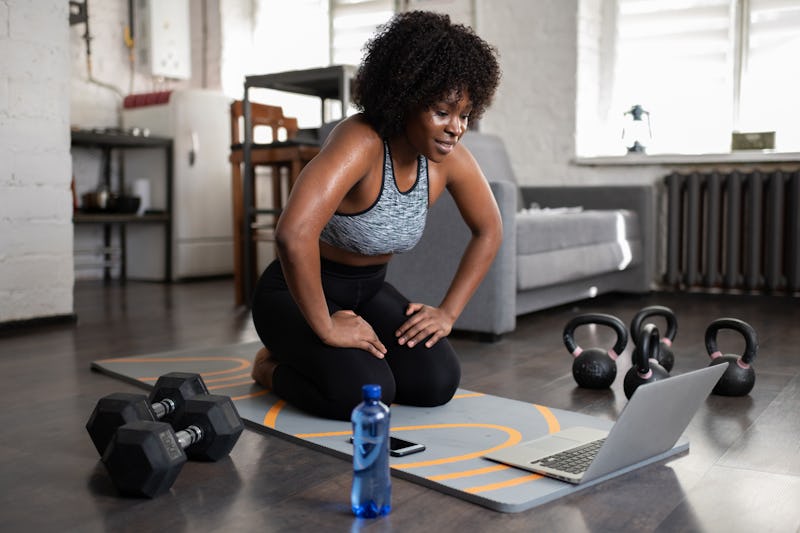 Getty Images/Cavan Images
There's nothing quite like the appeal of YouTube workouts. The videos are free, you can stream them whenever you want in the privacy of your own home, and they're a fun way to add variety to your fitness routine. What's even better is when they're backed by science, as is the case with Natacha Océane's workouts.
Océane's YouTube channel has over 1.5 million subscribers who show up in droves for her health advice and fitness videos as well as her approachable take on all things science. The English YouTuber is a biophysicist at University College London, is also a former IronMan athlete, and is the creator of her own fitness program, which just so happens to be approved by a GB Olympic Team expert.
Océane's channel has playlists like Science Explained! and Health is Wealth, where she puts health topics (like how your menstrual cycle affects your training) into layman's terms for her audience. She also takes the time to explain the science behind her workouts at the start of each video. That way, you know why you're doing each move and how each one affects your fitness game, which always feels reassuring when you're covered in sweat.
The biophysicist's workouts are easy to follow and yet super challenging, so it's nice that Océane often includes tracks from everyone's fave artists, like Dua Lipa and Childish Gambino, as a motivating distraction. She also shows a timer in the corner of the screen and offers tips and modifications so you can slay your session. Ahead is a roundup of the best Natacha Océane workouts to get you started.
Studies referenced:
Gillen, JB. (2014). Is high-intensity interval training a time-efficient exercise strategy to improve health and fitness? Appl Physiol Nutr Metab. doi: 10.1139/apnm-2013-0187.
Thum, JS. (2017). High-Intensity Interval Training Elicits Higher Enjoyment than Moderate Intensity Continuous Exercise. PLoS One. doi: 10.1371/journal.pone.0166299.
This article was originally published on