9 Signs You Might Be In A One-Sided Relationship
You deserve to be with someone who reciprocates your effort.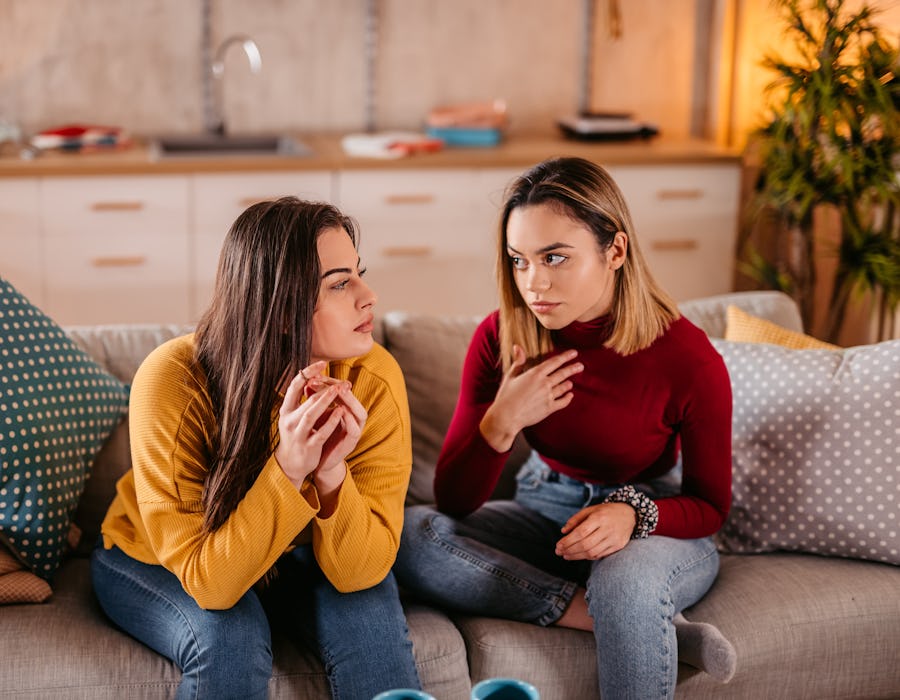 urbazon/E+/Getty Images
You should always feel like equal partners in a relationship, but it's surprising how frequently it just doesn't work out that way. Sometimes, one partner puts in more work than the other — and sometimes, it's a lot more. "A one-sided relationship is imbalanced, where one partner is doing and giving more to the relationship than the other," Anita Chlipala, LMFT, licensed marriage and family therapist and author of First Comes Us: The Busy Couple's Guide to Lasting Love, tells Bustle. "If the person who was contributing more suddenly stopped, the relationship would crumble," she says, adding, "although tit-for-tat is not a healthy mindset in a relationship, it's important to notice if there's little reciprocity — then that's a red flag."
Not all give-and-take is going to be 50/50, but your everyday dynamic should feel balanced and fair. "For example, if one person's income is four times more than their partner's, there won't be financial equality," Chipala says. "So what each brings to the relationship is nuanced to each couple, but there's a fairness to what each partner gives and what they take. In a one-sided relationship, the majority of the giving lies with one partner."
What Causes A One-Sided Relationship?
In some cases, a one-sided relationship might indicate that one partner is less emotionally invested than the other. Maybe they're still keeping their eyes open or rebounding. "If you started dating right after [they] got out of a relationship, chances are you're the rebound and the placeholder," New York–based relationship expert and author April Masini tells Bustle. But sometimes, even if they care about you a lot, they may just not be pulling their weight in the relationship. In that case, you may need to reconsider how suitable of a partner they are.
For people who have an anxious attachment style, the risk of giving more than they take in a relationship is higher, Chlipala tells Bustle, "especially those with a fear of abandonment." This also goes for people-pleasers, who may sacrifice their own needs to maintain a stress-free dynamic. "People-pleasers commonly avoid conflict, and so they don't speak up for their needs and don't voice their expectations," Chlipala explains.
It may be difficult to admit that you're putting more into the relationship than your partner is. You want to think that they're just as invested as you are — and are willing to show it. So you may need to cool things off to see if they step up to the plate. "The easiest way to gauge your partner's interest is to hang back a bit," relationship therapist Aimee Hartstein, LCSW, tells Bustle. "Are they reaching out and making efforts? If not, the relationship might be more unbalanced than you realize."
Here's what you need to keep an eye out for.
One-sided relationships can go on for a while, but they're not sustainable. Keep an eye out for the signs and see if they're willing to make the effort. If they're not, then you may need to reconsider the relationship.
Experts:
Anita Chlipala, LMFT, licensed marriage and family therapist and author of "First Comes Us: The Busy Couple's Guide to Lasting Love"
Aimee Hartstein, LCSW, relationship therapist
Melinda Carver, relationship coach and psychic medium
Dr. Jennifer Rhodes, psychologist and dating expert
Kali Rogers, life coach
This article was originally published on