How To Cope If You're Feeling Sad On Valentine's Day
#1: Take yourself on a date.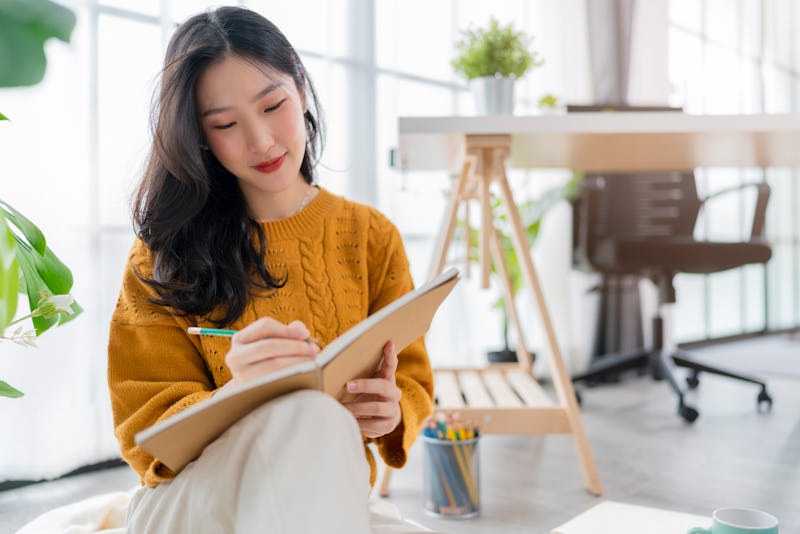 Getty Images/ Somyot Techapuwapat
February 14 is a day that's positively brimming with expectation. The goal is to have a fun, romantic day full of hearts and chocolate. But if things don't go as planned, you could potentially feel lonely and sad on Valentine's Day.
According to Danielle Massi, LMFT, therapist and owner of The Wellness Collective, a lot of Valentine's Day sadness stems from comparison. "You may find yourself comparing your situation to those around you, or to the picture-perfect couples on social media," she tells Bustle. Take one look at a cute photo and it might seem like everyone else has a partner and is having fun... except for you.
The holiday also has the potential to drag up hurt feelings, says therapist Julie Williamson, LPC, NCC, RPT. "Valentine's Day can be painful for those who have recently lost romantic love in their lives through a breakup," she tells Bustle. It practically shines a spotlight on those wounds, making them feel worse than other days of the year. Add in the fact that it's common to feel bad about being single, and it's easy to see why this holiday is a tough one.
If your day isn't shaping up to be all chocolate and roses, you may want to turn things around. Here, therapists share what to do on Valentine's Day if you're feeling sad.
Experts:
Danielle Massi, LMFT, therapist
Julie Williamson, LPC, NCC, RPT, therapist
Shawnessa Devonish LCPC, NCC, licensed clinical professional counselor
Dr. Nikki Goldstein, sexologist and author of Single But Dating
Jessica McCoy, LMFT, therapist
Dr. Dawn Michael, clinical sexologist and relationship expert
Kasey Scharnett King, LMFT, therapist
Marni Amsellem, Ph.D., licensed clinical psychologist
Aimee Hartstein, LCSW, relationship therapist
Kimberly Perlin, LCSW-C, licensed clinical social worker
This article was originally published on